Desus and Mero Give a Crash Course in Wokeness
Can the stars of the hit podcast Bodega Boys win over a broader—and whiter—audience on Showtime?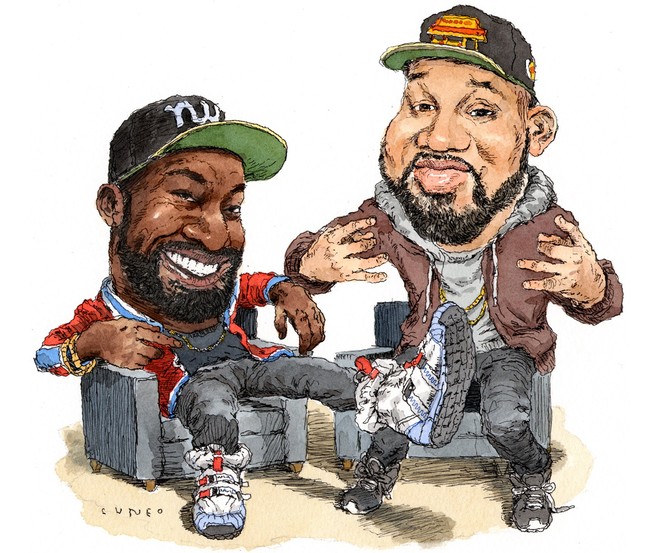 Desus and Mero are sitting and talking and making each other laugh. This is what they do, for hours on end, for growing audiences and rapidly increasing sums of money. The rooms change, the chairs change, but the basic idea remains. They sit. They talk. They laugh. They also drink: Desus takes slugs from a beer that's been relabeled D+M, while Mero keeps a bottle of rum between his feet. This Thursday morning, Desus (a.k.a. Desus Nice, a.k.a. Daniel Baker) and Mero (a.k.a. The Kid Mero, a.k.a. Joel Martinez) are taping their new weekly Showtime series at a Manhattan TV studio that has been designed to look like a TV studio dropped onto a street corner in the Bronx, which is where they are from. The walls are graffitied. There's a subway-etiquette poster, like the real ones New Yorkers see every day, only this one urges passengers not to blast music "unless that shit slaps." Guests enter through a fake bodega storefront.
Right now, Desus and Mero are not just making each other laugh, but also waiting. The camera crew needs a few more minutes, so they kill time by serving as their own warm-up act for the studio audience. From a table just off camera, Julia Young, one of their producers, lobs topics that are in the news—the college-admissions bribery scandal, the 2020 presidential campaign, Jussie Smollett, the supposed "Jexodus"—and then watches, with a mixture of delight and dread, to see what will follow. A year ago, Desus and Mero were doing a version of this show four nights a week on Viceland, where they were limited to five fucks an episode. But Showtime is premium cable, with no advertisers to worry about; they've already aired a gleefully scatological ode to a very specific sex act, accompanied on piano by John Legend.
Desus asks for a recap of who's running for president so far, and Young starts rattling off names, pausing after each one to give the guys time to riff: Elizabeth Warren. Amy Klobuchar. Bernie Sanders. Kamala Harris. Kirsten Gillibrand, who is an actual, real-life Desus & Mero fan and, as it happens, next week's guest. Oh, and Beto O'Rourke.
Desus looks puzzled. "What is Beto running for?"
Young's eyes convulse in their sockets. "President."
Now it's Desus's turn to have a small stroke.
"Of America?!"
Outside this studio, O'Rourke might be the darling of progressive elites, but in here, he's just another white guy tap-dancing for votes. Desus circles back to Sanders and asks whether he's older than Trump. "By, like, 18 decades," Mero cracks. Young does a quick Google search: "He's 77." "Wow," Desus says, his eyes wide. "When do people die nowadays? Damn." Mero starts giggling and rocking back and forth. His laugh sounds like a jug of water tipping over, and when Desus is next to him, it rarely stops. Desus, meanwhile, just grins like a villain.
All of this back-and-forth gives the audience ample time to consider Desus's sneakers. For about 30 percent of viewers, his footwear is the episode's biggest reveal; the identity of the guest—today, Ben Stiller—is a distant second. Desus feels a particular responsibility to delight deep-cut fans, the ones who have followed him and Mero from their first podcast for Complex, the street-style magazine and sneaker bible, through their stint on MTV2, through Viceland, all the way here. You've got to give the people what they want. You've got to give them what Desus and Mero's longtime manager, Victor Lopez, calls "a statement piece."
Today, Desus is rocking a pair of sky-blue Nike x Tom Sachs Mars Yard Overshoes, a very limited release that retailed for about $500—if you knew they existed in time to buy them at that price, which most people didn't. The Mars Yard Overshoes are enormous, with red snowboard-style buckles and a billowy, waterproof white drawstring ruffle at the top. They are a statement piece for sure, one that seems to have begun with a question: What if an anorak was a shoe?
At least 15 minutes pass as Desus and Mero kvetch about the recent trade that shipped the New York Giants' star wide receiver, Odell Beckham Jr., to Cleveland. "Gimme a guy that plays the right way," Mero jokes. "Enough with all these touchdowns." On it goes, just like always, to the point where a ripple of confusion begins to spread through the audience. Wait—is this the show? Have they already started rolling? Do I need to put my phone away?
Just when it seems clear that this must, in fact, be the show, the stage manager calls out, "Okay, are we ready?" She fixes Desus and Mero with a hard stare and explains that she's going to do a silent countdown from five. "Do not start talking until I do this," she says, waving her index finger past the camera lens by way of demonstration.
And then, finally, for a brief five-four-three-two-one, Desus and Mero are silent.
It's Friday, and Desus and Mero are sitting and talking and making each other laugh. Yesterday was the Showtime series, and today is the Bodega Boys podcast—their long-running chat-a-thon, just Desus and Mero and two hot mics—which they record in a dim basement grotto at Milk Studios in Chelsea. The contrast with yesterday's surroundings offers a tidy shorthand for the decline in respectability as they shift from TV to podcast. Desus & Mero tapes in the same building as CBS Sunday Morning. The room where they record Bodega Boys looks like a heroin den and smells lightly of stale blunts. The walls are covered with old magazine clippings of topless fashion models. The ceiling, too. An 8-foot-tall stuffed dog sits in the corner, slumped and dead in the eyes, like an enormous, strung-out Snoopy. The sun seems very far away.
Today is a big day in the Bodega Boys corner of the D+M multiverse, and they are eager to get to it: the anniversary of what has come to be known as "The DJ Envy Ambush." DJ Envy is a co-host of The Breakfast Club on Power 105.1 FM, one of New York City's biggest hip-hop stations; a year ago today, Desus and Mero stopped by the show to promote a comedy tour. Envy can get a little salty, and on this occasion he was fuming because at some earlier juncture, Desus had made a wisecrack about his wife. So Envy came out swinging, introducing the pair with epithets, the more polite of which was dickhead. As the cameras rolled (The Breakfast Club also airs on YouTube), Desus and Mero gritted their teeth, made jokes, and tried to calmly continue the interview. This seemed to only enrage Envy more, so much so that he walked off the set, leaving Desus and Mero with no choice but to roast his empty chair.
If jokes about Beto O'Rourke and visits from Ben Stiller are the domain of Desus & Mero, the DJ Envy Ambush is pure Bodega Boys—hyper-local and hyper-viral. The podcast is where they can keep speaking to listeners in the neighborhood, even as their TV audience expands to include older and whiter people who mistake the X-shaped arm gesture they're always making—a shout-out to the Bronx—for the one that means "Wakanda forever."
When Desus and Mero made the decision to leap from Viceland, where they'd been for nearly two years, Showtime promised not to tinker too much with the formula. Desus compares the choice to that of baseball free agents such as Manny Machado and Bryce Harper, who recently signed big contracts with new teams. The only difference, he says, "is we went somewhere nice." Gary Levine, Showtime's president of entertainment, told me that the network hadn't necessarily been in the market for a late-night show, but Desus's and Mero's names kept coming up. "We want shows that are entertaining," he said, "but also subversive."
The prospect of a large corporation (like CBS, Showtime's parent company) hiring subversive talent (like Desus and Mero) is always tantalizing, though not necessarily in the way the large corporation might hope. This particular week, the biggest story in America is the college-admissions scandal that ensnared, among many others, the actress Felicity Huffman, whose husband, William H. Macy, is a star of Shameless, the longest-running series on … Showtime! There is practically no chance Desus and Mero will avoid either the subject—it was a parade of white privilege—or the awkward coincidence. And they don't.
"This is very exciting for me," Mero announced during the TV taping, bouncing in his seat. "A bunch of rich white people got arrested!" They rolled a clip of Huffman, and at the mention of Macy's name, Mero yelped, "SHOWTIME yaaaaah!," while Desus, with mock indignation, insisted that their own hands were clean. That other Showtime series, he assured the world, "has no relation with us."
Desus and Mero are well aware that as their audience swells, it will include some white viewers who watch the show less for comic relief than for a crash course in wokeness. Or "a hood safari," to use Desus's phrase. The dynamic also works in reverse, though: Desus & Mero is a sort of cultural Trojan horse, using laughs to slip past the gatekeepers, then, once inside, taking over the joint. Somehow they manage to clown a chunk of their audience and enlighten it at the same time. Take me, for instance: I'm a 40-ish white dad who doesn't need to watch Desus & Mero to know what deadass means, but I've picked up some pointers about how to use it in a sentence. Not that I would ever try.
This can be a fraught dynamic, of course. In the years since his heyday on Comedy Central, Dave Chappelle has talked about feeling eaten alive by the fear that he was helping white people laugh at black people. But Desus and Mero don't see it quite like that. "The thing of the show is, it should never feel like you're watching us," Desus explains to me. "What we want you to feel like is you're in the middle."
"You're participating along with us," Mero adds.
"A lot of times people watch this show and immediately hate it," Desus says. "They're like, 'You talk too fast,' 'I don't get any references,' whatever. But you stick with it—all the time we have people who hated it and now they love it."
Comedians tend to have more demons than the average person, and Desus and Mero, who are 37 and 35, respectively, have had to work through their share. They grew up a few miles apart—Desus in the Wakefield section of the Bronx, Mero in Kingsbridge, then Throgs Neck—and met in summer school, but didn't become good friends until years later, when Twitter brought them together. Desus, the son of Jamaican immigrants, worked all kinds of lousy jobs in his late teens and 20s, including tech support for a pornography website, which required him to learn, in exhaustive detail, which types of sexual imagery were illegal in which countries. Mero, whose family is Dominican, absorbed his father's cynicism about life in the Bronx in the 1970s and '80s: "He was always very anti-establishment. I almost wanna say anti-America. He was just mad at the country, and I was like, 'Why are you so mad at this place?' And then he broke it down for me." Mero took the lessons to heart, and after brief stints at Hunter College, in the mail room and IT department at Lehman Brothers, and as a special-education teacher—the one job he actually liked—he started behaving badly.
"I was fucking wild," Mero tells me at one point. "I was just kind of like, 'I want instant gratification—I wanna get high now, and I wanna get laid now.' I can get a job, work 12 hours a day, wait until Friday for a check, or I can just go to Connecticut, hit 10 CVSes, steal all the hydroxyzine they have—" Desus cuts him off: "Okay, you're being very specific right now." Mero dissolves into a giggle fit: "Operation Shoplift! We got him!"
Today's episode of Bodega Boys goes on for more than an hour and a half. Somehow they manage to get laughs out of a conversation that begins with the Boeing plane crash in Ethiopia. Many things are said that cannot be printed in this magazine, or any other, and that might make even Showtime blanch. In fact, Desus and Mero splinter off in so many directions that they never once mention the DJ Envy Ambush.
Desus and Mero have just finished taping their podcast, and they are sitting and talking and making each other laugh. They are also pondering the clout they've suddenly accumulated. Their first guest on Showtime was Alexandria Ocasio-Cortez, who represents the eastern part of the Bronx in Congress and whose easy mastery of its vernacular only underscored the desperation of Republican attacks on her authenticity.
Gillibrand, who appeared the week after my visit, won over Desus and Mero by being equally true to her own roots, which are in rural upstate New York. It didn't matter that she's not from the Bronx; what mattered was that she didn't pretend to be. She didn't pander. She was herself. "It looks like she's just hanging with two people," Desus says. "And that's what we're going for."
Already, the Showtime series is beginning to play a king/queenmaker role among Democratic hopefuls, similar to the one played by Rachel Maddow's show on MSNBC; as of this writing, Cory Booker is up next. Desus and Mero are giddy about these appearances. They know that if a candidate wanders on set with no idea what she or he is signing up for, that person could end up getting pantsed on national TV.
"We're gonna be very up front," Mero says. "We'll be like, 'Yo, fam, watch the show before you come up here.' Because you're not gonna be able to come up here and be like, 'Don't ask me about this.' Say you come on this show, like, 'Oh, I wanna reach out to Millennials'?"
Desus jumps in and finishes the thought: "You might look like a complete asshole."
Sitting side by side in a pair of bucket seats ripped out of a scrapped car and planted beside a coffee table, they take turns answering what seems like a natural question: Don't you ever get tired of talking to each other?
Mero tilts his head as if he's trying to think, but he comes up empty. He shakes his head. Nope. Never. Once, during a gig in Boston, they went on so long that the theater owner had to intervene. "He was on the stage flashing a flashlight," Desus says. "He was like, 'You have to get the fuck off the stage. These people have homes. They wanna go home.' " Now many of their contracts for live gigs include a stipulation fining them if they go on too long. "It's the only way we'll get offstage," he explains, adding that their friendship has but one logical endpoint: "We're gonna get fused together."
"Just one big DXL suit," Mero jumps in, giggling.
"I don't know how your wife is gonna feel about my sex life, though," Desus says, dragging things into his favorite gutter. "I gotta put the sheet up."
And if the fusing doesn't take?
"Write this down," Desus says. "Both of us are gonna host The Price Is Right."
---
This article appears in the June 2019 print edition with the headline "Desus and Mero Beyond the Bronx."