The Photographer Fighting Visual Clichés of Africa
Aïda Muluneh's vibrant images explore Ethiopian identity, and her photo festival aspires to shape a new vision of the continent.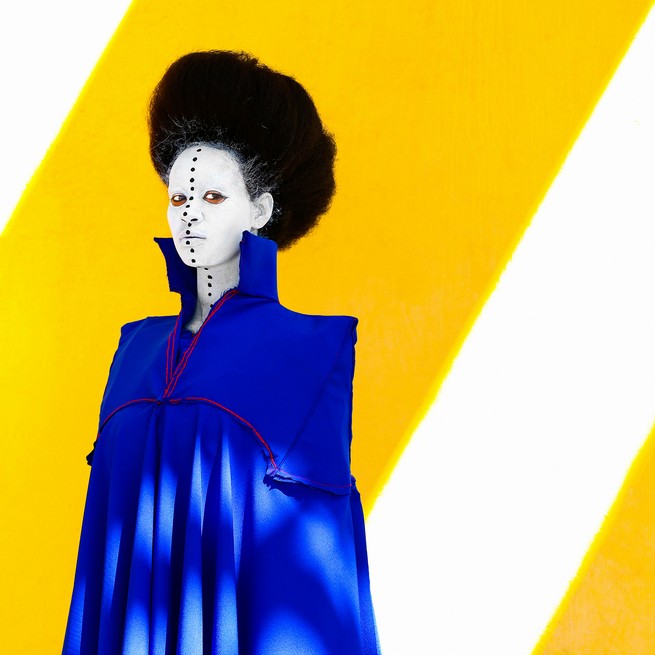 In the spring of 2016, the photographer Aïda Muluneh opened a solo exhibition at the David Krut Projects gallery in New York City. The showcase came nine years after Muluneh had returned to her native Ethiopia, which she'd left as a young child in the 1980s, during the height of the country's punishing Marxist regime. The centerpiece of the exhibit was a series of photographs called The World Is 9, which drew its name from a saying of her grandmother's: "The world is 9, it is never complete and it's never perfect." For an artist whose identity is wrapped up in her delayed repatriation, the impossibility of closure—in the lives of people and nations—has proved to be a powerful theme.
Muluneh's work had attracted praise well before the 2016 exhibition. After attending middle and high school in Canada, she graduated from Howard University in 2000 and then worked as a photojournalist for The Washington Post. "Are you an artist, or are you a journalist?" her boss asked. Her work, which relied on a wide lens and gave priority to mood and composition over details, seemed to strain the conventions of photojournalism, and he told her, "You need to make up your mind." She disagreed, and continued to explore a variety of forms—studio portraits, commercial photography, journalistic coverage of quotidian black life across the diaspora, music videos, and her distinctive facial and figural images. By the time she was 30, two of her photographs had become part of the permanent collection at the Smithsonian's National Museum of African Art, and since then her work has found a home at MoMA, as well as Dartmouth College's Hood Museum. Following on a couple of international photography prizes, The World Is 9 confirmed her ascension to a thrilling, delicate post: one of Ethiopia's reigning image-makers.
"You can't fantasize about making an impact in Ethiopia by being in New York or somewhere else," Muluneh told me when we spoke in Addis Ababa late last year. "You have to actually be on the ground." In the series, a mix of highly stylized and representational images of vividly dressed figures, I saw inventive explorations of national belonging. The works' composition and coloring are arresting. So, especially for those fluent in the semiotics of African visual art, is their clever toying with history and familiarity.
The World Is 9 is steeped in identifiably Ethiopian visual cues. The Departure, for example, depicts melancholic female passengers seen through the windows of a defunct train. Its color palette, like that of many of Muluneh's photographs, is breathtakingly bold—variations on the green, yellow, and red of the country's flag, their vividness endowed with a painterly texture. For the Ethiopian viewer, the hues beckon home; for the Westerner, they offer clear focal points in an otherwise foreign scene.
Muluneh's vibrant acuity, as disorienting as it is alluring, has the power to evoke a place—Africa—and at the same time subvert conventional ideas about it. The Denkinesh triptych, sometimes exhibited with The World Is 9, is especially striking. The three photographs confront viewers with the scintillating danger of red. Each photo bears the same woman's name, presumably that of the pictured figure: Denkinesh. In Amharic, Ethiopia's official language and the one Muluneh was raised speaking, that translates roughly to "You are admirable, worthy of veneration" (and is another name Ethiopians have given Lucy, the early hominid whose fossilized bones were found in the country).
Situated in a harsh landscape dominated by dark-gray rock, Denkinesh wears a blood-red gown so long and billowy that it dwarfs her figure. In the first image, she is curled into herself on a pebble-strewn ground, the fabric spread around her like a pool of blood or a scarlet shroud, only her white-painted face and black hair visible. Next she scales a mountainous incline on her hands and knees; now only the back of her head and one arm are visible, and an ominous, cloud-filled sky is the backdrop. In the final photograph, she stands at the summit, eyes trained on the viewer, the fabric sailing out behind her like a banner. The clouds are white now, and the visible sky is a bright blue. The images—even the triumphant third one—are haunting. They are also extravagantly beautiful. Absent the white body paint, any of them could very well serve as a chicly surreal advertisement for a luxury brand of evening wear.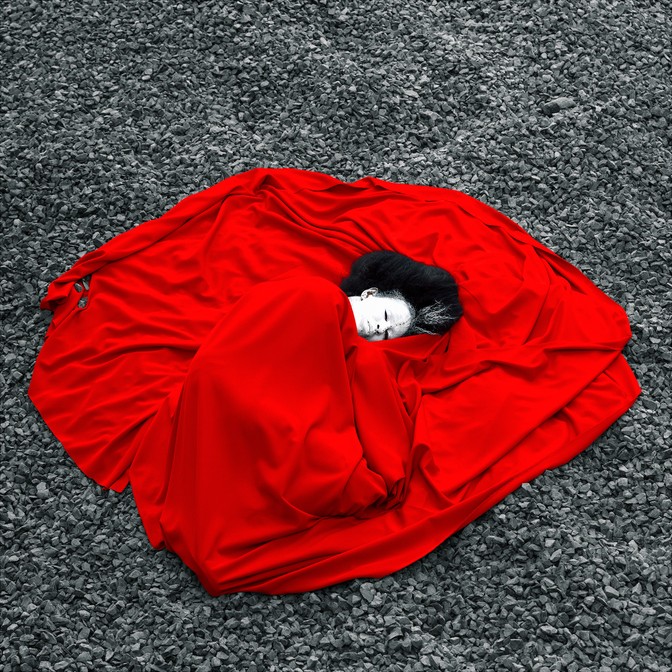 That Muluneh is able to wed this lush Vogue look to the kind of stark imagery often associated with Africa—barren landscape, foreboding skyscape, invocations of blood, traditionally painted skin—is a testament to her comfort working with contradictions. Muluneh's art isn't coy. It deals in high-stakes disparities: Africa as aspiration and Africa as abyss. Reconsider the continent, her images command, and they proceed to connect it to a genre-blending aesthetic that reconceives notions of place and otherness.
Even now, visual renderings of Africa commonly recall painful legacies of colonialism, and continue the sort of image-making that was essential to the project of empire. The New York Times photograph of a starving young child crouching within view of a vulture during the 1993 famine in Sudan is one well-known summation of the trope of desperate emptiness and looming terror. More often, depictions of Africa betray a prosaic lack of interest in probing the continent's depth. A cursory glance at Western-produced media about Africa will yield no shortage of shadowy warlords, shirtless women in body paint, and forlorn acacia trees.
Muluneh rejects these stereotypical visuals, which help entrench in the Western imagination what the Nigerian novelist Chimamanda Ngozi Adichie famously referred to as "the single story" told about Africa. Instead, in merging allusions to those elements with a glossy presentation—and in drawing on both national symbolism and rootless surrealism—Muluneh's photographs represent a bold reimagining. The catalyst for her entry into photojournalism was the intractable imagery of the famine that ravaged her birthplace in the 1980s. Later, impatient and curious, she began exploring stigmatized indigenous forms of expression and incorporating them into her artwork. "I started doing research on traditional body modification across the continent," she told me when we met. Interested in temporary painting as well as scarification and tattooing, she was struck by how "highly sophisticated" traditional cultures' modes of visual storytelling are, "even though they are disregarded as primitive." (Picasso, she noted, lifted plenty from African art.)
It's not about "trying to form a visual aesthetics that's European-based or Western-based," Muluneh said, referring to her own photography as well as to the other project she undertook after moving back to Ethiopia in 2007. She founded a creative consulting agency devoted to "developing and educating society through art," and got busy. Every other December since 2010, she has presented Addis Foto Fest, which I'd come to see—and which is now the largest photography festival in Africa. Muluneh is not modest about the endeavor: "I am basically taking the past to the future," she said of her mission to galvanize the work of artistic self-portrayal and help shape a new vision of the continent. In the quest to figure out "what we want to say, how … we want to say it, and to whom are we addressing this," she feels she occupies a rare position. "I don't think there are a lot of people like me that exist between these two worlds. I'm an insider and an outsider at the same time."
The idea of Addis Foto Fest is to train emerging photographers, not just from Ethiopia but from the whole continent, of all stripes—working in journalism, portraiture, fashion, and even political messaging. The workshops are also occasions for networking with editors from the likes of The Washington Post and National Geographic, and mingling with more established photographers from other countries. Inspiring a continent-wide renaissance of photography and broadening the world's perception of Africa—Muluneh's aims fuel each other, and have a practical dimension, too. A culturally thriving modern Ethiopia will be a country whose tourism economy is thriving as well.
The undertaking has had its grueling side, and Muluneh noted that she often wished Foto Fest had more support from the Ethiopian government. For funding, "I shouldn't have to go to the Europeans always, or to the foreigners or whatever," she said. This struck me as especially true in 2018, when the festival coincided with a dizzying wave of once-unthinkable reforms and growth in Ethiopia, and a nation-building mood. The recently appointed prime minister, Abiy Ahmed, has been credited with rallying the country's ethnically divided citizens behind a sense of national pride as well as ending the long border war with neighboring Eritrea—and energizing the diaspora in the process. Citing an Ernst & Young study about the economic impact of the creative sector, Muluneh was insistent that businesses need to recognize the importance of a country's cultural capital and shoulder the responsibility of helping to build it.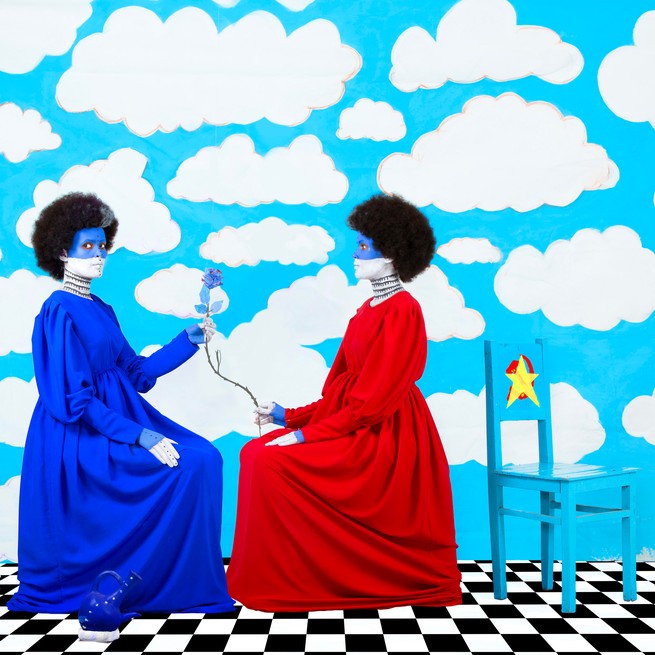 In her own recent works, Muluneh continues to draw on her home country's visual hallmarks and its complicated history. Selected by the film director Ava DuVernay to be featured in Time magazine's 2019 special issue on optimism, Muluneh created three new photographs for the publication. One of them, titled The Bridge Between, depicts two Ethiopian women sitting in chairs, set against a cerulean backdrop with bright-white clouds painted on it. One figure is clad in a royal-blue dress, the other in a matching red version. Both women hold different parts of the same rose. A jebena, or traditional coffee pot, rests at their feet. A chair, facing away from both of them, bears a yellow star painted over a red hammer and sickle.
The paired figures in her photograph invite an upbeat reading, as a comment on the power of personal connection—particularly among women—during both the imperial era and the Marxist regime that forced Muluneh out of the country. The scene nods, too, to the homegrown facilitator of communal action: Coffee, Ethiopia's most famous export, is as much a woman-centric social ritual as it is a national economic driver. Yet Muluneh's signature blend of surrealism and national symbolism betrays a certain didactic flatness this time, almost as if to suggest that the tableau of progress risks seeming too facile. The Bridge Between is a commissioned piece, on a prescribed theme, and Muluneh specializes in defying expectations. The artist who has said she is "taking the past to the future" doesn't lack ambition, but as her gorgeous yet jarring images convey, she isn't peddling easy optimism.
---
This article appears in the June 2019 print edition with the headline "Ethiopia's Image-Maker."