The Queer Coming-of-Age Movie Arrives
Movies like Boy Erased and Love, Simon show gay teens undergoing rites of passages that upend the classic Breakfast Club script.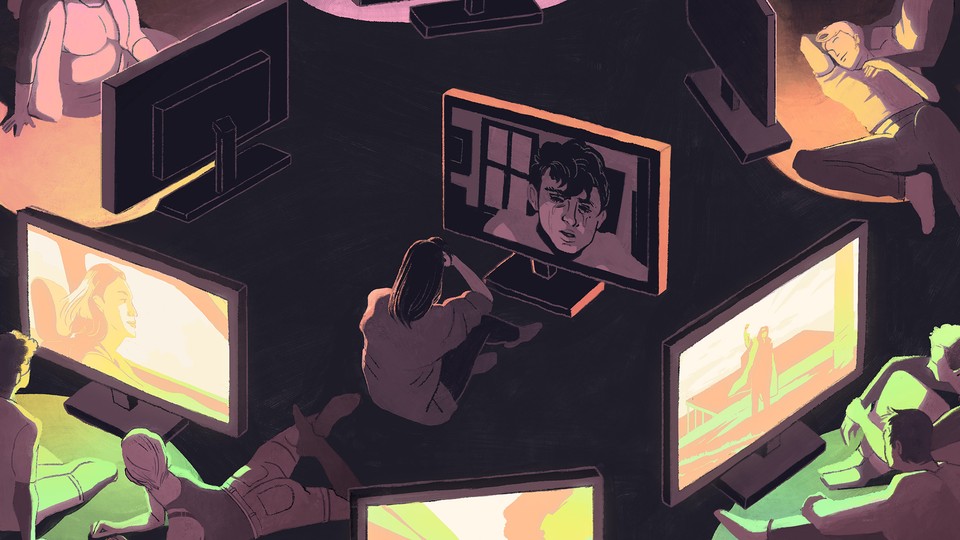 "My God, are we gonna be like our parents?" That's the fear voiced by one of the five motley high-school students locked in detention in John Hughes's The Breakfast Club—and that's the crucial question underlying most movies about adolescents coming of age. The onscreen antics of teenagers might take the form of giddy flirtations (Grease), drunken ramblings (Dazed and Confused), or feisty self-renaming (Lady Bird), but the kids' objectives are usually the same: to fashion an identity by rebelling against the authorities—and expectations—that raised them. This quest is, however, circular. The losing of virginities and conquering of cliques may require transgressions in the moment, but by the time the credits roll, the teens have generally started prepping for a productive adulthood against which their own children might someday revolt.
For some kids, though, rule-breaking is less a route toward self-definition than a requirement built into existence. That's the reality recognized by a recent crop of popular films centered on the queer teen, a figure who until now has been cinematically marginal: casually stigmatized in crass banter, relegated to playing sidekick in someone else's rites of passage, or claiming the foreground only for small art-house audiences. The first major-studio movie about adolescent gay romance, Greg Berlanti's spring hit, Love, Simon, uses teen-comedy tropes to portray homosexuality as no big deal in a well-off, relatively woke slice of America. But other recent films, set in less tolerant places and eras, hint that integrating queerness into a schema that has been overwhelmingly straight isn't so simple.
Two prominent depictions of Christian gay-to-straight "conversion therapy," the star-studded Boy Erased and the Sundance winner The Miseducation of Cameron Post, forgo the notion of puberty as a full-circle journey. So, in more oblique ways, did Moonlight, the Best Picture winner at the 2017 Oscars, and the 2018 Best Picture contender Call Me by Your Name. Whether persecuted or nurtured by their surroundings, queer teens fundamentally flip the Breakfast Club script: Their fear is not that they'll become their parents, but that they face a future in which that isn't a possibility. If that sounds potentially freeing, it is also, in these movies at least, a special kind of terrifying.
In literature and elsewhere, the go-to queer narrative is the coming-out story, which might seem well suited to the on-screen LGBTQ teenager on the brink of autonomy. After all, high-school movies are always, on some level, about outing: The protagonist struggles—nervously or defiantly or both—to announce who she really is to the world. But the queer teens now taking center stage are understandably gun-shy about this rite. Almost in passing, Greta Gerwig's Lady Bird highlights the difference in what's at stake. For Saoirse Ronan in the title role, bucking the dutiful-teen image is a performative thrill; her boyfriend (Lucas Hedges), who she discovers is gay, isn't ready to upend parental expectations in what feels like a more irrevocable way.
Putting that apprehension in the foreground, this year's gay-teen movies summon external forces to yank identity struggles into the open. In Love, Simon, Simon (Nick Robinson) is blackmailed by a classmate who discovers the secret Simon had hoped to keep through high school—and the kid eventually outs him anyway. Family members, peers, and school staff rally in support of an almost caricatured romantic-comedy finale for Simon: Young lovers ride a Ferris wheel, happily ever after. Simon never dreamed he'd remain in the closet; he just wanted to time his emergence to his arrival at college. That the mortifying disruption of this plan turns out to be kismet is not unlike what happens to the straight teens of Sixteen Candles and To All the Boys I've Loved Before, who have their private crushes revealed against their will.
The recent conversion-therapy movies redraw the blueprint more radically with the simple recognition that for a lot of queer youths, exposure really can spell catastrophe. In Desiree Akhavan's The Miseducation of Cameron Post, set in the 1990s, the title character (Chloë Grace Moretz) is furtively hooking up with another girl at prom when the car door is flung open by Cameron's male date. In Joel Edgerton's Boy Erased, Jared (Hedges again), the Arkansas son of a hard-line preacher (Russell Crowe), diligently resists acting on his same-sex attractions—but is still outed, in extremely traumatic circumstances, when he goes to college in the early 2000s. The unmasking of these characters doesn't represent a capstone of self-actualization; it kicks off a communal effort to constrain who they might become—to stop same-sex attraction before it "gets worse," as one Boy Erased church elder puts it.
Change, usually the liberating mantra of coming-of-age movies, represents oppression and conformity in these films: It's what the Christian brainwashing camps insist is possible for gay teens, something very near the opposite of the discovery of a true self. The comic pop-culture trope of the regimented high school morphs into a grimmer setting of hapless yet powerful adults and trapped kids. Even the homework is a perverse twist. For The Breakfast Club's crew, being forced to write an essay about "who you think you are" offers each teen a pretext to break out of a stereotyped public image. But mandatory self-analysis, when truly futile, begins to resemble torture: Jared must annotate his family tree with the sins of his forebears (alcoholism, gambling, gang affiliation), and Cameron draws an iceberg showing all the supposedly malign influences below her surface (enjoyment of sports, lack of positive female role models). "How is programming people to hate themselves not emotional abuse?" Cameron asks.
Seeing through the quacks in charge and confirming the truth of their own desires—which both of them ultimately do (Jared with the eventual support of his mother)—isn't a prelude to fruitful rebellion or an upbeat transition away from home. Jared the earnest church kid frets about his parents' love more than anything else. Cameron takes on light punk airs, joining ranks with the pot-smoking skeptics in the program she's sent to, but she's not fighting the system to achieve acceptance. Though both characters end up as runaways of sorts, they don't seem to be running toward any particular adulthood they may be dreaming of. Survival has to come first.
Set further in the past, the breakout queer-teen movies of the previous two years each consider—from opposite perspectives—how a person's initial environs might follow them forever. In Barry Jenkins's Moonlight, the black youth Chiron (played in turn by Alex R. Hibbert, Ashton Sanders, and Trevante Rhodes) suffers bullying and parental abuse as he grows up amid Miami drug dealers and addicts in the 1980s. Moments of grace and fellowship are precious, and he's shown acting on his same-sex desires in only one fleeting teenage encounter. In his high-school years, he does rebel—but by savagely beating a classmate, making a display of masculinity that brings him in line with the heterosexual status quo. Years later, he hasn't diverged from the script that shaped his youth—he's become a drug dealer—and whether he may belatedly be ready to pursue his desires is left open. Life itself may have erased this boy.
A contrast to Chiron in so many ways, the white and wealthy Elio (Timothée Chalamet) of Luca Guadagnino's Call Me by Your Name avails himself of a few different scripts over one blissful '80s summer in the Italian countryside. Like a stereotypical 17-year-old, he sneaks around in pursuit of sex behind his worldly parents' backs, at first with girls and soon with Oliver (Armie Hammer), the handsome graduate student spending the summer at his family's villa. Yet what looks like brave same-sex exploration on his own terms is suddenly cast in a very different light at the film's close: Elio's father indicates that he's been aware of the affair all along. In fact, he's been jealous of it, having yearned in vain for similar experiences.
Can Elio be who his father wishes he'd been? The film holds out, for a moment, the utopian possibility that a queer kid could be propelled forward by the possibility of fulfilling unmet parental dreams, rather than disappointing deeply entrenched ones. Yet a shadow flits across that uplifting prospect. Elio is soon heartbroken to learn that Oliver, who has returned to his grad-student life, is marrying a woman. "You're so lucky," the older man tells the younger one over the phone while reflecting on their tryst. "My father would have carted me off to a correctional facility." In the film's pointedly open-ended final scene, Elio just sits and cries. Presumably he's contemplating the mystery of his future, one in which the men who might have been his role models appear to have surrendered some part of themselves. Even in Elio's liberation, there's no clear path for him to walk.
Most teen stories, of course, are open-ended on some level. Puberty breaks everyone's life in two, and what comes after graduation is necessarily unwritten. But for gay kids, a ready synthesis between the old order and the new sexual self doesn't obviously await. Willingly or not, they're swept into an unfolding historical saga. These characters thus come to inhabit their misfit status—a dislocation that's permanent and deep, rather than fleeting and cosmetic—reluctantly, quietly, and often with gestures toward external conformity.
In look and feel, these movies mimic their muted heroes. Mostly gone are the hijinks and raunch of typical teen comedy, eclipsed by struggles to belong that tend toward stately, notably pretty melodrama. A sensitive camera eye helps capture teens' interiority, a social vista, and the chasm between them. Yet the critic D. A. Miller has convincingly argued that mainstream gay movies' "mandatory aesthetic laminate, which can never shine brightly enough with dappled light," is also a sop: meant to make homosexuality palatable for a broad audience.
Certainly it's curious that in an age of unprecedented visibility for LGBTQ communities, the queer teens chosen for the cinematic spotlight appear so allergic to, well, seeming gay. Simon is self-mocking as he at one point indulges in a daydream of being accompanied by a rainbow-clad cheering squad when he leaves the closet, and he keeps the only out kid at school—sardonic, femme, and black—at arm's length. Elio pokes fun at the flamboyant older gay couple who visit his parents, and Jared's arrival into a life of writing New York Times op-eds and attending Brooklyn dinner parties is shown glancingly, in an epiloguelike time jump. Whether the implied assimilationist impulse reflects the filmmakers' or the characters' caution is up for debate. Either way, the caution serves as a reminder: There's a reason slogans like "It gets better" have tried to give queer kids the kind of optimistic narrative arc that pop culture has offered straight teens for so long.
And even in their mannered quietude and their relegation of politics to subtext, these films carry a disruptive message. Boy Erased ends with Jared telling his dad that he, not Jared, is the one who needs to change. When Simon's father repents for all the gay jokes he's told over the years, the gesture is warm but wan. The parental apology suggests why coming of age feels so heavy in these movies: It's the world, not just the teen, that's struggling to mature.
---
This article appears in the December 2018 print edition with the headline "The Queer Coming-of-Age Movie Arrives."