Who Is the Most Underrated Superhero?
Rainbow Rowell, writer, Runaways
She-Hulk. This is my least favorite way to create female characters—Hey, what if there was a girl version of that guy everybody likes?—but She-Hulk is the goddamn best. Complex, nuanced, always delightful. She kept working as an attorney after she went green, because she's so good at it. Also, she's funny. And she has Marvel's best hair.
---
Jess Calder, producer, Blindspotting and Little Monsters
In 1944, the artist Chu Hing created the Green Turtle, who was rumored to be the first Asian American superhero. We never saw the masked hero's face—purportedly Chu's silent refusal to bend to the publisher's whitewashing wishes. Luckily for us, the author Gene Luen Yang and the illustrator Sonny Liew have now claimed him as Chinese American and given him a rich backstory, reminding us all that "sometimes a fight you cannot win is still worth fighting."
---
Michael Dennin, physics and astronomy professor, UC Irvine, and co-host, Fascinating Fights
Aquaman does much more than speak to and summon fish. Breathing underwater, withstanding attacks from supervillains, and resisting machine-gun fire are just the tip of the iceberg. Add in the Trident of Neptune, and he is unbeatable!
---
Reader Responses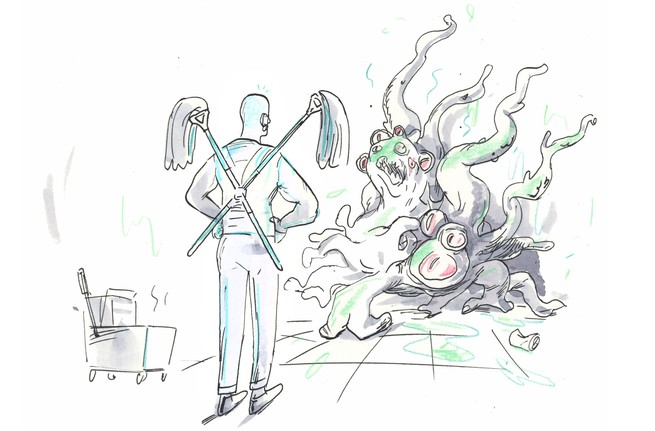 Lucia Perri, Guthrie, Okla.
It has to be Mr. Clean. Who would pick a man who spins spiderwebs over a man who can clean the kitchen floor?
---
Emilie Cunning, London, United Kingdom
Ant-Man's ability to shrink to ant size and act as a concealed attacker is quite remarkable, as is his inverse ability to grow giant and overpower others with his sheer strength. Scott Lang is also a down-to-earth and amusing character who cares deeply about his family and friends—traits that are lacking in some other superheroes.
---
Louis Phillips, New York, N.Y.
The bacteria that destroyed the alien invaders in H. G. Wells's The War of the Worlds, thus saving the human species.
---
Dan Fredricks, Janesville, Wis.
The inimitable cartoon sailor Popeye, whose real superpower was influencing generations of kids to eat spinach.
---
Phillip Welshans, Baltimore, Md.
Magneto, who is the realist to Professor Xavier's idealist in the X-Men universe. He stands up for mutants who are unfairly persecuted and imprisoned by humans. And every time he starts to believe Professor X's lines on the good that exists in human nature, we do something terrible to reconfirm what he has always suspected. Magneto is the super anti-hero we deserve in these dark days.
---
Katherine Simonson, Cedar Crest, N.M.
The Road Runner: Flightless and inarticulate (with a one-word vocabulary), this plucky little bird outwits his dogged adversary in every episode. His superpower is his ability to evade all manner of nefarious schemes.
---
Silvia Vong, Toronto, Canada
Captain Planet battled eco-villains like Hoggish Greedly, Looten Plunder, and Duke Nukem while educating viewers on eco-friendly best practices: "The power is yours!"
---
Mike Plocher, Happy Valley, Ore.
An easy choice: Angus MacGyver (portrayed by Richard Dean Anderson), whose skill set was unequaled. Over the course of 139 prime-time episodes, he showed us what it takes to get the job done.
---
Judah Lewis, actor, The Christmas Chronicles (17 years old)
The most underrated superheroes are people who, in the face of adversity, advocate for positive change. Namely the Parkland survivors who continually stand up for the lives of children and our future.
---
Kristen Ruhlin, actor, writer, and producer, Welcome to Mercy
Caregivers—not just parents, nurses, or children, but all the men and women who have the sole responsibility to care for another person. It's thankless, exhausting, beautiful, funny, horrific—it's a lot, but it's love.
---
Want to see your name on this page? Email bigquestion@theatlantic.com with your response to the question for our March issue: What was the biggest scandal of all time?