South Koreans Love Their 'Stress Cafés'
New places of respite are popping up in one of the world's most overworked, underslept cities.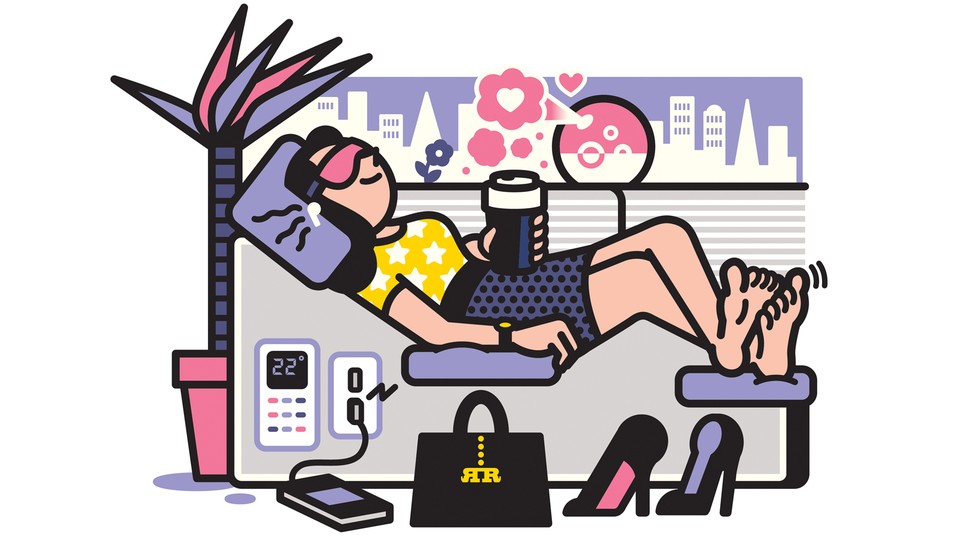 Midday on a Monday, I walked briskly into the Shim Story Public Convenience Lounge, hoping to take a quick peek at the café craze sweeping Seoul before resuming my reporting on North Korea's nuclear weapons. Then I lost my shoes. They were taken by a bubbly, bespectacled man named Jung Oon-mo, who handed me slippers and guided me past curtained massage chairs and cubicles containing heated beds and dozing customers.
Soon enough, I was ensconced in a beanbag chair in the common room (nearly all the seating at Shim Story is of the beanbag variety). The initial effect was as if an infirmary and some office space had gotten together and given birth to a spa, with hints of a childhood friend's basement. Sipping jasmine tea and surrounded by leafy plants as '70s soft rock wafted through the air, I asked Jung what sort of establishment I had entered. "It's like a home within the city," he replied, "but the impact is better than home." I could see what he meant: a front entry where you were welcomed and offered drinks; a living room that gave off a lazy weekend-morning vibe, complete with magazines, board games, and televisions playing anime; snug, soft-lit bedrooms.
Jung's lounge belongs to a rapidly expanding array of what might be described as "stress cafés." (One chain alone, Mr. Healing, has opened 110 branches across the country since 2015.) They are distinguishable from pay-to-nap facilities because of the sheer range of options they offer for body and soul: Patrons enjoy everything from hammocks and mental-health counseling to the "aroma of the forest" and oxygen generators (the air quality in Seoul is awful).
The cafés are a balm for a sleep-deprived population that works some of the longest hours in the developed world. Yet as Jung tells it, they are also about reviving something South Korea lost when multinational coffee chains arrived in the late 1990s, turning Seoul into one of the cities with the most Starbucks on Earth. Gone were the traditional dabangs—cafés that grew popular in the 1930s and served up sugary coffee, space for quiet conversation, and occasional poetry readings, political debates, and DJs. As one current café owner told Korea JoongAng Daily, dabangs were first and foremost social venues: "People didn't care much about the taste of coffee—and it tasted terrible."
For the record, my tea tasted fine—but at the new cafés, as at dabangs, beverages aren't the point. Shim Story's ambience encouraged the kind of heart-to-heart I'd have been unlikely to have at a Starbucks. As "Rocky Mountain High" played in the background, Jung told me he had been in a band that regularly appeared on TV in the '70s. Then came mandatory military service and 30 grueling years in the garment industry, during which he never picked up his bass guitar.
It now stood in a corner of the lounge, which the 61-year-old describes as his retirement plan. He was playing the instrument again—as a form of "healing." If running a business in a competitive market was stressful, Jung didn't let on. Instead he sat there serenely, listening to John Denver croon "Comin' home to a place he'd never been before" while harried compatriots, heeding Denver's advice, made themselves at home.
---
This article appears in the October 2018 print edition with the headline "Big in … Seoul: Stress Cafés."