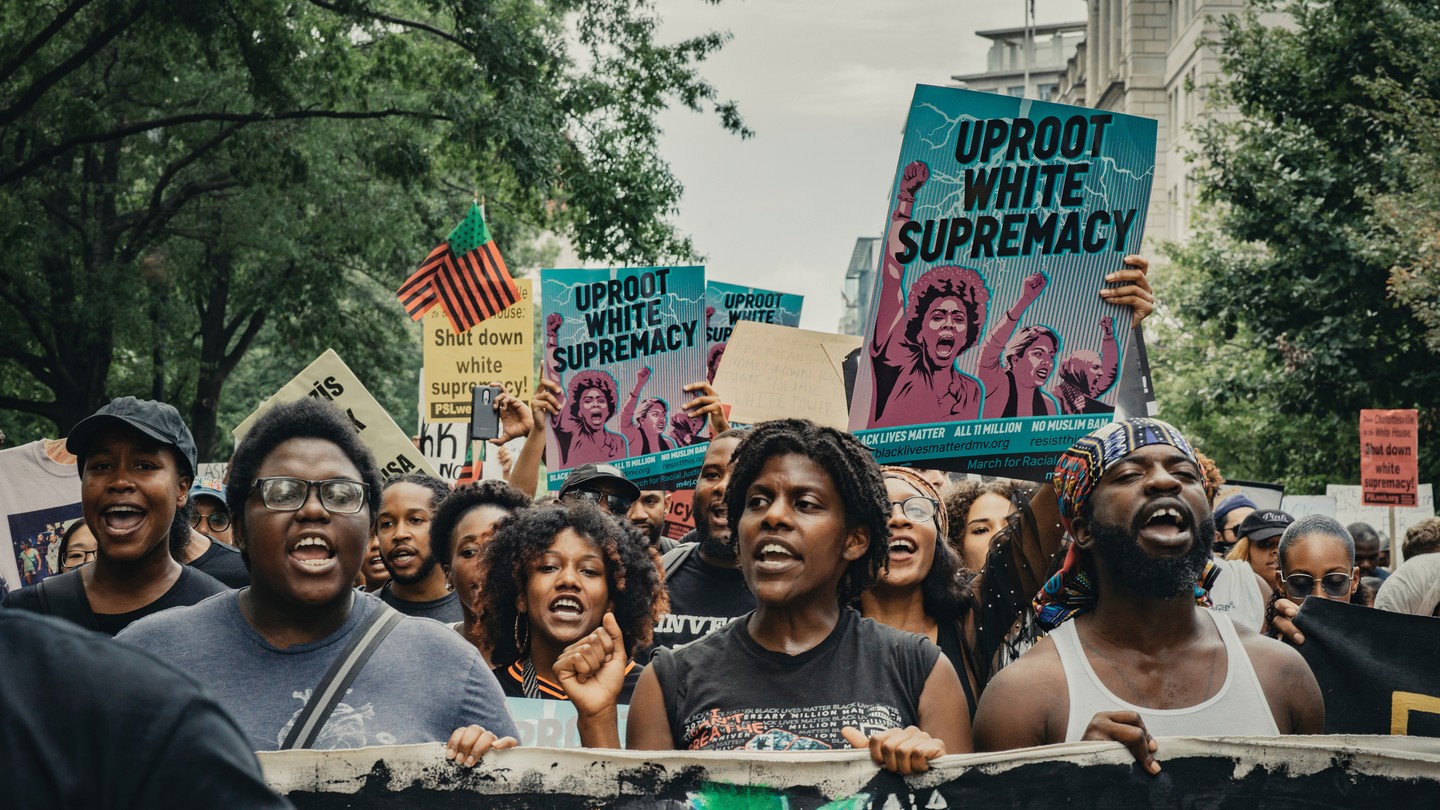 Where America's Civic Reawakening Is Happening
Political enthusiasms are running high around the country.
Editor's Note:
This photo essay is part of a series that attempts to answer the question: Is democracy dying?
Whatever the overall state of America's civic health, political enthusiasms appear to be proliferating—for good and ill. Some of these enthusiasms are visible to anyone with an internet connection, but they are also showing themselves in classic demonstrations of democracy. The photos that follow, taken earlier this year, document that participation and explore the various ways that Americans are civically engaged today.
---
image above:

Black Lives Matter Protest, Washington, D.C.

A "Rise Up Fight Back" demonstration is held a short distance from the White House on August 12, in response to a white-nationalist rally nearby—exactly one year after the "Unite the Right" rally in Charlottesville, Virginia.
---
Becoming an American, New York City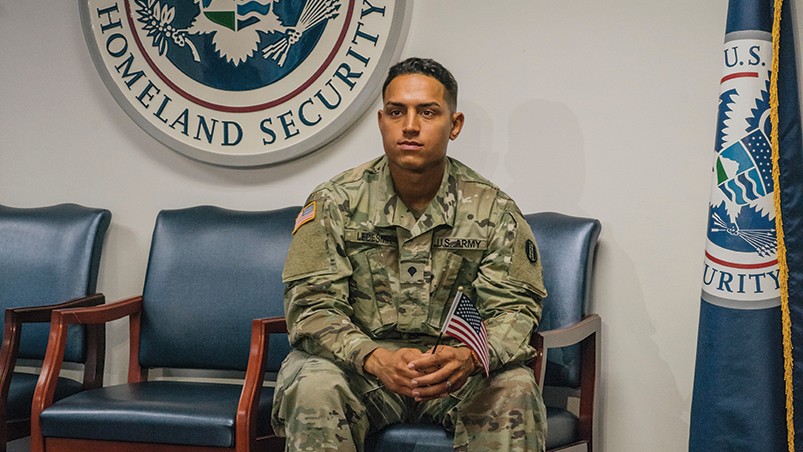 Adenawel Ledesma, 23 (above), a U.S. Army specialist from the Dominican Republic, waits to participate in a naturalization ceremony in Manhattan, after serving two years in the military. In 2017, the New York District of U.S. Citizenship and Immigration Services processed about 11 percent of all naturalizations in the United States, accepting approximately 78,000 new citizens.
Toya Piper (below), originally from Jamaica, stands with her 5-year-old daughter, Hailey, to recite the Pledge of Allegiance at the same ceremony.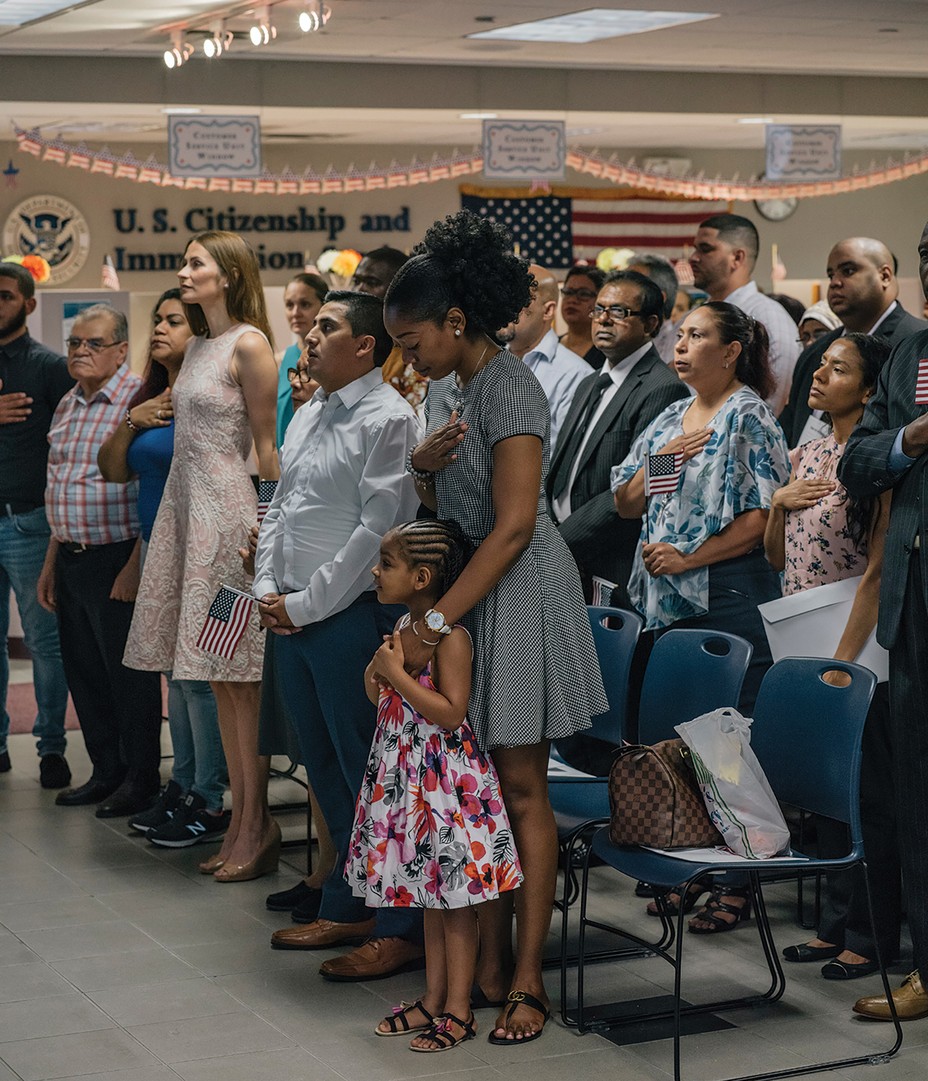 Holding her certificate, Jannat Chowdhury (above) poses with her husband, Shahadat; both are immigrants from Bangladesh.
---
Colorado Rising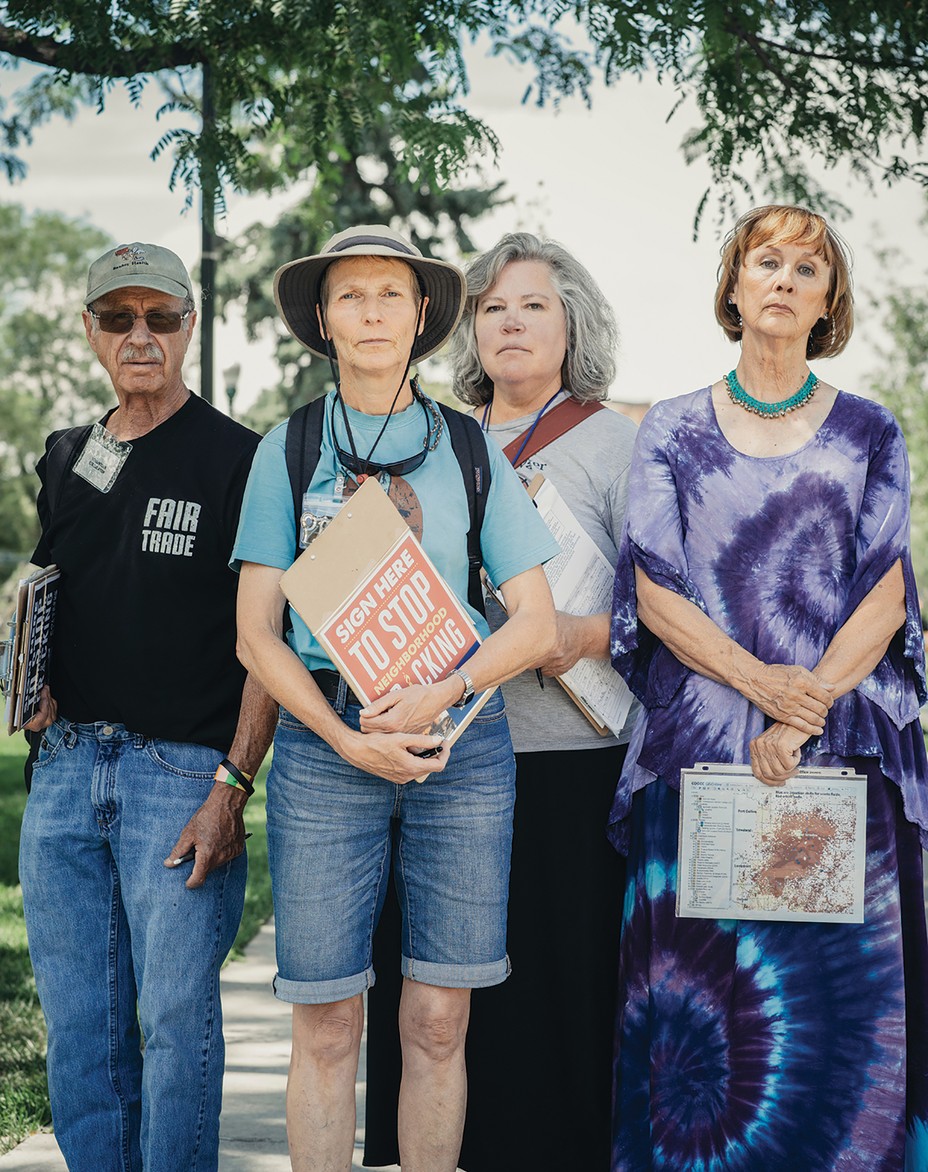 Don Perl, Jutta Seeger, Therese Gilbert, and Tannis Bator (above) volunteer for Colorado Rising, an organization fighting for more stringent fracking regulations in the state. The organization recently submitted a petition with thousands of signatures in an effort to pass a statewide ballot initiative that would establish buffer zones between oil-and-gas operations and homes, schools, playgrounds, drinking-water sources, and other sensitive places.
Lauren Swain (below) gets signatures for the ballot initiative in a park.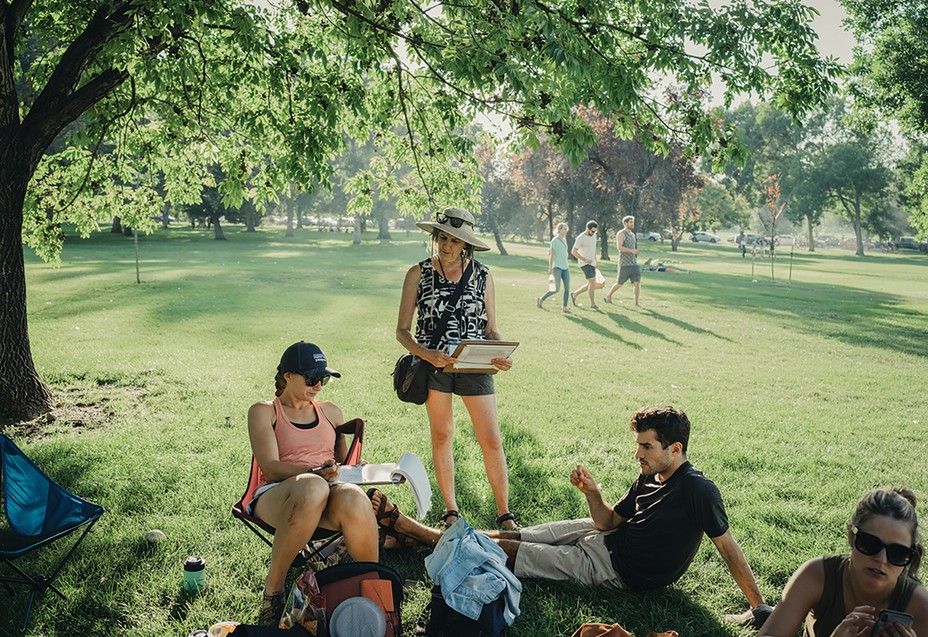 ---
Anti-Abortion Canvassing, Avon, Indiana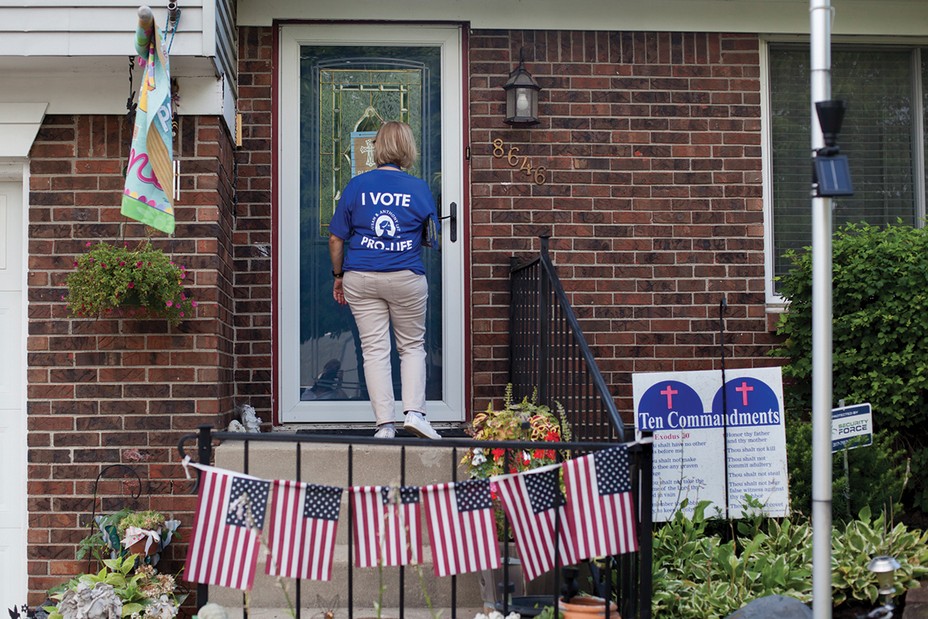 Sandy Burton knocks on a door for the Susan B. Anthony List, an anti-abortion political group. With a Supreme Court vacancy and the potential opportunity it brings to change the law, anti-abortion groups are mobilizing forces at the local level.
---
Special Election, Westerville, Ohio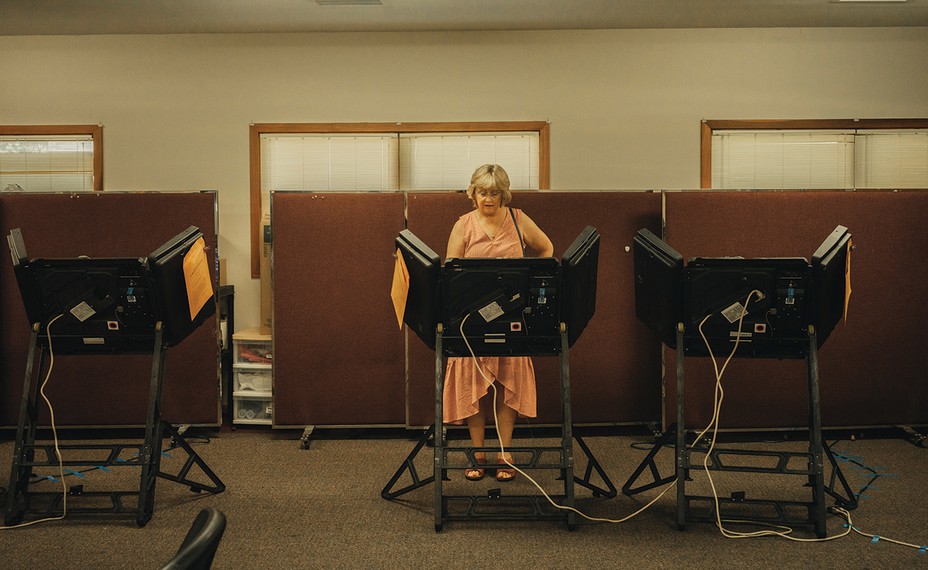 Voter turnout on August 7 to fill the open congressional seat in Ohio's 12th District was unusually high for a special election, as it has been for many primaries and general elections this year. At the time of this writing, absentee ballots were still being counted and the race between the Republican candidate, Troy Balderson, and the Democratic candidate, Danny O'Connor, was too close to call. Voters pictured below: (top row) Sarah Napper, Justin King, Dayna Hildreth, Douglas Kirk; (bottom row) Judy Howard, Gage Ruhlen, Anh Hoang, James Sullinger.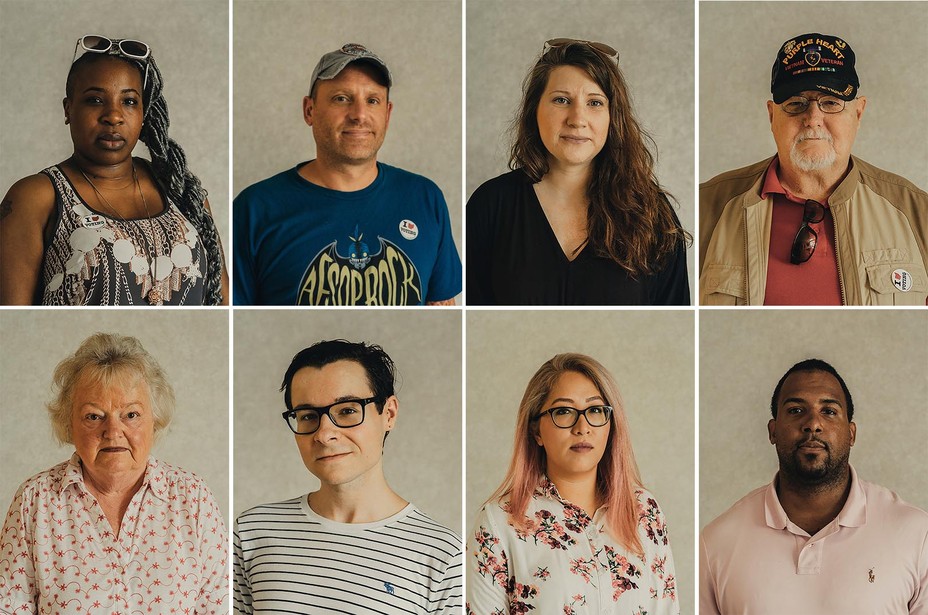 ---
Gun-rights Rally, Harrisburg, Pennsylvania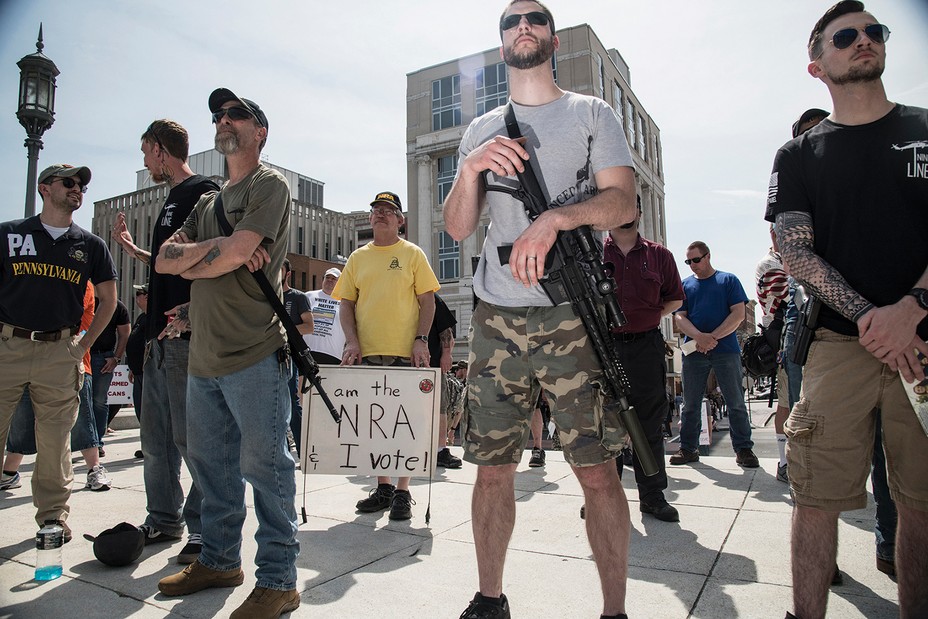 Gun-rights advocates rally in the state capital—and in others—on April 14 to oppose efforts to pass stricter gun-control laws, three weeks after the March for Our Lives, a student-led demonstration in Washington, D.C., in support of such laws.
---
Florida Rights Restoration Coalition
Marquis McKenzie, 28, is a full-time organizer with the Florida Rights Restoration Coalition. McKenzie was arrested for robbery when he was 15 years old, served two years in prison before being released early for good behavior, and remains unable to vote—Florida is one of many states that require ex-felons to receive special approval from the state government before they can vote. Today he works in support of a ballot initiative that would automatically restore voting rights to felons (except murderers and sex offenders) who have served their sentences, completed parole or probation, or paid restitution.
---
This article appears in the October 2018 print edition with the headline "A Civic Reawakening?"