How Poetry Came to Matter Again
A young generation of artists is winning prizes, acclaim, and legions of readers while exploring identity in new ways.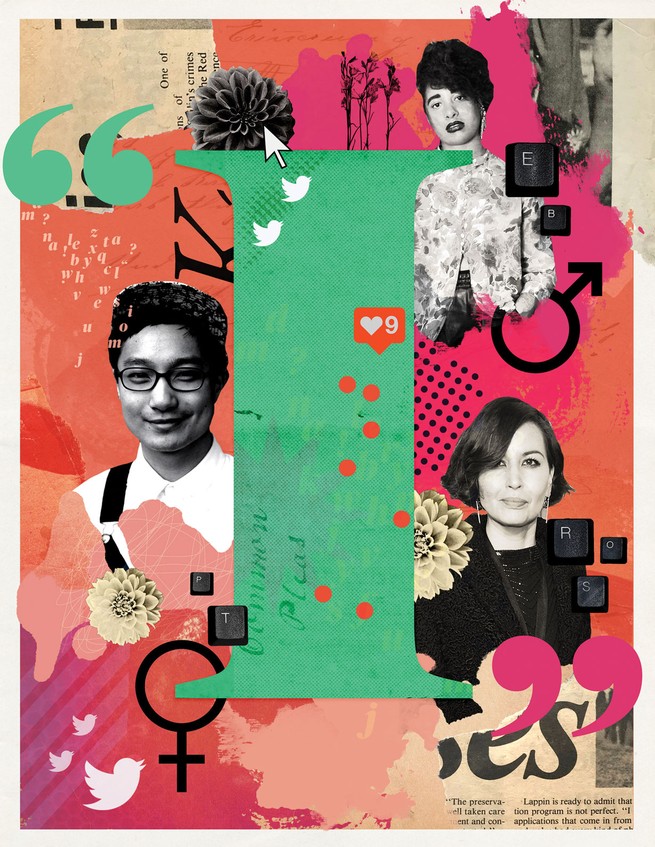 The poetry world would hardly seem a likely place for a "race row," the phrase The Guardian applied in 2011 to a blunt exchange of literary verdicts. The celebrated (and white) critic Helen Vendler had disparaged the celebrated (and black) poet Rita Dove's selections for the new Penguin Anthology of Twentieth-Century American Poetry. Dove, Vendler wrote, had favored "multicultural inclusiveness" over quality. She'd tried to "shift the balance" by choosing too many minority poets at the expense of better (and better-known) writers. The poems were "mostly short" and "of rather restricted vocabulary," the presiding keeper of the 20th-century canon judged. Over at the Boston Review, the (also white) critic Marjorie Perloff, the doyenne of American avant-garde poetics, weighed in too. She lamented what she saw as new poets' reliance on a formulaic kind of lyric already stale by the 1960s and '70s—a personal memory dressed up with "poeticity," building to "a profound thought or small epiphany." Her example: a poem by the acclaimed (also black) poet Natasha Trethewey about her mother's painful hair-straightening routine.
Dove took strong exception to a pattern she saw in the response of established white critics. Were they, she demanded, making
a last stand against the hordes of up-and-coming poets of different skin complexions and different eye slants? Were we—African Americans, Native Americans, Latino Americans, Asian Americans—only acceptable as long as these critics could stand guard by the door to examine our credentials and let us in one by one?
It's been a long time coming, but the door has since been blown off its hinges. Skim the table of contents of the major literary journals, including white-shoe poetry enterprises like Poetry magazine, and even general-interest weeklies with vast reach such as The New Yorker and The New York Times Magazine. Scan the recipients of the prestigious and sometimes lucrative fellowships, awards, and lectureships granted annually to the most promising young poets in the country. They are immigrants and refugees from China, El Salvador, Haiti, Iran, Jamaica, Korea, Vietnam. They are black men and an Oglala Sioux woman. They are queer as well as straight and choose their personal pronouns with care. The face of poetry in the United States looks very different today than it did even a decade ago, and far more like the demographics of Millennial America. If anything, the current crop of emerging poets anticipates the face of young America 30 years from now.
These outsiders find themselves, at the very start of their careers, on the inside—and not just of a hermetic realm of poetry whose death knell someone sounds every April, when National Poetry Month arrives. At literary festivals, many of these poets are drawing big crowds, as I saw in November when what looked like hundreds of people waited in the rain to hear Danez Smith and Morgan Parker discuss "New Black Poetry" at the Portland Art Museum, in Oregon.
When I spoke this spring with Smith, who uses plural pronouns, they were just back from a United Kingdom tour for their collection Don't Call Us Dead, a National Book Award finalist. The British press had marveled at poetry that could win critical notice in The New Yorker and rack up 300,000 views on YouTube. There are "a lot of stories that we've been telling that are now being told in more public ways," Smith said, noting the collective energy of this generation, and of poets of color and queer poets more broadly. Each new book and accolade spurs a fruitful competition to do and dare more. "I don't want to be the one to show up wearing the bad dress," Smith went on. "A win for somebody is really just a win for poetry, the people that read it, and the people that we come from."
More than a few of this generation's bright lights found poetry first through performance, or come from communities where "spoken word" and "poetry" are not separate lanes. Other poets have shown a talent for building an audience in less embodied ways. Before Kaveh Akbar published his strong 2017 debut collection, Calling a Wolf a Wolf, he had established himself through his interview series on the website Divedapper, which offers intimate and engaging introductions to new American poets. He also tirelessly shares what he is reading with his 28,000 Twitter followers, posting daily screenshots of pages from books that have excited him.
Emerging poets of this digital-native generation are ready to work at getting their words and their names out there. A number of them have agents and publicists (this is not, historically speaking, normal!). Some are genre crossers, bucking poetic insularity. Saeed Jones (Prelude to Bruise, 2014) is a public presence as an on-camera host of a BuzzFeed News show. Fatimah Asghar (If They Come for Us, 2018) wrote and co-created a popular web series, Brown Girls, now being adapted for HBO. Eve L. Ewing (Electric Arches, 2017) is a sociologist and commenter on race with a massive social-media presence.
Poets a little older may grumble at the networking and exposure, but their juniors respect the hustle, convinced that poems, with the right push, can "enter the jet stream of the ongoing national discourse," as Jones has put it. They are onto something: A recent survey by the National Endowment for the Arts revealed that poetry readership doubled among 18-to-34-year-olds over the past five years.
The energy on display is about more than savvy marketing or niche appeal. "From what I'm seeing," says Jeff Shotts, the executive editor of Graywolf Press, who edited three of the 10 collections that made it onto the long list for the 2017 National Book Award in poetry, "this is a renaissance." And most striking among the many forces propelling that renaissance is a resurgence of the first-person lyric—just what the "language poets" of the late 1970s declared obsolete. Too narrowly experiential, too sentimental, too accessible, inadequate to the task of engaging with a postmodern, media-saturated culture—this was the verdict of a previous avant-garde that abandoned "the speaker" in favor of a recondite poetics that appealed to an ever more exclusive audience. But the rising generation—while embracing avant-garde techniques (the use of radical disjunction and collage, the potpourri of "high" and "low" cultural references)—hasn't bought the message. Having come of age in the heyday of identity politics, the diverse poets now in the spotlight are reclaiming "the democratic 'I,' " in the words of the poet Edward Hirsch.
This "I," reared on multiple languages and dialects, could not be said to suffer from a restricted vocabulary, as Vendler complained. Lyric, for this generation, definitely needn't mean short. Making their debut in the wake of Claudia Rankine's best-selling Citizen: An American Lyric (2014), poets dare to tackle project books, with historical sweep and hybrid form, right out of the gate. This "I," aware of the variously marginalized "we"s to which it belongs, marries the personal to the ambitiously political. Its ascendancy has raised poetically energizing questions about identity. The young poets who stand out have helped make race and sexuality and gender the red-hot centers of current poetry, and they push past as many boundaries as they can. They strain to think anew about selfhood and group membership. Drawing on eclectic traditions, they mine the complexity latent in the lyric "I." At its best, the last thing this "I" aspires to deliver is tidy epiphanies.
The labor of removing the hinges from the door in fact began decades ago. While the language poets were upending late-20th-century American poetry—trying to subvert the powers that be by flouting expressive conventions—minority poets were pushing to integrate the literary world and the canon, as well as championing alternatives. The Black Arts Movement of the 1960s and '70s, and the numerous organizations it spawned, advocated independent outlets for black, Asian American, and Latino artists. But by the '80s, the drive was on to claim a seat at the table—which meant demanding a bigger table.
That wasn't easy in a poetry culture that was white in its present and white in its past, and not exactly eager to confront this fact. In 1988, tired of feeling like tokens in poetry workshops, two Harvard undergraduates and a composer friend formed the Dark Room Collective in a yellow Victorian house in Cambridge, establishing a space in which to foster the work of young black poets. Over the next decade, a remarkable array of talent found a home there, including Natasha Trethewey and Tracy K. Smith (both future U.S. poet laureates), Kevin Young, Carl Phillips, and Major Jackson. Ambition ran high, and so did a restless urge not simply to fit in but to call new shots. "Even if we were all published in The New Yorker, would that be the point?" Young, then a Harvard senior, told The Harvard Crimson in 1992. "You're missing the point if it's a new driver driving the same old truck."
Within a few years, new faces were, if not at the wheel, more welcome and visible in the poetry world. In 1993, Rita Dove became the U.S. poet laureate. That same year, in his introduction to The Open Boat, the first anthology of Asian American poetry to be edited by an Asian American, Garrett Hongo could point to progress in mainstreaming: "These days, some of us even serve on foundation and [National Endowment for the Arts] panels, sit on national awards juries, teach in and direct creative writing programs, and edit literary magazines."
In a landscape of poetry by then dominated by M.F.A. programs, a spreading network of supportive institutions soon offered young poets from marginalized groups a supplemental world of free workshops and mentorship. Cave Canem, founded in 1996 to serve emerging black poets, was followed by Kundiman (for Asian American writers) and CantoMundo (for young Latino and Latina poets). The Lambda Literary Foundation has provided similar backing to LGBTQ poets. The traditional gatekeepers of poetry—big journals, respected publishing houses large and small, prize-giving committees—now know where to turn to find a broad spectrum of already vetted work.
But mainstreaming rarely happens without turbulence. The Dark Room alumni have come in for their share of sharp critiques as they have taken seats at a table that has been extended but is still very much within establishment walls. With inclusion among the dominant "we" comes pressure to produce and promote more broadly accessible or depoliticized work. The Open Boat anthology was soon taken to task for presenting Asian American poetry through a narrow lens of familiar immigration and assimilation narratives. Kevin Young's recent arrival as The New Yorker's poetry editor at age 47 raises the inevitable question of how new and different the truck will look and sound.
Tensions have thrummed within even the coziest, most supportive of the various minority enclaves, from the Dark Room onward: Embracing the outsider "we" and its group narratives comes with its own pressures. Poets have chafed at—as well as thrived on—them. Of course they have: How else does poetic ferment happen? Carl Phillips has written recently of feeling that he was effectively exiled from the Dark Room because he "wasn't writing the kind of poems that were correctly 'black.' " In an essay called "A Politics of Mere Being," he wonders about the effects not just of a call to be politically correct, but of "a push to be correctly political"—that is, to address a particular set of "issues of identity, exclusion, injustice." Shouldn't "poets of outsiderness, of whatever kind," he suggests, resist the notion that "resistance" alone defines what is political?
A quarter of a century younger than Phillips, the Iranian American poet Solmaz Sharif—whose first collection, Look (2016), was a finalist for the National Book Award—also sees the value of a voice that is "continually outside, questioning and speaking back to whatever supposed 'here' or 'we' or 'now' we've created." Her poetic ideal is "a nomadic presence, or a mind that is consistently on the run, and preventing these political moments from calcifying." As a stab at summing up the mutable and provocative new lyric "I," it would be hard to do better. The quest to truly contain multitudes—to probe the protean self and the society that shapes and reshapes it—within a coherent lyric is still a radical experiment.
"Am I a gay black man when roasting a chicken at home for friends?" Carl Phillips asks in "A Politics of Mere Being," and he answers, "Sure. But that's not what I'm most conscious of at the time. Am I necessarily, then, stripped of political resonance at that moment?" The 29-year-old Chinese American poet Chen Chen confidently embraces the realm of chicken roasting—of quotidian routines and ruminating—as he stakes a poetic claim to the "politics of mere being" in his 2017 debut, When I Grow Up I Want to Be a List of Further Possibilities, which was long-listed for the National Book Award.
As the title suggests, in Chen's work the new lyric "I" is open-ended, cumulative, marked by potential. His poems boast the frank ease of a late-night Gchat with a bright, emotionally available friend, and the terrain is, at least overtly, more personal than political. At the same time, the conversational tone (in tune with an era in which many of our conversations are typed) offers a welcome into a world that is neither insular nor stable.
Chen, who left China with his family when he was 3 and grew up in Massachusetts, shows little interest in patrolling the no-man's-land between the "I" and the author. Several key poems deal with a central event in the speaker's—the poet's—life: coming out to his parents as a teen and the violent scene that follows. The speaker runs away, climbs a tree, scales a wall, falls back to Earth—eventually hobbling home to face abiding parental disappointment.
Chen joins an array of other talented young poets (among them Ocean Vuong, Hieu Minh Nguyen, and Fatimah Asghar) whose work explores the challenges of being a queer Asian American in an immigrant family. For Chen, poetry is "a way for those different experiences to come together, for them to be in the same room," but without any predetermined expectations of how they may interact. In the face of a mother who wants her sons "to gulp up the world, spit out solid degrees, responsible grandchildren ready to gobble," Chen's speaker dreams instead "of one day being as fearless as a mango. / As friendly as a tomato. Merciless to chin & shirtfront."
Like the great mid-century New York poet Frank O'Hara, Chen has an avid eye for everyday details that bridge emotional, domestic, and cultural landscapes. O'Hara once invented a fake movement called "Personism," in which "the poem is at last between two persons instead of two pages." Many of Chen's poems display a similar yearning to connect with the "you" they address, though the speaker knows that the space between never quite vanishes. When the poems do tread close to familiar child-of-immigrant tropes—"forgiving / the Broken English of Our Mothers"—they still manage to be more tender than trite or ironic:
I don't know what to tell you. I thought I could
tell this story, give it a way out of itself. Even here, in my fabulous
          Tony-winning monologue of a New York, I'm struggling to get
to the Joy, the Luck. I tell you my mother still
          boils the water, though she knows she doesn't have to anymore.
Her special kettle boils in no time, is a feat of engineering.
          She could boil my father in it
& he'd come out a better person, in beautiful shoes.
It's a bracingly wry meta-reflection on his story of identity—the loving particulars balanced by a dose of filial bitterness. Chen is a rarity among this new cohort of poets, many of whose debuts deal in justifiable rage, plunge into agony, flash with fleeting moments of ecstasy. "I'm keenly aware of the political forces, the layers of artifice, the whiffs of strategic essentialism, and the bouts of slippery fragmentation that go into group identity formation," he has said. But the "I" that rides the crosswinds of "queer Asian American," while also telling a personal story, conveys a daring and unusual suppleness: When I Grow Up permits itself both to dwell in realms of everyday sadness and to champion the lesser virtues of amusement, curiosity, and delight.
Not long ago, at a packed reading in Los Angeles, Aziza Barnes introduced a poem whose title posed a version of Carl Phillips's question, implying a starker answer: "my dad asks, 'how come black folk can't just write about flowers?' " A few knowing laughs rose from the audience before Barnes launched into the poem and everyone grew quiet. Barnes, too, deals in the quotidian—the over-policing of black life, the under-investigation of black death, routine harassment—but in a register worlds away from Chen's. The speaker in the poem is walking with friends near her own house. Her "milk neighbors," as she calls her street's pale new residents, "collaborate in the happy task of surveillance": They call the police, three squad cars appear, and an officer begins interrogating. For the poem's speaker,
it didn't make me feel like I could see less of the gun in her holster because she was blk & short & a woman, too. she go,

this your house?
I say yeah. she go,
can you prove it?
I say it mine.
she go ID? I say it mine.
she go backup on the sly
Despite this trajectory, the poem ends not in tragedy, rage, or even reconciliation. Instead, it settles in a place of bone-deep weariness. "I'm bored & headlights quit being interesting," Barnes intoned, "after I called 911 when I was 2 years old because it was the only phone number I knew by heart." Somehow, resignation feels more damning than any high dudgeon the poet might have brought us to.
Make no mistake: An Aziza Barnes poem can scorch the earth without breaking a sweat. A figure on the poetry-slam circuit who grew up in L.A. and studied at NYU's Tisch School of the Arts and the University of Mississippi's M.F.A. program, she has won praise for her "swagger and verve"—and her "screaming, precise, incisive" language, in one critic's words, is indeed vital to her poems. "I love being able to be mean or curt in my poetry," Barnes has said, and her lyric "I" can level invective that rivals the weird specificity of a Yiddish curse:
In the next life

I pray you                                        the one plant

Ain't pollinate.
But if that makes Barnes—who has described her work as "quite black and quite gay"—sound like an assertive preacher, she is not. Solmaz Sharif's "mind … constantly on the run" is more like it. "Poetry is the best medium for the self to be subverted / performed / exploded," Barnes has said. The title of her debut collection, i be, but i ain't, points to contradictions within the "I" that need subverting, performing, and exploding.
In the midst of emotionally—and racially and politically—charged territory, Barnes does not hesitate to take unexpected paths, create her own forms, and explore them at her own pace. The book moves through the discomforts and complexities of identity and history, the baseline fear felt by a young black person in America, the poet's unconventional relationship to her assigned gender. But the poems rarely land where their opening salvos suggest they are heading.
One poem of Barnes's that I keep returning to starts with a minor domestic scene: The speaker finds a centipede near her writing desk. In lines that span the width of the page, broken up by white spaces, the poem proceeds to cover a vast territory—apartheid, colonialism, a fascination with the bodies of saints, bodies in extremis—before arriving at a quiet indictment of the poet herself for killing the creature she can't be bothered to understand. The opening poem of the book, it's a wandering lament for a basic human failing. Squashing the insect is not equivalent to the acts of cruelty, ignorance, and injustice—great and small—that bear on this particular poet's place in the world, but the impulse prompts a recognition of their common seed.
Many of the poems in i be, but i ain't beg to be experienced viva voce, and it's easy to imagine them bellowed in front of the footlights, or slung coolly back and forth in front of the camera. Though to praise "performance poets" for their voice and "literary poets" for their prosody is something of a cliché—reinforcing a distinction that fits this generation poorly—Barnes has pushed a talent for enacted speech further than most of her poetry peers. In December, her play, BLKS, about four 20-something black women living in Brooklyn and looking for love, opened to glowing reviews at the Steppenwolf Theatre, in Chicago, and will move off-Broadway next spring. Poetry readers can only hope that Barnes's growing stature on the stage doesn't pull her too far away from the lyric she's capable of breathing such life into.
While performance seems to suit the strengths of Barnes's work, Layli Long Soldier's poetry is harder to separate from the page—which doesn't mean that it rests there comfortably. Quite the contrary. Midway through WHEREAS (2017), her debut collection and a National Book Award finalist, the speaker states, "I will compose each sentence with care, by minding what the rules of writing dictate." The declaration is noteworthy because, up to this point in the book, as an epigraph announces, Long Soldier shows little inclination to mind the rules:
Now
make room in the mouth
for grassesgrassesgrasses
The language of WHEREAS enacts the struggle of its project: the sheer weight of representing an "I" that is both a self and a part of a highly diverse collective—American Indians—whose identity has largely been imposed from without. For Long Soldier, an enrolled member of the Oglala Sioux tribe and a visual artist who has taught at Diné College, in the Navajo Nation, syntax itself strains and cracks under the burden.
The vow to compose sentences with care comes from "38," a five-page poem that acts as a fulcrum between the shorter poems in the book's first section and the longer "Whereas Statements" of the book's second and final section. "38" is an account of the largest "legal" execution in U.S. history: 38 Sioux prisoners hanged, with President Abraham Lincoln's approval, following the 1862 Sioux Uprising. The poem builds force with stark, declarative sentences, each standing as a stanza or paragraph on its own.
The hanging took place on December 26, 1862—the day after Christmas.

This was the same week that President Lincoln signed the Emancipation Proclamation.

In the preceding sentence, I italicize "same week" for emphasis.
The Sioux fought because they were starving: They hadn't received the payments agreed to in treaties with the U.S. government, they had lost their hunting grounds, and local traders refused to extend them credit to buy food. One of the traders was supposed to have said, "If they are hungry, let them eat grass." After a raid by Sioux warriors, this trader's body was found with his mouth stuffed with grass. Some might call this poetic justice. Long Soldier goes further:
I am inclined to call this act by the Dakota warriors a poem.

There's irony in their poem.

There was no text.

"Real" poems do not "really" require words.
Then she reconsiders: After all, the trader's words initiate the poem, "click the gears of the poem into place." It's telling that even in the most straightforward portion of the book, Long Soldier deploys language to mark its own limits, to probe its utility, to take its measure against concrete and tangible actions.
Long Soldier's fitful, yearning relationship to the language of her father and older relatives—her palpable "ache of being language poor" when it comes to Lakota—embodies that sense of inadequacy, of constantly reaching and failing to connect or express. "I climb the backs of languages," she writes, "ride them into exhaustion—maybe I pull the reins when I mean go." Because even with Long Soldier's rich command of it, English is a fraught instrument for exploring the dark legacies of the U.S. and the Sioux's shared history, which Long Soldier, as a dual citizen, is heir to. Her visual artistry at work, she avails herself of the spatial elements of text—ellipses, disjunction, concrete poetry, blank space—to convey uncertainty and instability. This grasping at the elusiveness of sense-making can be thrilling, but it demands that the reader weather discomfort, abstraction, and incompleteness—and not flinch from asking, with Long Soldier, about the whole endeavor: Is poetry up to the task?
For Long Soldier, language and the body are not really separable. Apology is at the heart of the book, and physical gesture is at the heart of apology. As she tells us, "In many Native languages, there is no word for 'apologize.' The same goes for 'sorry,' " yet there are ways to admit error and make amends. The title, WHEREAS, comes from the careful, official language of a federal apology to American Indians—a series of toothless "whereas" clauses in a Senate resolution that was later cut to half a page and tucked into a defense appropriations bill, signed by President Barack Obama one December weekend in 2009, with no announcement and no tribal representatives present. The U.S. government's apology to American Indians is almost the definition of an empty gesture.
Long Soldier sets this in contrast to a quiet moment with her estranged father over breakfast in her kitchen. A little sound escapes him, and then: "He pinched his fingers to the bridge of his nose, squeezed his eyes. He wiped." What seems at first to the speaker like a sneeze is an almost-silent sob—a prelude to words of remorse for decades of absence and inattention. "WHEREAS when offered an apology," Long Soldier writes:
I watch each movement the shoulders
high or folding, tilt of the head both eyes down or straight through
me, I listen for cracks in knuckles or in the word choice, what is it
that I want? To feel and mind you I feel from the senses—I read
each muscle, I ask the strength of the gesture to move like a poem.
A nation cannot pinch its fingers to the bridge of its nose, but there are ways of giving flesh to language. Long Soldier's lyric "I," at once fractured and centered within its fissures, attempts a poetry that can bear grief and make something new—just as the poet wishes that her young daughter, learning Lakota and Navajo and beginning to appreciate the fragments that make up her identity, may someday come to understand
wholeness for
what it is, not for what it's not, all of it           the pieces;
"Largely white-run literary institutions," Claudia Rankine remarked in an essay she co-authored with the writer Beth Loffreda, "can always remind you you're a guest." When I spoke with Danez Smith, the poet stressed that if a renaissance is to continue, the publishing world—meaning editors and publicists, and reviewers, too—has to better reflect the writers whom it is now delivering to a growing readership. But Smith was sanguine: "We have a long way to go in terms of who is celebrated and who is lifted up and who is noted, but I think we can keep making strides." So far, this generation has shown little patience, which may be what saves it. Poets who know their worth and throw themselves into convincing us of it may be just the poets to expand and sustain an art form.
When Nicole Sealey, the executive director of Cave Canem and author of Ordinary Beast (2017), marvels at the "dynamic sense of urgency" she sees in this generation, I think of the young Honduran-born poet Roy G. Guzmán, whose debut is forthcoming from Graywolf. Just days after the 2016 shooting at the Pulse nightclub, Guzmán published "Restored Mural for Orlando," a long, discursive meditation on death, familial love, queer brown bodies in congregation, and a city you visit "to fantasize about the childhood you didn't have."
Forget William Wordsworth's "emotion recollected in tranquillity": Guzmán's poem was an almost instant eulogy, and deeply affecting—Exhibit A of the power of the new lyric "I" to anchor a broad public response in the crosscurrents of complex, marginalized identities. Young poets are producing work that taps intimate veins, and responds to the headlines with impatience, nuance, compassion, and sometimes fury; with historical breadth and sharp critique; with unapologetic stabs at beauty; with ambition; and—above all—with the expectation of an audience. This is poetry that firmly believes it is necessary.