The Kids' Guide to the Postwar World
Half a century ago, a Czech illustrator's vivid travel books helped open young minds to the rest of the planet.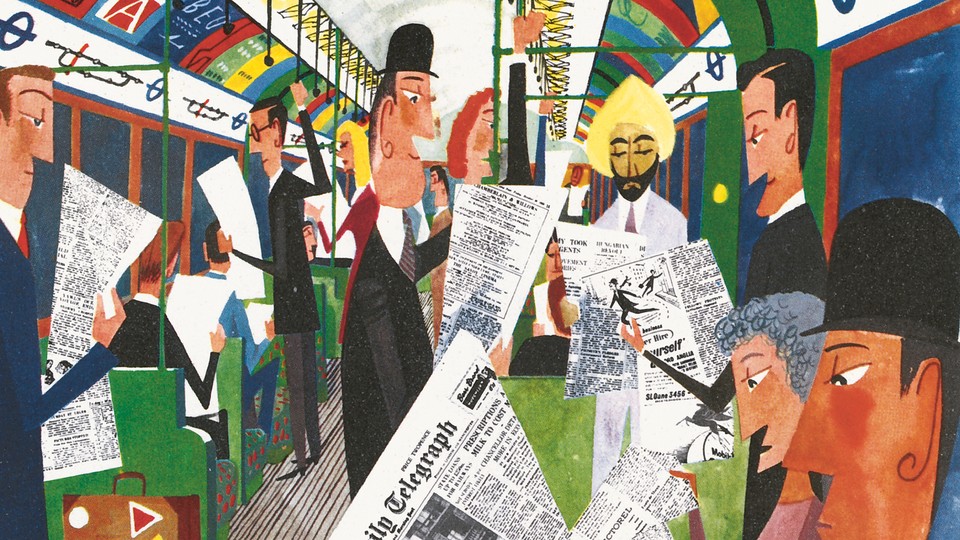 For Baby Boomers whose childhood dreams were of Paris and Hong Kong rather than Narnia and Hobbiton, Miroslav Šašek's This Is picture-book series offered a magic carpet to take them there. Beginning with This Is Paris, published in 1959 by the British firm W. H. Allen, the exiled Czech artist charted an idiosyncratic, primary-color-saturated path through the mid-20th-century world. In total, he produced 18 oversize, pen-and-gouache illustrated Baedekers for the pint-size set, including This Is San Francisco, This Is Israel, and This Is the United Nations. The books were translated into many languages, including French, German, Italian, Spanish, Finnish, Korean, and Japanese. In 2003, Rizzoli reissued the first few books in the series with the seemingly fanciful idea of marketing a half-century-old set of city and country guides to the most globalized generation in history. By now, 17 of the original 18 have been reprinted. More than 1 million copies have since been sold.
Šašek's appeal these days is mid-century retro chic: jauntily modernistic depictions of places, executed with an ethnographer's exacting eye and the verve of the adman. To open a This Is book is to find yourself clattering down a winding, sun-toasted lane in Nazareth on the trail of a kaffiyeh-garbed man riding a donkey. Or lurching up Victoria Peak in a Hong Kong cable car, the tilt so steep that it pushes you back, thrillingly, into the wooden seat. The architectural renderings are rigorously precise: St. Paul's Cathedral has the right number of columns, as viewed from Ludgate Hill. The whimsy is encyclopedic. Through the streets of Šašek's Rome careen dinky trams, Vespas, taxis with luggage piled high on top, trolleybuses hooked onto electric wires, donkey-drawn carriages, and automobiles of every era and description (including a tiny one, definitely not manufactured in Detroit, that looks like one of those toy cars children pedal in their driveways).
Šašek was a pied piper to the children who read him half a century ago. At a time when international travel was a luxury and color television far from universal, the This Is books opened a portal from the elementary-school library to the wide, wide world. The guide is the dapper author—"thin, well-tailored, and as bubbly as a glass of the best French champagne," as one interviewer described him. Šašek drew himself—striding purposefully toward his destination, a marbled portfolio tucked under his arm—onto the flyleaf. On the endpaper, there he is again, transformed by his journey. A stay in London turns him into a city gent, complete with bowler, pipe, and rolled-up umbrella. At the end of a trip to Israel, he steams away in the belly of Jonah's whale. Courtesy of Rome, he is transmuted into mosaic, toga-clad, still clutching the portfolio.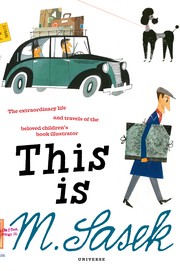 But who was this globe-trotting chameleon? It's a mystery that This Is M. Šašek—a handsome collage of quotations, tributes, and photographs, rich in Šašek's own artwork—deepens rather than resolves. One source for the book is a suitcase that a distant relative discovered after his death, the jumbled contents of which included New Year's greeting cards, condolences, a fifth-grade report card, and newspaper clippings. Twice married and divorced, he had a stepson, whom he occasionally invoked in interviews. Scant though the details of Šašek's life are, they nonetheless point a direction. Behind their witty cosmopolitan scenes, the This Is books were deeply political—part and parcel of a grassroots internationalism on the rise after the Second World War, championed by people who knew firsthand the costs of closed borders and walls rising across the world. Displaced like 51 million others by the chaos of the war and its aftermath, Šašek came to see the problem of putting a broken world back together as a task for the imagination of children.
Born in 1916, in the final days of an old world—the multiethnic, polyglot Austro-Hungarian empire—Šašek came of age in the 1930s, when fascists across Europe fantasized about racial purity. In accordance with his mother's wishes, he studied architecture at university, though his own desire was to paint. "I counted windows and built houses, but at the same time I was 'poaching' in books," he later recalled. He drew illustrations for newspapers and children's books, and, in his spare hours, flew gliders off a Bohemian mountaintop, traveled, and learned languages. By the end of the '30s, he had visited much of western and southern Europe, as well as North Africa, working as a guide for the Czech branch of the international travel agency Wagons-Lits/Cook. Then, in March of 1939, the Nazi tanks rolled into Prague.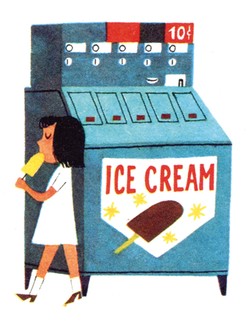 What Šašek did during the Second World War is one of the many puzzles of his biography. Under the protectorate government the Nazis established, Czech men of his generation were spared military conscription but subject to compulsory labor. Silent on this subject, This Is M. Šašek skips the story forward to 1947, when the artist moved to Paris to enroll at the École des Beaux-Arts. Like Ludwig Bemelmans, a fellow subject of the Austro-Hungarian empire, famous today for his Madeline books, Šašek had in mind, he said, a book for "kiddies" set in Paris. But after the Communist coup in Czechoslovakia, in February of 1948, the press that had commissioned the book was shut down; the publisher was accused of treason and thrown in prison. Now there was no going back. The cosmopolitan Šašek became a stateless person.
Without a fixed home of his own, Šašek joined the staff of Radio Free Europe in 1951, its first year broadcasting from new headquarters in Munich, and dedicated himself to talking across the barbed-wire borders the Cold War was raising. Staffed by émigrés, RFE streamed information about life behind the Iron Curtain to the Soviet-bloc peoples in their own languages, putting documents smuggled out of Eastern Europe on the air. Though funded by the CIA (a fact not outed until the 1970s), RFE provided what the historian Friederike Kind-Kovács has called a "nonofficial contact zone across the Iron Curtain." It offered dissidents the means to reach people who otherwise had no way of knowing what was really happening in either their own country or the world. RFE opened a peephole between East and West.
Using the alias "Setvin"—broadcasting under one's own name was too dangerous—Šašek became a prominent voice of RFE's Czech service, reading the news and taking the leading part in radio theatricals. He played a starring role, too, in RFE's other project, initiated when Communist governments started jamming the station's shortwave frequencies. From 1951 to 1956, RFE agents in Bavaria set aloft nearly 600,000 hydrogen-filled balloons to catch the eastward winds, each designed to burst at 30,000 feet, showering down a blizzard of propaganda leaflets. More than 300 million flyers were dropped on Czechoslovakia, Hungary, and Poland, fluttering onto fields and the small balconies of city dwellers. A typical production came illustrated with Šašek's drawings; the leaflets also advertised the schedule and radio frequency of RFE broadcasts. "In the past, young people wandered around the world without a care," read the caption under Šašek's drawing of a young man on a bicycle, paused in front of signs pointing to Paris, London, and Amsterdam. This image was juxtaposed with a picture of a control tower flanked with barbed wire: "Today our youth cannot even think about something similar."
Šašek left RFE in 1957 to work on his long-postponed children's book about Paris, discarding the folktale aesthetic he'd cultivated in the 1930s and '40s. Now his style was panoramic, suavely avant-garde, and indebted to the flashy colors and graphic flair of advertising. For the RFE leaflets, he'd drawn drab Eastern-bloc shops with sold out signs in the windows. The This Is books, by contrast, revel in the dazzling plenty of postwar, go-go capitalism. The marvel of New York isn't the city's icons—the Empire State Building, the Statue of Liberty—though Šašek of course drew those. Rather, it's the many-hued dresses being pushed uptown on a cart, the bundles of fat Sunday papers stacked up outside the newsstand, the vending machines stuffed with everything you might want: a 10-cent bowl of soup "served piping hot," peanuts, stamps, pens, identification tags, ice-cold drinks, and "Sensational studio-like photos"—"automatic, private"—in 50 seconds.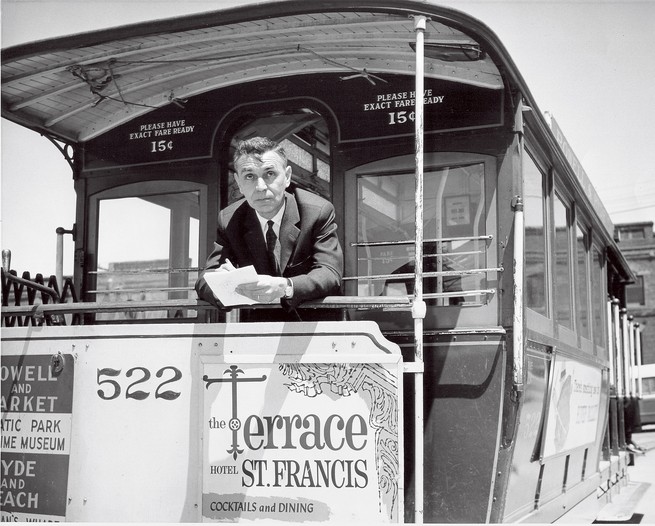 What mattered, Šašek was telling his readers, was the quotidian life of a place. That was how you got to know it, a point reinforced by his working methods. Like a foreign correspondent, he moved to the cities and countries he planned to portray and spent three or four months walking the streets, interpreting local rhythms, drawing the 80 illustrations that accompanied each volume. He had a keen sense for the details that would fascinate children: What were those round towers atop New York's buildings? And he put his own curiosity about daily life, honed by RFE's emphasis on mundane realities, to work in the service of his message. Adults with late-Picasso-style profiles and grinning, moonfaced children do the ordinary things people do in their particular city, which count as exotic stuff in everyone else's. In Hong Kong, a cook honey-glazes a Peking duck over a firepot lit in the street. A Greek peddler plying sea sponges emerges from a gouache cloud of his wares. An employee of a San Francisco hotel plucks a shiny coin out of a contraption designed to clean change.
Go there, all this is waiting for you—see it for yourself: That was the lesson of the This Is series. The same spirit launched other grassroots internationalist endeavors, from school exchanges (American year-abroad programs started in the 1920s) to pen-pal organizations, such as the International Youth Service, founded in 1952 in Turku, Finland. To understand a place required person-to-person contact in the ordinary settings of school and home; the way to foster international goodwill was to harness the ravenous curiosity of children. "But Mr. Sasek, won't you please write 'This is Tokyo,' " pleaded 6-year-old Joey Keller of Great Neck, New York, in 1960, wanting a glimpse of the city that the Allies had firebombed into nothingness 15 years earlier. Šašek never did write a book on Tokyo, but he preserved Joey's letter through an itinerant life.
For 15 years Šašek wandered the globe on the mission of making his This Is books, turning out a volume, and sometimes two, almost annually. (How a stateless man managed such an ambitious program of travel—he chose not to apply for citizenship anywhere after leaving Czechoslovakia—is yet another mystery.) By the time he published his final book, This Is Historic Britain, in 1974, the international consciousness he sought to cultivate among his young readers was becoming ever more prevalent. That development was a product of increasing travel (Frommer's Europe on 5 Dollars a Day debuted in 1957), the influence of photojournalism and television, and enterprises such as his own. "Children today know everything—the world is so much smaller," he told an interviewer in the late '60s. At the same time, the homogenizing forces of global capitalism were rubbing away the everyday differences among Hong Kong, Greece, and San Francisco, diminishing the distinctiveness he had so ardently chronicled.
During Šašek's lifetime, though, one big divide remained. His books were never printed in the Soviet bloc, where children's literature was subjected to rigid ideological tests and a defector's work would have been pulped anyway. "I'd really enjoy doing Prague. I'd love to draw it," Šašek wrote a friend, with the prewar city of his youth in mind. "I would not need to search for anything there, I know exactly what would have to be in it. It would be such a cheerful book." Only in the past few years have the This Is books been published in Czech, as well as Russian, Polish, and Slovak, accompanied by exhibitions in Prague and Moscow. In 1980, Šašek died of a heart attack at the age of 63. He was visiting his sister in Switzerland. Left behind were hundreds of origami paper cranes that his girlfriend had made him—symbols of good luck, to guide him over the next horizon and the one after that.