The Impossible Duality of The Marvelous Mrs. Maisel
The Amazon show's star may be the first woman who really does have it all.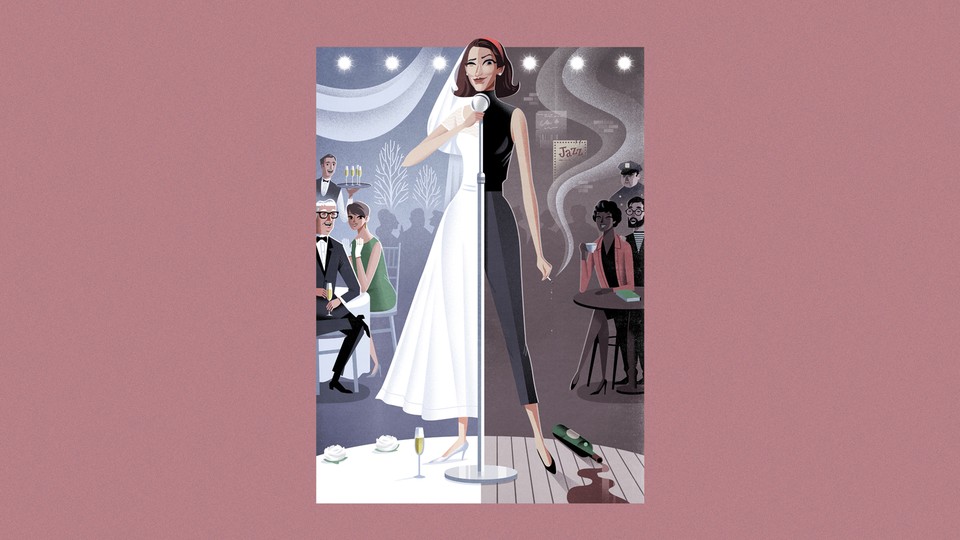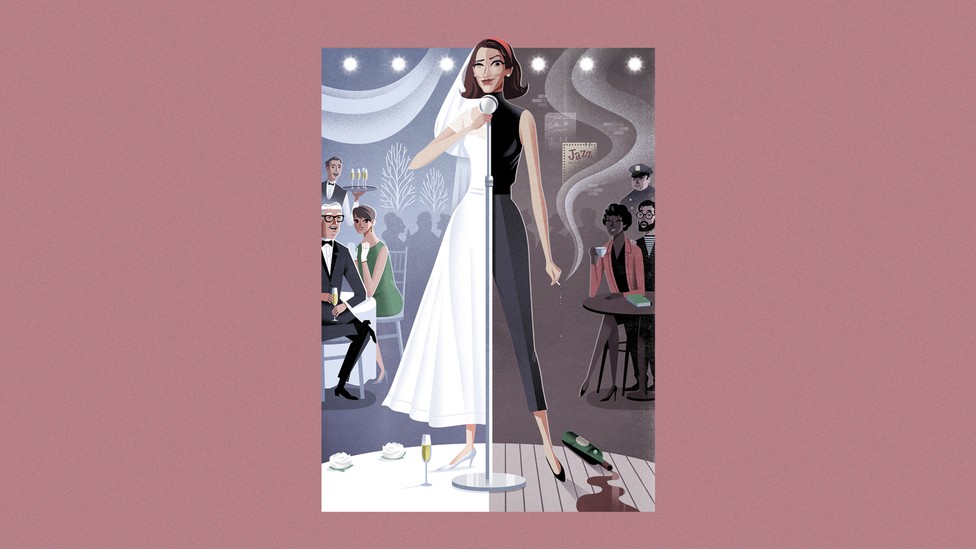 The billboard loomed above me on La Brea Avenue: the marvelous mrs. maisel, it said in a twinkly, 1950s-style font, as a fetching young woman in a pillbox hat smiled down at me. My heart sank—not another museum-quality period piece from the gods of television. Then one day a friend mentioned the show over lunch. She'd heard it was good. That night I punched it up on my iPhone while I was lying in bed, but hit pause almost as soon as it started so I could put on my glasses and beam it onto a bigger screen. And then I tumbled into it, episode after episode, and I have to confess: It is literally a feel-good show. You see the damn thing and you feel … good. Evidently I wasn't alone in needing just that. It won big at the Golden Globes and the Critics' Choice Awards this past winter. By September—when more and more people will have seen the show, which streams on Amazon—it's sure to be rewarded with Emmys.
Is there by now a more settled science in all of the television academy than the fact that married women of the 1950s were bored out of their minds, a lost generation stuck with the babies and pets while their dundering, no-good husbands were rewarded with the elysian pleasures of selling life insurance and rotating tires? So when The Marvelous Mrs. Maisel begins on Miriam "Midge" Maisel's wedding day—candlelight and orchids, an ivory dress and floor-length veil—we know we are looking at a doomed creature. "This day is perfect; it's like a dream," she says, and she might as well be Jackie Kennedy accepting bouquets at Love Field. Here we go again, we think to ourselves, and wait for the crash: her plaintive discovery that she's been left with the laundry and the children, the realization that the college girl full of potential is gone, and that no one else seems to miss her.
The inevitable title card fills the screen: four years later. But—what's this? She's even happier than she was at the wedding, all but laughing to herself as she floats through a Technicolor Manhattan park in her mauve hat and matching swing coat, orders lamb from a friendly butcher, delivers cookies to her doorman and elevator operator, collects her lovely children. The colors are saturated, and the music is lush, beautiful, and square: Barbra Streisand, Peggy Lee, Anthony Newley. The whole production seems piped in from a Hollywood soundstage of the 1950s, when a very different formula reigned, and the lives of haute-bourgeois young matrons were seen as worthy subjects for private fantasy and mass entertainment.
Midge's husband, Joel, is an executive at some vaguely defined company, but he nurtures a small, impractical dream: joining the stand-up comics reshaping the art from vaudeville yuks to culture-shifting explorations of self on the sticky stages of Greenwich Village. He's convinced of his talent—incorrectly so, it is immediately apparent—and Midge assists with a notebook full of comedy musings and homemade brisket to barter for a good stage time at a subterranean club called the Gaslight Cafe. "What would I do without you?" he asks, his face filling with wonder.
At this point the creative team behind the show—Amy Sherman-Palladino, who dreamed it up, and her husband, Daniel Palladino, who is an executive producer—would seem to have painted themselves into a corner. They've created a character, mid-century housewife, whose fate, as per the Feminist Archetypes Congress of 1966, is sealed: Only unhappiness will follow her all the days of her life. Midge must fall in the mud and then rise on her own, without that stupid husband of hers. She's the funny one, not the preening, unoriginal Joel; the Gaslight audience is meant for her, not him. Does that mean they'll force us to leave this beautiful world of mid-century fantasy, of inflexible gender roles and orderly domestic rhythms that brought us to the party? They will not—or at least, not really.
Because Midge will spend the series having the two things that women can't have in combination: a secure and unexamined place within what we now call the patriarchy, and a self-constructed, convention-breaking career. The genius of the show is that it allows her to enjoy both the best of the glamorized 1950s and the best of today without any of the difficult, inevitable trade-offs and transitions that women have spent the past 60 years navigating.
Getting rid of Joel is a bit of business so essential to the plot, it is performed in the most perfunctory way possible. One night after an argument, he announces that he's leaving. Why? Not because of one soap-opera reason, but because of all the soap-opera reasons: He's bored, he hates his job, he hasn't become the man he wants to be, and he's having an affair. With that, he closes up his suitcase and departs.
Midge heads upstairs to her parents' apartment in her powder-blue peignoir and kitten-heeled slippers, and before you know it, she is happily reensconced in the bright-pink bedroom of her adolescence. By day, she lives with her parents, her elegant mother and dependable father, both of whom love and fret over her. (The latter is played so brilliantly by Tony Shalhoub that if he had any more scenes the show would have to be called The Marvelous Professor Weissman.) Her meals are cooked for her, and her two children are looked after by her mother and her mother's maid. By night, the pampered Midge turns into a malcontent, seething against the confines of her fairy-tale life. Onstage at the Gaslight, she is vulgar and crass, joking about bowel movements and sex acts and flashing her breasts at the crowd.
Around this impossible duality is built one of the most appealing shows on television, half Pillow Talk and half Inside Llewyn Davis. Rachel Brosnahan as Midge is fully absorbing, as quick as Katharine Hepburn (Midge, we learn, followed Hepburn to Bryn Mawr) and as nonsqueamish as Joan Rivers. Marin Hinkle as Midge's mother is refined, nervous, cautious, and feminine. Midge makes a new friend at the club, a booker named Susie—butch, sardonic, ambitious—played by Alex Borstein, who gets many of the show's best lines and deserves them. Poured over all of this is an endless river of movie magic, including lavish crowd scenes that almost burst into song and dance, and vast sets that re-create old New York institutions with heartbreaking detail, from B. Altman's to the Gaslight.
Whereas Mad Men was a seven-season exercise in the creation of period perfection—not so much as a pencil jar was out of place—Mrs. Maisel is looser, more joyous, less cautious. The dialogue is sprinkled with anachronisms, but they don't detract from the whole, because there is the clear sense that this is a created thing, a beautiful illusion composed of elements put together not to instruct but to please. That there were a lot of unhappy housewives in mid-century America is a horse that has been beaten to death, hauled to the glue factory, and turned into paste. It can be a premise from which a work of fiction can evolve, but it's hardly news from the front. Instead, we have a modern and liberated woman living a perfect 1950s existence, without ever having to pay a price for her double life.
As a daughter, Midge is cosseted by her "mama" and "papa," but without any parental rules or strictly enforced curfews that might interfere with her nocturnal career. As a wife, she doesn't have to abide the drippy Joel except when she allows him into her single bed for a conjugal visit. As a mother, she gets to have two neatly attired children without any evident necessity that she ever actually take care of them. And while the household sleeps, she dresses down, down, down for the Village, in beige coat and black cigarette pants, and rages onstage about babies and husbands, a long harangue about a life she doesn't really have to contend with. Midge Maisel—a figure of fantasy, a dream girl, a Kewpie doll—may be the first woman who really does have it all.