Issa Rae: 'I Never Identified as a Nerd'
Talking to Insecure's creator about her TV ambitions, L.A. gentrification, and her awkward public persona.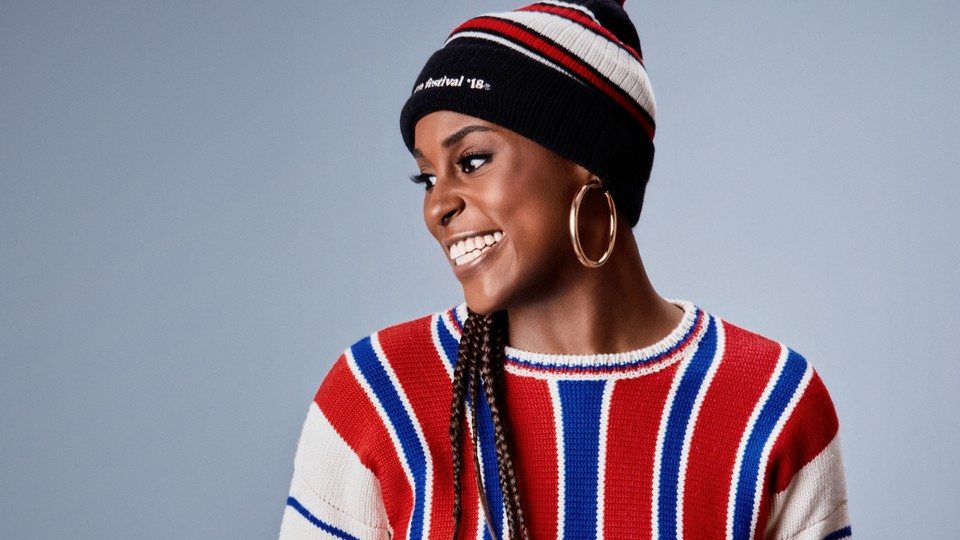 When Issa Rae read an article several years back asking why there wasn't a black counterpart to 30 Rock's resolutely awkward Liz Lemon, she was inspired to create one. With a little help from Kickstarter, she made a web series, The Misadventures of Awkward Black Girl, which quickly went viral. In 2015, HBO picked up her show Insecure, which will enter its third season later this year. A crisply written, visually sleek representation of young black professionals navigating love and work in Los Angeles, it joins what she describes as a renaissance in black TV and film.
With a subtle comic touch, Insecure has tackled such thorny issues as workplace discrimination, the clumsiness of well-meaning whites, gentrification, and gender and class identity. Now Rae is at work on Him or Her, a television series about a bisexual black man's life and loves. Word of the show triggered an angry response on social media from some in the black community, who complained that a queer black lead would reflect unfavorably on black men. Rae was dismayed by the reaction, but not entirely surprised. "There haven't been many flattering images of black males on television," she says, "because there haven't been a lot of flattering images of black people on television."
---
This interview has been shortened and edited for clarity.
Julia Ioffe: You've always aspired to being in television. What drew you to it?
Issa Rae: From sixth grade—when I moved to L.A. from Maryland—onward I wanted to be a writer, behind the scenes. I started acting more in church and in middle school and in high school, but there weren't many people like me on-screen. I was chubby; I wasn't conventionally attractive. I remember being very aware of that in ninth grade or 10th grade, when I wrote my first movie script, about a girl who was aspiring to be an actress in an industry that cared so much about looks and didn't cast black leads all the time.
JI: White people have always seen white characters on-screen and related to them. Now black people are starting to have that experience, too. How does Insecure fit into this moment?
IR: I'm just happy to be a part of it. In high school and college, the only representation of black women I saw was on reality television. And so to have this renaissance—to be alongside so many amazing content creators and actors of color—feels very optimistic. We're so aware of what it's like to not have those images; we're clinging onto them.
JI: Do you think the current political moment has something to do with that?
IR: I think Obama enabled it, in a way. Why aren't we represented in television as equally as we were in running the free world? I give no credit to this current administration. If anything, it's because we need an escape.
JI: Do you fear a white backlash in Hollywood similar to the one that brought Trump to power?
IR: If we were in a more conservative industry, I might. I have seen certain networks say, "We need to represent middle America more," as a result of the current administration being elected. But every meeting that I've been in, the energy is about empowering storytellers of color. So many people have woken up. This political climate has made people realize, "Oh shit, racism is a thing, and I have the power to empower voices of color."
JI: What influenced your writing?
IR: I used to be obsessed with [the 2000 film] Love & Basketball. It was shot in my neighborhood and was written and directed by Gina Prince-Bythewood, a black woman. It felt so close to home and was such good storytelling. And '90s television: Family Matters, Fresh Prince. And film: Menace II Society, Boyz n the Hood. All those movies—especially those L.A.-set movies—really influenced me. Friday!
JI: Visually, Insecure is kind of a love letter to L.A.
IR: A hundred percent. I love L.A. I had to leave twice to find out how much it means to me, and how much the people here mean to me. L.A. is changing so much—South L.A. specifically, Inglewood specifically. The fact that the show will serve as a time capsule is crazy; we definitely value and cherish that.
JI: How do you feel about gentrification right now?
IR: In Leimert Park and the Crenshaw area, I've seen city officials prioritizing black-owned businesses and black industries. I live in Inglewood now, and I don't see the same care being taken. There's such fervor to buy property, and you're hearing from residents who are like, "I don't know where I'm going to go"—who are disheartened and devastated. And you're hearing property buyers saying, "People need to work harder so that they can afford to live in these spaces."
JI: Your father is an immigrant, right?
IR: He is.
JI: I'm an immigrant myself, my parents are immigrants, and when I decided to go into writing, I got a lot of grief from them. Were your parents supportive, or did they push you to become a lawyer or a doctor?
IR: My dad is a doctor, and self-made in so many ways. I went to a high school for medicine, where we worked in hospitals and delivered babies. I'm glad I experienced that, because I could have wasted so much time on it in college. When I said, "Dad, I don't want to be a doctor," he said, "Oh, that's okay, there's law school, there's business school. It's no problem!" At that time I did want to pursue acting and writing and directing, but he would remind me that education was most important. My second year of college, when I was pursuing political science and I had to declare the major and answer the question "Why do you want to pursue political science?," all I could think of was Because my dad wants me to. That was a wake-up call: He's not living my life, I am! When ABC picked up my pilot and I hit the family group chat with "Hey! I have this opportunity with Shonda Rhimes! They're developing my pilot!," he was like, "That's great, but grad school? What's the word on that?"
JI: What do you think about the phenomenon of "blerds," and the evolution of the black nerd from, say, Steve Urkel to your character?
IR: I never identified my character as nerdy, because the classic cultural nerd—the gamer, the Star Wars or sci-fi or Lord of the Rings geek—just never interested me. I never identified as a nerd in that way. I like comic books; I guess that's the closest thing.
JI: That's pretty nerdy!
IR: [Laughs] Um, excuse me! I guess to a degree. But [I'm more interested in] the quirk that African Americans were not allowed to have on-screen. You were either the extreme pretty girl or the nerd; there was no in-between. I was interested in the in-between. There are so many different types that are representative of black people, from the nerd to the quirky to the cool.
JI: And now you've gone from Awkward Black Girl to a contract with CoverGirl.
IR: Just being approached to do that was out of this world.
JI: Why's that?
IR: As someone who didn't identify as conventionally attractive, it's a huge boost. I know we shouldn't look to makeup companies for confidence, but it's just fucking cool! Twelve-year-old me would never have dreamed that women would look to me as an example to buy makeup! It sounds funny to say out loud.
JI: Your public persona is built on awkwardness and insecurity. Can you get away with that now, though? Are you still awkward and insecure?
IR: Yeah, come on! I'm only isolating myself further. I don't like to go out, I'm still uncomfortable around new people, and I think this industry exacerbates that. People do put you on a pedestal that feels undeserving, and you do want to be ordinary, and you can't be. Last night, at an awards show, I was just grateful to have somebody to talk to; otherwise I'd have had to be on my phone and figure out what to do. And then add to that people staring at you because they think they might recognize you—even talking about it makes me anxious! I'm hyperaware of how people view me; people have so many opinions. It feels like high school.
JI: I have a few questions about Insecure. In the first season there was an interesting dynamic between Molly, the polished lawyer, and Rasheeda, the loud summer clerk. What were you trying to show?
IR: So many of us have been the only one in a room—whether the only black person, the only gay person, the only woman. In the writers' room, we discussed the dynamic when someone else joins, when you're two. How you feel responsible for that person but also burdened by their fuckups. And how ridiculous it is that in some way you're constantly representing your own. We wanted to portray what that's like for Molly, who's thrived in this environment.
JI: I was interested by Molly's reaction when a man she's dating tells her he had a queer experience. One of the leads in your new show is a bisexual black man. Which issues are you exploring around sexuality?
IR: That was one of the first scenarios that I brought up in the writers' room. My perception of masculinity had evolved over the years, but a lot of my girlfriends didn't feel the same way. Even in the announcement of the show, I felt like the white people who discovered there was racism after Trump was elected. The response within our own communities—the vitriol over black men being portrayed as gay, the idea of that being an attack on black masculinity—I was like, "What the fuck, people? Really?" In the black community, the perception is that there's an agenda against black men. I don't deny that, but I don't think that portraying someone as gay is an attack on black masculinity.
JI: Where do you think that perception comes from?
IR: On TV and in film, there haven't been a lot of images of black men who aren't criminals. There haven't been many flattering images of black males on TV, because there haven't been a lot of flattering images of black people on TV. I understand that, but what I don't appreciate is putting gay black men in the same category as criminals or deadbeat dads.
JI: Okay. Lightning round.
IR: Okay.
JI: SZA or Solange?
IR: Oh, come on! Can I say both?
JI: Sure. Kendrick or Drake?
IR: Ugh! What are you doing?! Drake.
JI: Last one: Jordans or Louboutins?
IR: Jordans.