The Girl Who Smiled Beads Defies Easy Uplift
Clemantine Wamariya's memoir tries to make sense of a life fractured by the Rwandan genocide.
The prologue of this remarkable memoir is likely to send readers to the YouTube clip of the occasion it describes: the 2006 Oprah show on which 18-year-old Clemantine Wamariya and her older sister were reunited with the rest of their long-lost family, 12 years after the pair had fled the Rwandan genocide. Oprah later pronounced it "one of the deepest, most joyful moments I've ever experienced." She rated the footage "beautiful, raw, raw, raw, raw, raw, raw, pure." On the screen, Wamariya's face twists with pain and near-terror.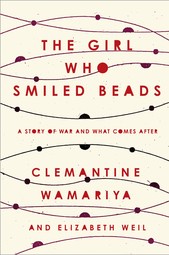 On the page, Wamariya and the journalist Elizabeth Weil set out to sabotage facile uplift. Forget raw and pure: Wamariya's quest is to create some semblance of moral and emotional coherence out of a life that too often feels like a self-corroding performance. In flight since she was 6, she has counted for survival on a drive "to be who I needed to be and get what there was to get." A brutal journey through six countries initiated her early on as a "mimic and a chameleon"—by turns obedient younger sister, vigilant little mother (to her sister's children), and "a nobody, invisible." Each smiling version of herself was as fierce as she was afraid.
On her arrival in the U.S., in 2000, a new role awaited. At 12, Wamariya was "a curiosity, an emissary from suffering's far edge." Her "refugee skills" kicked in, and in public she became "Oprah's special genocide survivor," then a Yale student, now a "humanitarian speaker." But that "brilliant fairy tale," too, threatens to erase her. The fractured form of her own narrative—deftly toggling between her African and American odysseys—gives troubled memory its dark due. Healing does not spell an end to hurting.