How Much Had Schools Really Been Desegregated by 1964?
Ten years after Brown v. Board of Education, Martin Luther King Jr. condemned how little had changed in the nation's classrooms.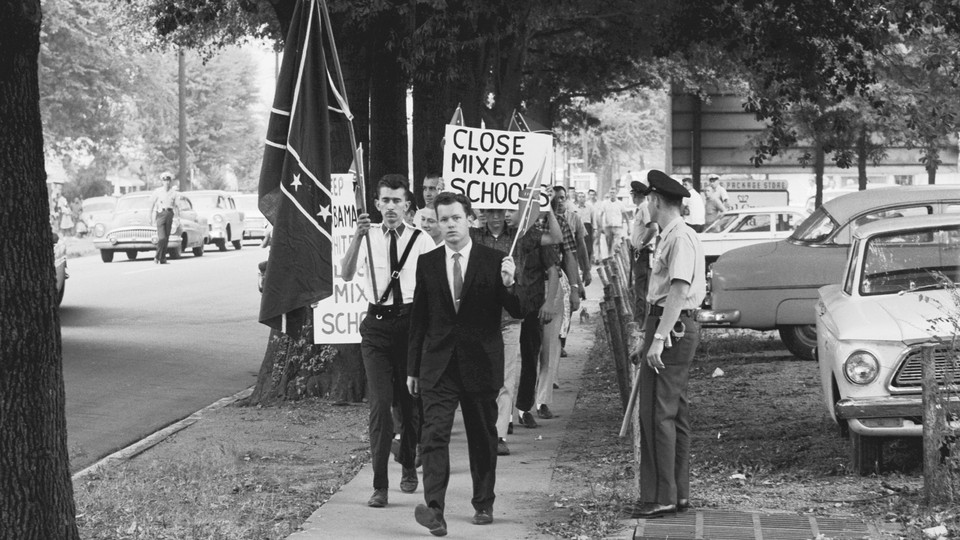 Editor's Note:
Read The Atlantic's special coverage of Martin Luther King Jr.'s legacy.
The Supreme Court declared segregation in public schools unconstitutional in its May 1954 ruling in Brown v. Board of Education. Ten years later, King issued a statement decrying how little had changed in the nation's classrooms. The report mixed statistics with moral assessments—and a persistent optimism—to build an argument that was hard to refute.
---
Any assessment of the extent of progress made in the last 10 years since the Supreme Court's decision of May 17, 1954, must be done under careful analysis of the real and the imagined. The naive might believe that great strides have been made in school desegregation over the past decade, but this is not at all true.
Today, the tragically real picture of school desegregation, particularly in the South, is still one of stark tokenism or no desegregation at all. In my own hometown of Atlanta, for example, the awful truth is that of 14,159 Negroes enrolled in high schools, only 153 are presently attending classes with whites, and, worse, not a single Negro child attends a desegregated elementary school.
The pattern is the same all over the deep South, and those states which have moved at all in any effort to comply with the Supreme Court's decision have done so with a gradualism and tokenism that is shamefully appalling.
The worst offender of all is Mississippi, which has not desegregated a single public school.
If one turns to the North the picture is not much brighter. The Negro ghettos created by the power structures, and tacitly endorsed by unspoken "gentlemen's agreements," have kept Negro school children still victimized by the crippling chains of segregated schools. An example is Gary, Ind., where 97 per cent of the city's 23,000 school children attend schools far removed from any contact with the white population.
The only conclusion to be drawn is that in the past decade school desegregation has moved only at a creeping pace when it has moved at all. But we are still hopeful that the next year or two will bring a marked change in the entire picture.
---
This article appears in the special MLK issue print edition with the headline "School Desegregation: A 10 Year Report Card" and was originally titled "Statement by Dr. King re: School Desegregation 10 Years After." © 1964 Dr. Martin Luther King Jr, © renewed 1992 Coretta Scott King. All works by Martin Luther King Jr. have been reprinted by arrangement with the Heirs to the Estate of Martin Luther King Jr., care of Writers House as agent for the proprietor, New York, New York.