How Kara Walker Recasts Racism's Bitter Legacy
The artist's works turn the brutality of history inside out.
Editor's Note:
Read The Atlantic's special coverage of Martin Luther King Jr.'s legacy.
Last year, a white-supremacist rally in defense of a Robert E. Lee statue in Charlottesville, Virginia, sparked a national conversation about Confederate monuments and, more broadly, about the ways in which the ugliest moments in American history are memorialized. Years before these shrines to the Confederacy began to topple, the artist Kara Walker was already capturing the traumas that extend from the era of slavery to the present day.
Walker attracted the art world's attention at age 24, after her 1994 installation, "Gone: An Historical Romance of a Civil War as It Occurred Between the Dusky Thighs of One Young Negress and Her Heart," was featured in the Drawing Center, in SoHo. Three years later, she became one of the youngest MacArthur Fellows. Walker is best known for her interrogations of race, gender, and sexuality. In the years since her debut, she has employed stereotype and caricature to emphasize the brutal ideological traditions of Reconstruction and Jim Crow. Using drawing, painting, cut-paper silhouettes, and large-scale installations, she challenges a flawed and distorted understanding of this country's violent racial history.
Her 2015 exhibit, "Go to Hell or Atlanta, Whichever Comes First," which was shown in the Victoria Miro gallery, in London, encapsulated this biting commentary. "I just find it really fascinating when people gouge a narrow channel in their thinking and then just keep [going], as if by gouging further into it, it makes the lie a fact as opposed to a bigger wound," she said in a conversation included in the artist's book that accompanied the show. Among the 39 provocative pencil-and-watercolor drawings exhibited: a fantasized "American Hero" monument to Dylann Roof, who murdered nine people at a black church in Charleston, South Carolina; Confederate notables depicted on Georgia's Stone Mountain alongside smiling Ku Klux Klansmen and a black man burning at the stake; and Martin Luther King Jr.'s burial ground in a pool of blackened water.
By focusing on the myths that undergird these historical narratives, she suggests that the legacies of these troubled eras are much more fraught than they might appear, whether carved into mountainsides or inscribed in textbooks. The civil-rights movement and King (whose tomb is also featured in one of Walker's drawings) often take center stage in discussions about America's moral trajectory on race relations. Fifty years after King's assassination, Walker's art underlines the wounds that remain—and how people today are complicit in perpetuating them.
---
Artwork selected from Walker's fall 2015 exhibit, "Go to Hell or Atlanta, Whichever Comes First," which originally ran at the Victoria Miro gallery, in London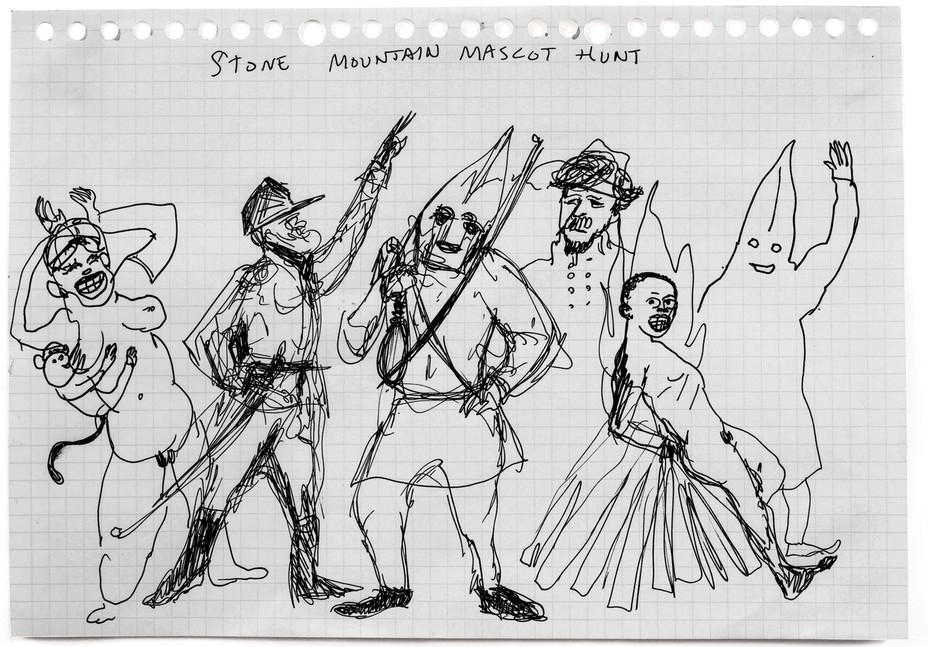 STONE MOUNTAIN MASCOT HUNT (2015): The Ku Klux Klan cites Georgia's Stone Mountain as its birthplace, in 1915. The site later became a Confederate monument and depicts three Civil War figures: Jefferson Davis, Robert E. Lee, and Stonewall Jackson. Walker lived near the monument as a teenager and references it in a number of drawings.
---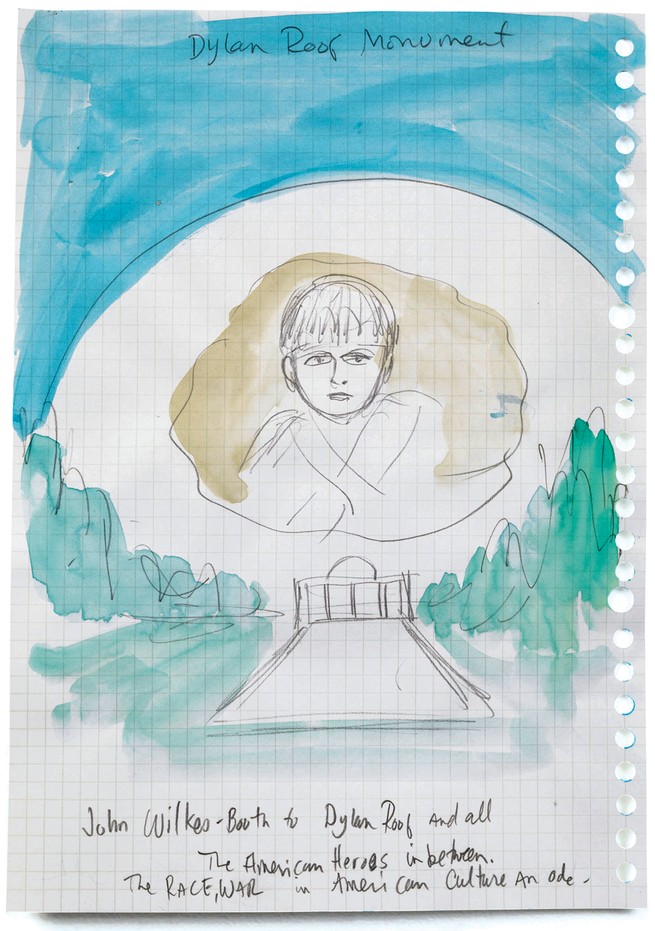 DYLAN ROOF MONUMENT (2015)
---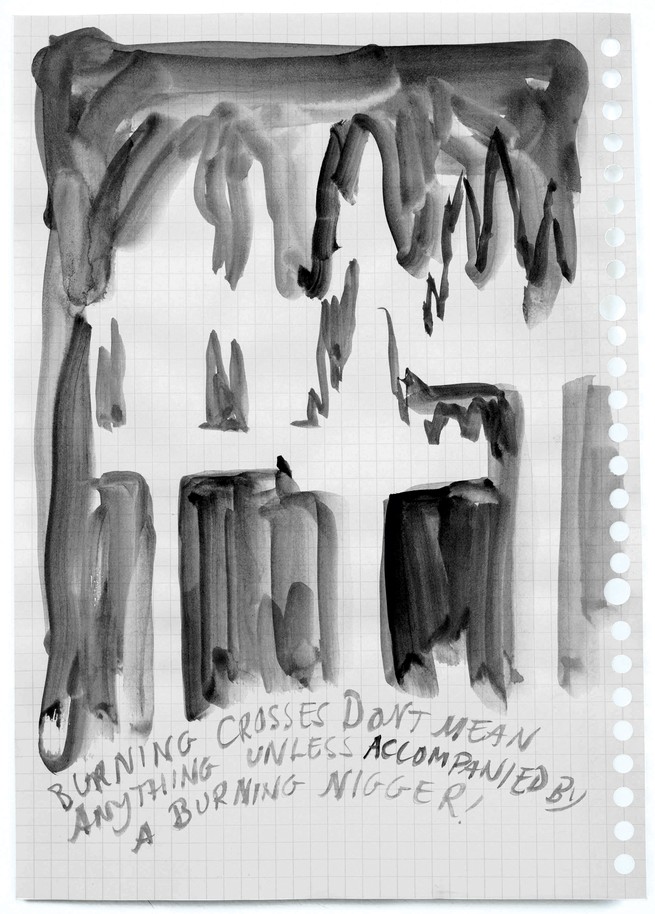 BURNING CROSSES DON'T MEAN ANYTHING UNLESS ACCOMPANIED BY A BURNING NIGGER (2015)
---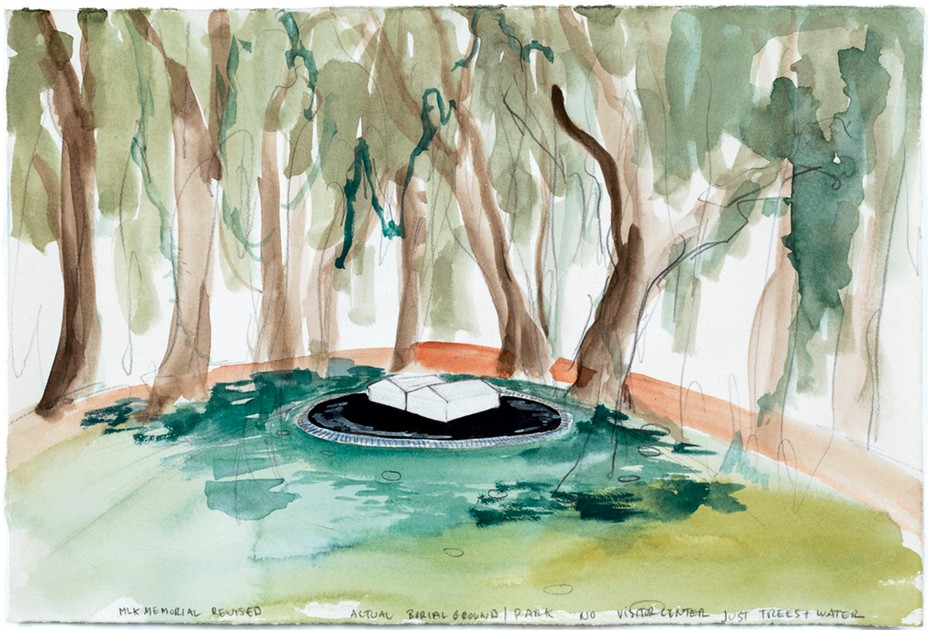 MLK MONUMENT REVISED (2015)  
---
This article appears in the special MLK issue print edition with the headline "Recasting Racism's Bitter Legacy."