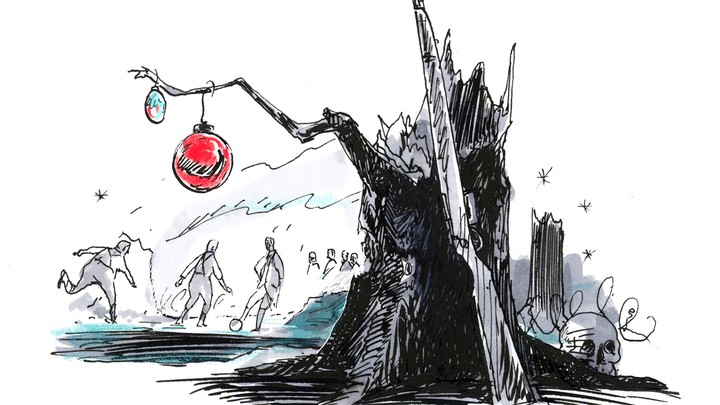 Samantha Bradbeer, archivist and historian, Hallmark
On Christmas Eve 1914, thousands of British, French, and German troops along the Western Front of World War I initiated an unofficial cease-fire known as the Christmas Truce. Men from both sides entered no-man's-land to sing carols, exchange cards and presents, enjoy games, and share cigarettes, treats, and whiskey. Though the truce was short-lived, it stands as a remarkable example of peace on Earth and goodwill toward men.
---
J. J. Harrison, illustrator, A Die Hard Christmas
On Christmas Eve 1968, millions tuned in to watch the crew members of Apollo 8 as they became the first humans to orbit the moon, venturing farther into the known universe than any explorers before them.
---
Rian Johnson, writer and director, Star Wars: Episode VIII—The Last Jedi
On Valentine's Day 1876, Alexander Graham Bell filed his patent application for the telephone. Bell was later sued for patent fraud, and the whole affair is tainted by a fascinating story of alleged intellectual thievery. But hey, why ruin the romance?
---
Rebecca Fraser, author, The Mayflower
The St. Bartholomew's Day Massacre, which began on August 24, 1572, saw the slaughter of Huguenots in Paris after the marriage of the Protestant Henri de Navarre to Charles IX's sister Marguerite, a Catholic. Orchestrated by Catherine de' Medici, the event began a new phase in the French Wars of Religion.
---
Melanie Kirkpatrick, author, Thanksgiving: The Holiday at the Heart of the American Experience
George Washington was usually reticent about his personal philanthropy. But his public example of charity in honor of America's first official Thanksgiving as a nation—$25 to help the poor—encouraged his fellow citizens to be generous.
---
Reader Responses
Astrid K. Redmond, Caracas, Venezuela
George Washington and his army crossed the Delaware River on the night of December 25, 1776, to launch a surprise attack the next morning on an isolated garrison of Hessian troops, who had spent the night celebrating Christmas. The quick victory upped morale and encouraged Continental soldiers to reenlist.
---
Michael H. Miller, Los Angeles, Calif.
The coordinated attack on Israel by Egyptian and Syrian forces launched on Yom Kippur (October 6, 1973), the holiest day on the Jewish calendar. The changes prompted by the Yom Kippur War led to an Egyptian peace treaty with Israel and the Camp David Accords.
---
Darren Katz, Washington, D.C.
William the Conqueror was crowned King of England on Christmas Day 1066. His reign dramatically altered English aristocracy, politics, religious institutions, language, and foreign relations for centuries.
---
Luke D. Durham, Knoxville, Tenn.
On the Fourth of July in 1826, John Adams's final words were "Thomas Jefferson survives." But he was incorrect: Jefferson had died just hours earlier. Five years to the day after Adams and Jefferson died—on July 4, 1831—the fifth president, James Monroe, also passed.
---
Heidi Holmes, Waterloo, Ontario
The St. Valentine's Day Massacre in Chicago, in 1929, turned a day of love into a day of revenge.
---
Want to see your name on this page? Email bigquestion@theatlantic.com with your response to the question for our March issue: What was the most influential act of protest in history?
We want to hear what you think about this article. Submit a letter to the editor or write to letters@theatlantic.com.