The Cutthroat World of Capitalist Reality TV
Shark Tank, The Toy Box, and Funderdome offer a mesmerizingly shallow view of American entrepreneurship.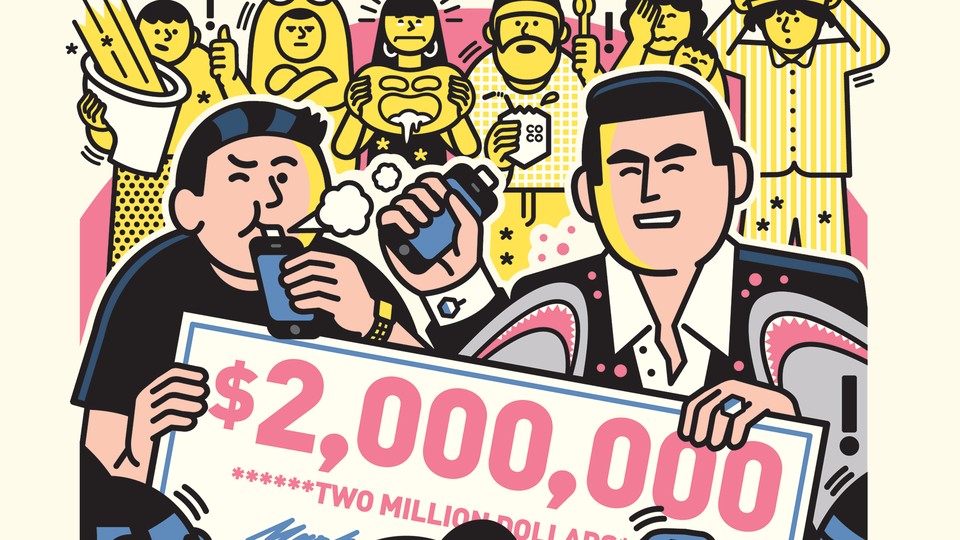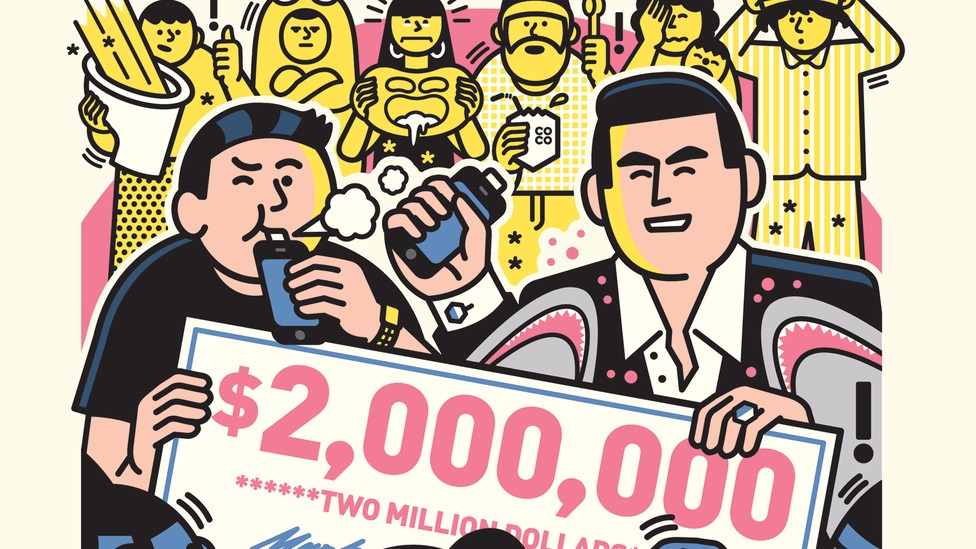 Viagra was such a fantastic name that Pfizer trademarked it long before the company had a drug to go with it, and perhaps the same is true of Steve Harvey's Funderdome, a title so capacious that it might contain almost any kind of hijinks. In fact, the ABC show, which completed its first season this fall, has a specific and narrow focus: Aspiring inventors pitch their products to the host and his audience in hopes of winning funding for further development. The premise is hardly daisy-fresh—Shark Tank, which made the format famous, is now in its ninth season—but we have never looked to the ubiquitous host-comedian Steve Harvey for the shock of the new. His career secret is to heave his enormous personality against time-honored formulas at Mach speed, and see which ones are strong enough to survive the hit. That he has chosen to fill his Funderdome with the risks and rewards of entrepreneurship tells us that the golden age of capitalist reality television is truly upon us.
The genre began with our president, of course, who realized years ago that TV contests based on people's ability to sing, dance, or get along with a houseful of losers on the CBS lot were small-time. The Apprentice, which debuted in 2004, wasn't about winning on the dance floor; it was about winning where it counts: in business. The show, like so much of the Trump enterprise, was based largely on humiliation. In the first episode, female contestants, each of them a legitimate businesswoman in her own right, won the challenge of running a lemonade stand in Manhattan by offering to kiss customers. Their prize was a visit to Trump's apartment, where they met Melania and told her how lucky she was. The premise of the show was not that it gave the victor a chance at becoming an independent businessperson, but rather that it made him or her a subaltern to the star.
Shark Tank, which premiered in the U.S. in 2009, offers the real deal: the opportunity to take your day job and shove it. The products that the guests present on the show are typically not medical or technological advances, which might bore the audience. Instead, they tend to be different types of highly specialized junk: peel-and-stick lapels that turn an ordinary suit into a tuxedo; an interior light for the toilet bowl; a cap that cures bed head; colored hair spray for dogs. Many of them are silly, but they have the potential to transform the inventor's life. A man with a new kind of sponge called the Scrub Daddy (it changes texture in warm water) became a multimillionaire as the result of the deal he made on Shark Tank.
Unlike The Apprentice, the show doesn't have a host, just a panel of investor "sharks," the most famous of whom is the billionaire Mark Cuban. When he agreed to appear on the show in Season 2, it marked a rare, perhaps singular, moment of humility. His own reality series, The Benefactor, which was his version of The Apprentice, had flopped so badly in 2004 that ABC didn't even air some episodes of its lone season. This is the original grit in the oyster of his long, fantastical lovers' quarrel with Donald Trump.
On Shark Tank, Cuban wears a Gordon Gekko outfit of sharp suit, crisp white shirt, and Dallas Mavericks cuff links (he owns the team). His brand is male dominance, and his Shark Tank investments include the Rugged Maniac Obstacle Race; a Breathalyzer you can plug into your smartphone; and a new boxed wine that "drinks more like a spirit."
His gentler opposite on the show is Lori Greiner, who—like Joy Mangano, who inspired the 2015 movie Joy—is famous for inventing products and selling them on QVC. She favors inventions that homemakers will want: all-natural cleaning products; reusable paper towels; beanbag chairs that unzip and turn into beds for sleepovers. She won't invest in anything too manly or gross—a beard oil wasn't her thing—but she did put down more than 300 large for 10 percent of Squatty Potty, the purpose of which had been illustrated to the sharks with a bracingly detailed animation of the large intestine and some frank talk about "choking the rectum."
People occasionally cry on Shark Tank, which makes sense: It's in the nature of entrepreneurs to take huge and often unwise financial risks, and when they realize they may not get a deal, some of them become overwhelmed. But to truly see how indifferent the marketplace is to the dreams and sacrifices of self-starters, you must turn to another show, an ABC vehicle called The Toy Box, in which toy makers have the fate of their invention, and often their family's financial future, decided by a panel of four precocious kids. A man who raided his kids' college fund on the promise of a kind of sports haggis—a soccer ball stuffed with a football and a baseball—made it to the finals before being sent home. Another family man had taken a second job to bankroll his work on a giant worm costume in which kids could compete in "worm races." The costume was so hot, and the inventor so drenched in sweat after his demonstration, that you knew he would not fare well, and he didn't even get passed through to the final round with the kids.
There is something exquisitely cruel about watching adults who have literally bet their house on an invention be dismissed by bored kids. She looks creepy!, one little monster said about a doll whose creator—a black woman who had wanted a doll that looked like her own daughter—had spent 30 years and more than $300,000 trying to bring it to market. She, too, was sent packing.
On Steve Harvey's Funderdome, the funding decisions are all made by the studio audience; accordingly, the emphasis is less on brilliant products than on the emotional appeal of the inventors. The first episode featured a woman who had created a special soap, V-Smart, that would help husbands get "the cookie" by relieving their wives of itchy yeast infections. Her description of these marital realities elicited from Harvey a bravura performance of both of his trademark emotions: shocked revulsion (yeast infections) and sexual excitement (the cookie). He told the woman that her soap would be a best seller, and she was awarded $10,000 for production.
It's not just the mesmerizingly shallow world of reality television that has been caught up in this entrepreneurial zeal. Last year, NPR launched a popular podcast called How I Built This, which focuses not on the risks but on the rewards of going into business for yourself. Each episode features an extended—and fascinating—interview with a different mogul: Gary Erickson, who invented the Clif Bar; John Mackey, who turned an Austin health-food store into Whole Foods; Andy and Kate Spade of the fashion brand. Sara Blakely, the inventor of Spanx—now a billion-dollar brand—explained to the host, Guy Raz, that her product was not the brainchild of some skunk-works division of Big Panty. Rather, it all began when she cut the feet off a pair of control-top panty hose one day, and voilà: the postfeminist panty girdle.
We might all be wise to start inventing intimate soaps or cutting up our underwear, because the president is a big believer in entrepreneurship. The former Apprentice contestant Omarosa Manigault-Newman is not the only figure from the world of reality television to have landed on her feet within the new administration. Ivanka Trump, who appeared on Seasons 5 through 14 of The Apprentice as her father's favorite board member, now has a West Wing office and a special focus on female entrepreneurship. Mark Cuban has offered to put aside his personal differences with the president to serve as his "entrepreneurial czar." And Steve Harvey has met twice with Housing and Urban Development Secretary Ben Carson to discuss turning closed inner-city schools into something he calls "vision centers."
All we need now is the guy in the worm suit.