The Whitest Music Ever
Prog rock was audacious, innovative—and awful.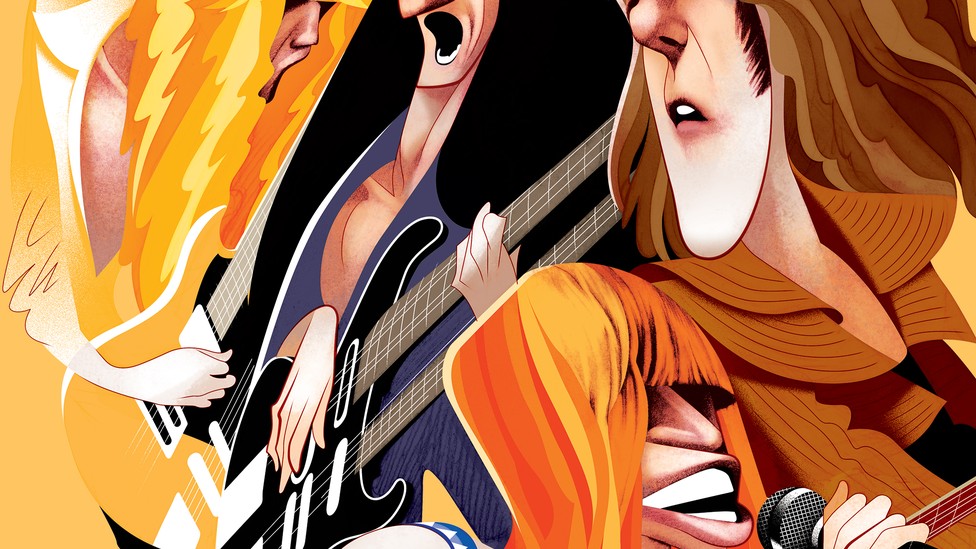 "We are the most uncool people in Miami." So begins, promisingly enough, David Weigel's The Show That Never Ends: The Rise and Fall of Prog Rock. Weigel, along with 3,000 fellow Yes-heads, Rush-oids, Tull freaks, and votaries of King Crimson—cultural underdogs all, twitching and grimacing with revenge-of-the-nerds excitement—is at the port of Miami, about to embark on a five-day progressive-rock-themed cruise: a floating orgy of some of the most despised music ever produced by long-haired white men.
Do you like prog rock, the extravagantly conceptual and wildly technical post-psychedelic subgenre that ruled the world for about 30 seconds in the early 1970s before being torn to pieces by the starving street dogs of punk rock? Do you like the proggers, with their terrible pampered proficiency, their priestly robes, and their air—once they get behind their instruments—of an inverted, almost abscessed Englishness? I don't. At least, I think I don't. I like Queen's "Bohemian Rhapsody," which is a kind of wonderful satirical compression of prog rock, a fast-forward operetta with goofy existentialist trappings and a heavy-metal blowout in the middle; I like the bit of Mike Oldfield's Tubular Bells that became the theme music for The Exorcist. And there are contemporary bands I adore that have been grazed by prog: the moody, alchemical Tool, the obtuse and crushing Meshuggah. But for naked prog, the thing itself, I seem to lack the mettle. The trapped, eunuch ferocity of Geddy Lee's voice, squealing inside the nonsense clockwork of Rush, disturbs me. And Yes's Tales From Topographic Oceans is an experience to me unintelligible and close to unbearable, like being read aloud a lengthy passage of prose with no verbs in it.
Hated, dated, sonically superannuated … One could enjoy prog ironically, I suppose—listen to it with a drooping and decadent ear, getting off on the fabulous obsolescence, etc. But that's not what Weigel is about. He loves prog, and his argument, his prog polemic, is that the glory of this music has been obscured from us by sneering decades of hipster rock criticism and prejudice against 20-minute songs:
Teams of highly trained visionaries paced themselves against their influences and their peers to write songs they were confident no one else would think of writing. They took the music far, far away from the basics, so that some later groups of jerks could take it "back to basics" and be praised for their genius. Every new artistic movement rebels against whatever came right before it. But the progressives' rebellion was the weirdest and the best.
Put like that, it does sound rather tasty. Prog as a wild chamber of experimentation, a sci-fi trespass across the limits of popular music, driving clear of fashion and orbiting the Earth forever. Awesome. The problem comes, for me, when I actually listen to the stuff. Is it not a form of aesthetic dissipation to praise something for its ambition and its bold idiosyncrasy when that something is, objectively speaking, crap? I think it might be. Gentle Giant, in 1972, took a poem from Knots, a book by the great heretic psychiatrist R. D. Laing, and turned it into an intricate, multivoice chant: It hurts him to think that she is / hurting her by him being hurt to think / that she thinks he is hurt by making her / feel guilty at hurting him by her thinking / she wants him to want her. The idea is great on paper. But listen to the song, to its scurrying, fidgety instrumentation, its fussy avoidance of anything like a melody. It is not enjoyable. At all. Magma, the French prog band, invented not only its own L. Ron Hubbard–style cosmic origin story but its own language (Kobaïan, which reads like a sequence of Gothic expletives: Nebëhr gudahtt, Köhntarkösz). Again, very creative. But run, oh run, from the music.
If Weigel were David Foster Wallace, he would have written his entire book from inside that cruise ship, possibly never leaving his cabin, eavesdropping on snatches of music and chitchat and sending out his imagination in heavy spirals of paranoia and insight. But Weigel is a political reporter for The Washington Post, so he climbs off that wiggy, proggy boat and treads onto the dry land of chronology. "We're a European group," declared the lead singer of proto-proggers The Nice in 1969, "so we're improvising on European structures … We're not American Negros, so we can't really improvise and feel the way they can." Indeed. Thus did prog divorce itself from the blues, take flight into the neoclassical, and become the whitest music ever.
Procol Harum fiddled around with Bach's Air on a G String and came up with "A Whiter Shade of Pale." More vandalistically, the super-keyboardist Keith Emerson, of The Nice and then Emerson, Lake & Palmer, unleashed himself upon the works of Modest Mussorgsky (Pictures at an Exhibition), Alberto Ginastera ("Toccata"), and Aaron Copland ("Fanfare for the Common Man"). You've got to love Emerson. He would wrench, upend, and literally stab his instrument—rather in the manner in which Hunter S. Thompson used to shoot his typewriter—jamming down keys with daggers, the better to produce his trademark squelching stun-chords. Fiending for technology, vivid with turbulence, he went from the Hammond organ to the freshly developed Moog synthesizer. (The proper pronunciation of Moog, I recently discovered, is "Mogue," like "vogue." Perhaps prog should be pronounced "progue.")
Money rained down upon the proggers. Bands went on tour with orchestras in tow; Emerson, Lake & Palmer's Greg Lake stood onstage on his own private patch of Persian rug. But prog's doom was built in. It had to die. As a breed, the proggers were hook-averse, earworm-allergic; they disdained the tune, which is the infinitely precious sound of the universe rhyming with one's own brain. What's more, they showed no reverence before the sacred mystery of repetition, before its power as what the music critic Ben Ratliff called "the expansion of an idea." Instead, like mad professors, they threw everything in there: the ideas, the complexity, the guitars with two necks, the groove-bedeviling tempo shifts. To all this, the relative crudity of punk rock was simply a biological corrective—a healing, if you like. Also, economics intervened. In 1979, as Weigel explains, record sales declined 20 percent in Britain and 11 percent in the United States, and there was a corresponding crash in the inclination of labels to indulge their progged-out artistes. No more disappearing into the countryside for two years to make an album. Now you had to compete in the singles market.
Some startling adaptations did occur. King Crimson's Robert Fripp achieved a furious pop relevance by, as he described it, "spraying burning guitar all over David Bowie's album"—the album in question being 1980's Scary Monsters (And Super Creeps). Yes hit big in 1983 with the genderless cocaine-frost of "Owner of a Lonely Heart." And Genesis, having lost ultra-arty front man Peter Gabriel, turned out to have been incubating behind the drum kit an enormous pop star: the keening everyman Phil Collins.
These, though, were the exceptions. The labels wanted punk, or punky pop, or new wave—anything but prog. "None of those genres," grumbled Greg Lake, retrospectively, "had any musical or cultural or intellectual foundation … They were invented by music magazines and record companies talking together." Fake news! But the change was irreversible: The proggers were, at a stroke, outmoded. Which is how, to a remarkable degree, their music still sounds—noodling and time-bound, a failed mutation, an evolutionary red herring. (Bebop doesn't sound like that. Speed metal doesn't sound like that.)
I feel you out there, prog-lovers, burning at my glibness. And who knows? If the great texts of prog had inscribed themselves, like The Lord of the Rings, upon my frontal lobes when they were teenage and putty-soft, I might be writing a different column altogether. But they didn't, and I'm not. The proggers got away with murder, artistically speaking. And then, like justice, came the Ramones.
---
​When you buy a book using a link on this page, we receive a commission. Thank you for supporting The Atlantic.