How the Embargo Rescued Russian Food Culture
An unlikely gastronomic renaissance is under way.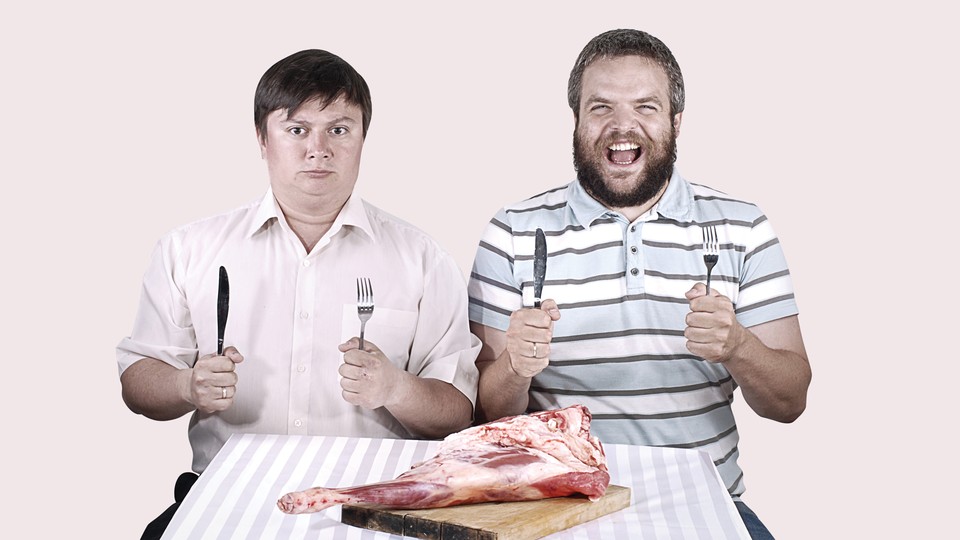 "Try the deer heart," Boris Akimov suggests from behind a bushy beard. My stomach sinks, but I cannot refuse: Akimov is a demigod in the Moscow food world, and we are sitting in LavkaLavka, the flagship restaurant of the LavkaLavka farmers' cooperative. The crimson meat comes thinly sliced atop a celery puree, with a garnish of cowberry sorbet. It's surprisingly tender.
When I first visited the cooperative five years ago, its footprint was limited to a cramped shop and café hidden in a labyrinthine courtyard, and its focus on fresh produce and homemade delicacies was still novel. Russian cuisine remained mired in a Soviet-era bog of potatoes and borscht. Fine dining mostly involved imported cuisine, and locavorism remained foreign, at least in concept. Yet over the past several years, a band of Russian farmers, chefs, and restaurateurs have launched a revival of Russian gastronomy.
They have found an unlikely ally in President Vladimir Putin. After the West slapped sanctions on Russia for annexing Crimea and stoking a war in Ukraine's east in 2014, Putin responded by banning agricultural imports from the European Union, the U.S., and several other countries. Customs inspectors made a show of destroying banned products at the border, resulting in surreal scenes of cheese thrown into incinerators and geese flattened by bulldozers.
Although the embargo sent food prices soaring, Russians largely supported it: According to the Levada Center, an independent polling organization, most say it has made Russia more respected. "Russia can provide for itself," crowed the pro-Kremlin tabloid Moskovsky Komsomolets. And indeed, the ban has been a boon for Russian agriculture. With many ingredients unavailable (and others rendered prohibitively expensive after the ruble went belly-up in 2014), chefs are seeking producers closer to home. "After the sanctions, everyone understood that there's no other way out," Uilliam Lamberti, an Italian chef behind several Moscow establishments, told the culinary magazine Afisha Eda.
In a sign of the times, Arkady Novikov, a restaurateur whose swanky, import-heavy establishments set the tone for the post-Soviet Moscow food scene, has opened a string of more locally focused projects: Valenok, which serves upmarket versions of Soviet classics; Farsh, a burger chain that uses only Russian meat; and Syrovarnya, which produces its cheeses on-site. Meanwhile, White Rabbit, where executive chef Vladimir Mukhin creates modern spins on prerevolutionary Russian recipes—moose-lip dumplings, the cabbage soup shchi, a yogurt drink that Mukhin serves with goose liver—is now No. 23 on the World's 50 Best Restaurants list.
Akimov cautions that the movement is just beginning. Challenges abound, including Russia's shoddy infrastructure, which can make getting food from farms to tables a nightmare (local is a relative term in a country with 11 time zones). Nonetheless, he says, "people are thinking more about what they eat, about responsible consumption, about supporting local farmers." LavkaLavka now has an expansive suburban market and five smaller shops, along with the restaurant, whose ingredients are all sourced from Russian producers.
After the deer heart comes a salad of crab from Kamchatka and a delicate river pike perch. We chase it down with infused polugar, an ancient Russian bread wine (a forefather to vodka) that's enjoying a comeback.