Puppy Love
The coddling of the American pet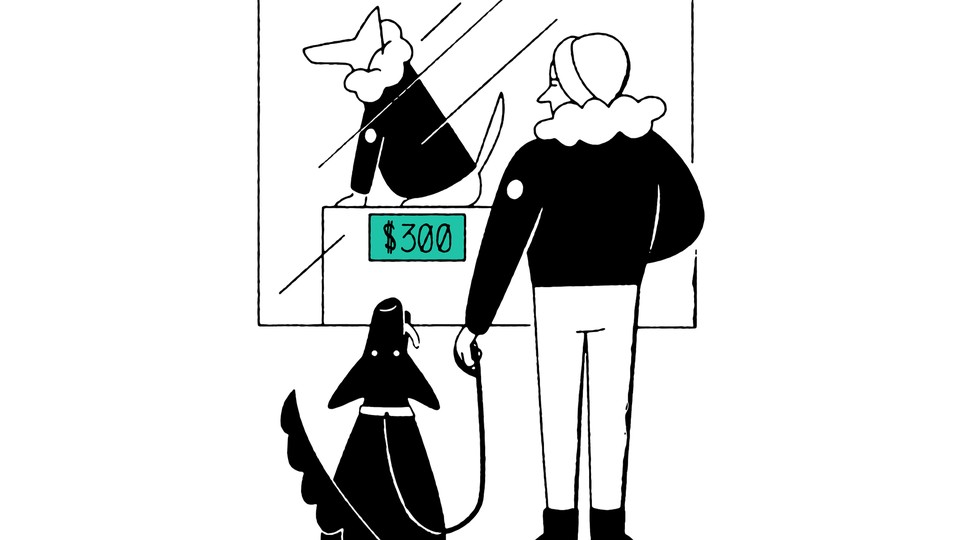 Neutering your pet isn't exactly an aesthetic decision. But if for some reason you find Buddy's postprocedural appearance disconcerting, you have options—like Neuticles, a set of testicular implants that promises to give your pet a more "natural" look. The manufacturer claims to have sold more than 500,000 implants, prompting a question: Just how big is the pet economy?
According to the American Pet Products Association, pet spending has risen every year since 1994, even during the Great Recession, and is estimated to have reached almost $63 billion last year. Some of us contribute more to that total than others, however. For example, people who have attended college are more likely than those who didn't to make "specialty purchases" for their dogs. [1]
In general, the less disposable income you have, the less you buy for your pet. [2] Unless, that is, you're a Millennial: One study finds that dog owners under 30 are more likely than those in other age groups to buy premium pet food, despite having less money. [3] Another found that more than 41 percent of Australian dog owners under 25 "always" bring their dogs on vacation. [4]
In fairness to Millennials, people of all ages treat their pets like family. According to one consumer survey, two-thirds of all dog owners consider their pet's comfort when purchasing a car. Ditto getting a divorce. Although most states still treat animals as personal property, subject to the same equitable-distribution laws as other possessions, a review in the Journal of Law and Family Studies reported that petitioners are beginning to ask judges to consider "the animal's best interest"—an approach previously reserved for children. In one famous case, a California woman reportedly spent $146,000 on her divorce case, which centered around a (successful) bid for custody of Gigi, her pointer-greyhound mix. [5] And where there's a Gigi, there's a crop of lawyers vying for the case. More than 150 North American law schools now teach animal law, including pet-custody disputes.
The legal system isn't the only costly, dysfunctional part of American life that we've imposed on our pets. A new journal article finds striking parallels between the American pet health-care system and its human equivalent: From 1996 to 2012, pet and human health-care spending closely tracked each other, rising by 60 percent and almost 50 percent, respectively. America's high health costs are often blamed on its insurance system—but this alone can't explain veterinary spending, because pet insurance is uncommon. Other possible culprits affecting Buddy and Grandma alike include expensive new technologies and spikes in end-of-life spending. [6] On a happier note, a longitudinal study of German and Australian health care found that people who'd had pets for at least five years went to the doctor less than others, saving their countries $5.2 billion and $2.2 billion, respectively, in 2000. [7]
So maybe it's okay to spoil our pets—we spend billions on them, but they save us billions in return. If Neuticles aren't your thing (or things?), you might consider wine. Two companies now sell "cat wine," a mixture of liquid catnip and beet juice or other coloring. Compared with a vet bill, a $12 bottle of Pinot Meow seems half-reasonable. And just think, you'll never have to drink alone again.
---
The Studies:
[1] Dotson and Hyatt, "Understanding Dog-Human Companionship" (Journal of Business Research, May 2008)
[2] Henderson, "Spending on Pets" (Bureau of Labor Statistics, Beyond the Numbers, May 2013)
[3] Kumcu and Woolverton, "Feeding Fido" (Journal of Food Products Marketing, 2015)
[4] Carr and Cohen, "Holidaying With the Family Pet" (Tourism and Hospitality Research, Oct. 2009)
[5] Wharton, "Fighting Like Cats and Dogs" (Journal of Law and Family Studies, 2008)
[6] Einav et al., "Is American Pet Health Care (Also) Uniquely Inefficient?" (American Economic Review, May 2017)
[7] Headey and Grabka, "Pet Ownership Is Good for Your Health and Saves Public Expenditure Too" (Australian Social Monitor, Nov. 2002)