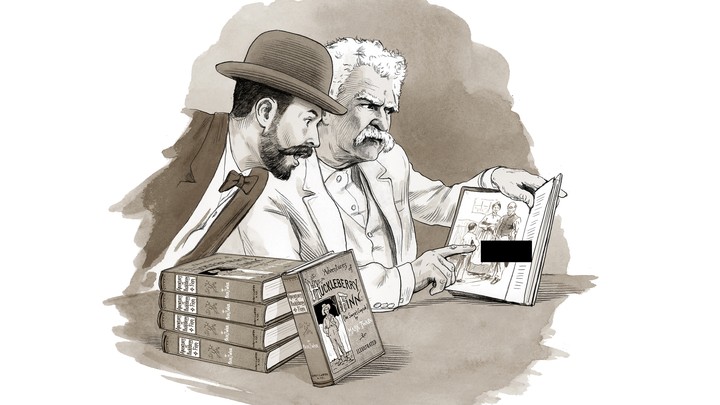 Published in the U.S. in 1885, Mark Twain's Adventures of Huckleberry Finn has everything a reader could want: adventure, humor, controversy, tenderness, the hypocrisy of competing social-class structures—and a penis. During the printing of the first American copies of the novel, an innocent illustration of Huck presenting himself in Uncle Silas's home as his distant nephew was altered without Twain's knowledge. A few scratches into a printing plate made it appear as if Silas the farmer-preacher were proudly displaying his erect phallus—a phallus that, in order to pass unnoticed at a casual glance, had to be the size of a mealworm. The illustration's caption reads: "Who do you reckon it is?" Despite a $500 reward (more than $12,000 in today's currency), we still don't know which of the 50 pressmen working on the novel vandalized the plate. The "greatest American humorist" did not see the lighter side of this little printing debacle. Twain immediately had the illustration stripped from all copies, and book agents selling subscriptions door-to-door were ordered to tear out the page from their display copy.
—Adapted from Printer's Error: Irreverent Stories From Book History
We want to hear what you think about this article. Submit a letter to the editor or write to letters@theatlantic.com.
Rebecca Romney
is a rare-book seller for Honey & Wax Books. She is the rare-book expert on the History Channel series
Pawn Stars
, as well as an author and podcaster.