A Resort for the Apocalypse
Texas's Trident Lakes is the latest entry in a booming market for luxury bunkers.
On July 25, 1961, President John F. Kennedy spoke to the American people of a need "new to our shores" for emergency preparedness, including fallout shelters. The bunkers of that era—Brutalist, cement, with foldout beds and stockpiled food—were designed to protect families in the event that the Cold War turned hot 1.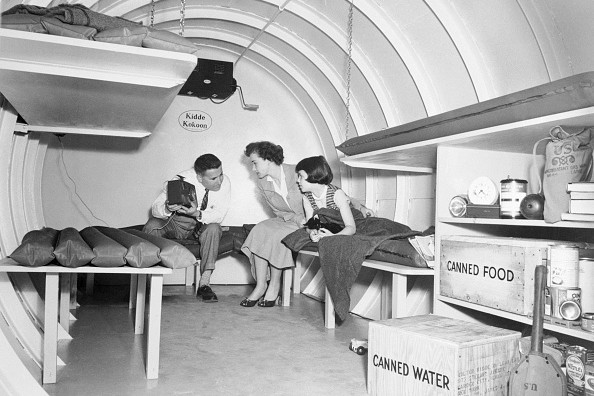 It never did, but fears of cataclysm—nuclear and otherwise—are back. So are shelters, with a twist. Growing numbers of "preppers" hope to ride out various doomsday scenarios in luxury.
Rising S Bunkers, one of several companies that specialize in high-end shelters—its Presidential model includes a gym, a workshop, a rec room, a greenhouse, and a car depot 2—says sales of its $500,000-plus units increased 700 percent last year. (This compares with a more modest 150 percent increase across other Rising S units.) Bunker companies won't disclose customers' names, but Gary Lynch, Rising S's CEO, told me his clients include Hollywood actors and "highly recognizable sports stars." Other luxury shelters are marketed to businesspeople, from bankers to Bill Gates, who is rumored to have bunkers beneath his houses in Washington State and California.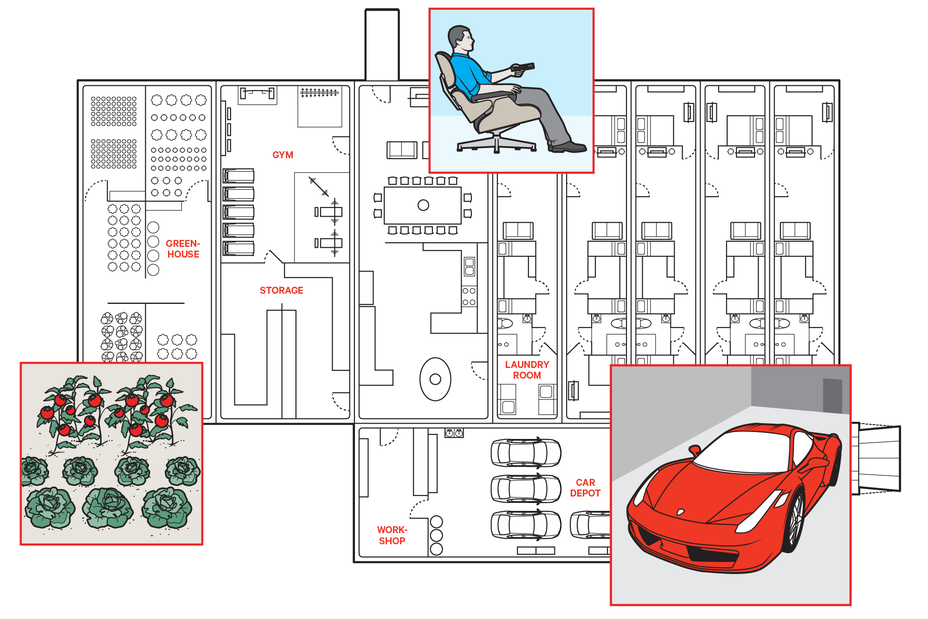 Whereas Cold War shelters, by design, were near the home and easy to get to, a handful of bunker companies are building entire survival communities in remote locations. Some of them share literal foundations with Cold War buildings: One project, Vivos XPoint, involves refurbishing 575 munitions-storage bunkers in South Dakota; Vivos Europa One, in Germany, is a Soviet armory turned luxury community with a subterranean swimming pool 3.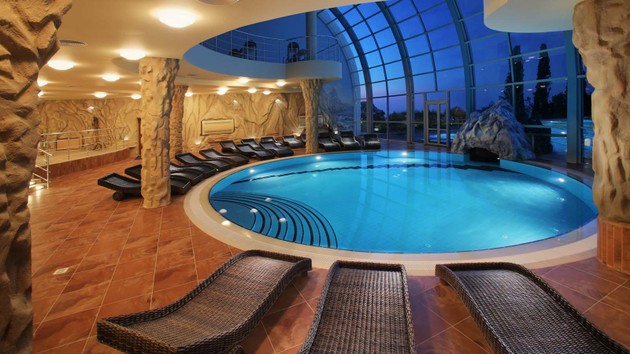 By contrast, Trident Lakes 4, a 700-acre, $330 million development in Ector, Texas, an hour and a half north of Dallas, is being built from scratch. Marketed as a "5-star playground, equipped with defcon 1 preparedness," it is the project of a group of investors who incorporated as Vintuary Holdings. According to James O'Connor, the CEO, Trident Lakes "is designed for enjoyment like any other resort." (This pitch is rather different from its Cold War–era counterparts: A 1963 bunker advertisement from the Kelsey-Hayes company shows a family tucked under its home, with just rocking chairs for comfort 5.)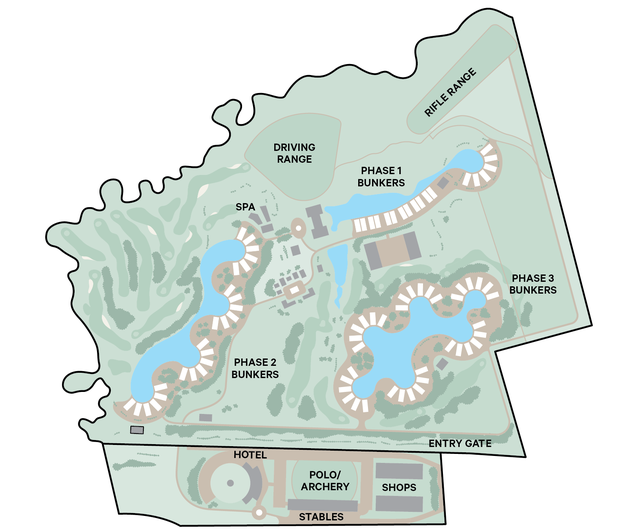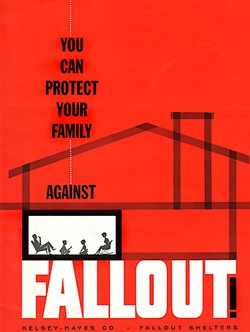 In some regards, the plans for Trident Lakes do resemble those for a resort. Amenities will include a hotel, an athletic center, a golf course, and polo fields. The community is slated to have 600 condominiums, ranging in price from $500,000 to $1.5 million, each with a waterfront view 6 (to which end, three lakes and 10 beaches will be carved out of farmland). Other features are more unusual: 90 percent of each unit will be underground, armed security personnel will guard a wall surrounding the community, and there will be helipads for coming and going.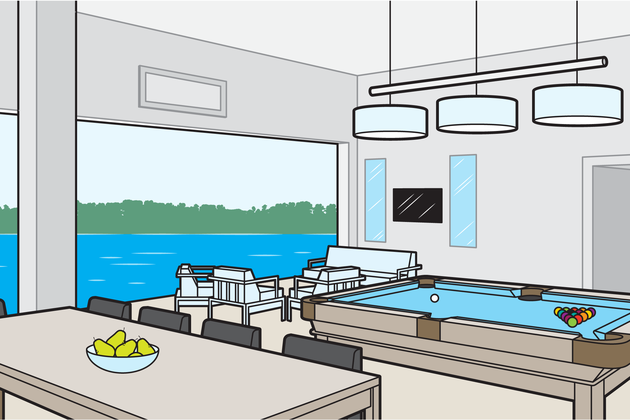 As of January, only one part of the project was under way: a 60-foot statue that will feature Poseidon, amid what is supposed to be a 55,000-square-foot fountain 7. By June, Vintuary plans to unveil the development's entrance and the shells of six bunkers. If all goes according to schedule, the first units will be finished next year.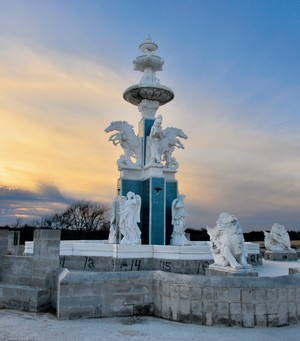 Jeff Schlegelmilch, the deputy director of the National Center for Disaster Preparedness at Columbia University, told me that the luxury-bunker trend is "not just a couple of fringe groups; there is real money behind it—hundreds of millions of dollars." But why are wealthy people buying?
Some customers appear to be motivated by old anxieties, recently revived—the threat of nuclear war, or a national-debt default that leads to unrest. Others have newer fears: climate change, pandemics, terrorism, far-left and far-right extremism. The presidential election has brought new faces into the fold, namely liberals (who also contributed to a record number of background checks—an indicator of gun purchases—on Black Friday). "Typically our sales are going to conservatives, but now liberals are purchasing," says Lynch, the Rising S CEO.
Rob Kaneiss, Trident Lakes's chief security officer and a former Navy seal, told me that violence "seems to be the unfortunate trend in the U.S." He believes the community's location will prove to be ideal under the circumstances. "Ector offers … a very rural area," he said, "so the likelihood of having risks like that, in the absence of specific targeting, is extremely low."
In case things do go south, Trident Lakes will offer "Navy seal Experience" self-defense training, and a vault for family DNA. The hope is that, down the line, scientists could use genetic material to replicate residents who were lost to catastrophe, thereby ensuring "family sustainability." Where these scientists might come from isn't clear, but for a group selling cataclysm, the gesture seems an oddly hopeful bet on the future.