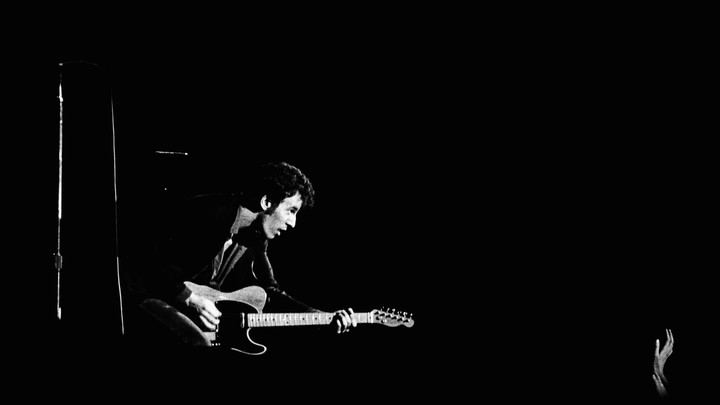 Born to Run
Simon & Schuster
In 1943, Harry Emerson Fosdick, then the pastor of New York City's Riverside Church, published a book called On Being a Real Person. He argued that "the primary command of our being is, Get yourself together, and the fundamental sin is to be chaotic and unfocused." We are all born, he wrote, with different selves, tastes, talents, fears, competing desires, and possibilities. Over the years, our job is to integrate our many parts, which entails choosing the goals and tasks we consider most important. Three types of people, Fosdick observed, emerge from the struggle: those whose lives remain scattered and ineffectual; those who focus on a low purpose, like money or status; and those who, finding a vocation guided by a high purpose, corral their conflicting selves "sufficiently to make a concentrated impression on the world."
Bruce Springsteen's frank and gripping memoir, Born to Run, is an intimate portrait of one man's lifelong attempt to follow that primary command. People who choose rock and roll as their vocation are usually trying to break free from constraints, to smash things, to stir up a little turmoil in their souls. Springsteen entered a world of chaos and turned to guitars and amplifiers and lyrics to create order.
Starting with Greetings From Asbury Park, N.J. (1973) and Darkness on the Edge of Town (1978) and on through The Ghost of Tom Joad (1995) and Wrecking Ball (2012), Springsteen has often written songs in the voice of the unlettered working-class outsider, which he was. Now he's a 67-year-old multimillionaire with a mansion and horses. He is a literate, artful, and even urbane writer (there is no way this book is ghosted) who has reaped the sorts of insights you get from more than three decades in therapy. He is still tortured and haunted, but he has gotten himself more or less together. The journey from obscurity to rock-and-roll fantasy is not as important in this book as the internal journey from anxious urgency to some sort of self-forgiving peace.
Born in 1949, Springsteen was the eldest of three children, and the only son, in a working-class Catholic family in Freehold, New Jersey. The house in which Springsteen spent his early childhood was literally a ruin, the walls slowly collapsing. A subsequent house lacked running hot water, so the family filled the single tub with pots heated downstairs on the gas stove; the kids took turns bathing in the same water. Family relationships lacked stability. Bruce's grandmother was devoted to him, and his mother was loyal to her brooding and unstable husband, but rules were nonexistent. At 5 and 6, Bruce was staying up until three in the morning and sleeping until three in the afternoon. He ate when and whatever he wanted. "It was a place where I felt an ultimate security, full license and a horrible unforgettable boundary-less love," he writes. "It ruined me and it made me."
In Springsteen's early music, his father is a silent presence, sitting at the kitchen table in the dark with a cigarette in his mouth, often depressed and harshly judgmental. In life, the memoir reveals, the uncommunicative Douglas Springsteen occupied the emotional foreground for an unsteady, impressionable boy. His father, Springsteen writes, spoke fewer than a thousand words to him through his childhood (and much later, after Douglas had moved away, was diagnosed with paranoid schizophrenia). On one occasion he broke down weeping in front of his son. "It shocked me," Springsteen writes, "made me feel uncomfortable and strangely wonderful. He showed himself to me, mess that he was. It was one of the greatest days of my teenage life."
Unmoored and anxious, Springsteen got the name "Blinky" in school because he blinked uncontrollably, "hundreds of times a minute." He chewed his knuckles until they were covered with marble-size calluses. Yet in his gregarious mother, a legal secretary named Adele, Springsteen saw an embodiment of willpower. "She willed we would be a family and we were. She willed we would not disintegrate and we did not. She willed we would walk with respect through the streets of our town, and we did." Not least, she got him his first guitar when he was 7 and a decade later borrowed money to help him buy a better one. His father might not talk back, or even react, but in the songs young Springsteen began to write, he was determined to speak to his father and make him at least hear his son's point of view.
The adolescent ferocity of commitment he brought to music is still fresh, and I read the first half of the book feeling inspired to rededicate myself maniacally to my work. Springsteen discovered rock as many did, first through Elvis, on The Ed Sullivan Show in 1956 (Springsteen was 6), and then through the Beatles on the same show in 1964. Night after night in his bedroom, he taught himself to play songs, falling asleep with his guitar cradled in his arms. Plenty of teenagers do that, but Springsteen was tyrannically demanding, of himself and of others. He was not in it for the drugs or the sex (though he had some sex). He was in it for the rock and roll. Springsteen fired treasured bandmates if they weren't committed enough or talented enough to go where he needed to go.
Springsteen is an exemplary version of a very humble type, the journeyman bar-band singer, but Springsteen the memoirist shows that the urgent compulsion to be not just good but great made him imperious and obsessive. From the start, sheer willpower drove his music and the stories he sang. The propulsive lift of "The Rising," which he wrote after 9/11, was there in the kid who wants to explode out of a town full of losers in "Born to Run," but it didn't come easily. Springsteen describes spending months in the mid-1970s trying to create the wall of sound that became that song. "I started out with cliché, cliché, cliché and then I caught a piece of myself and the moment. 'In the day we sweat it out on the streets of a runaway American dream …' It's a 'death trap,' a 'suicide rap.' 'I want to guard your dreams and visions.' " He knew, when those phrases finally came, that he had a great song. "A smash feels like it was always there and as if you've never heard anything like it before."
Chronologically, Springsteen belonged to the Baby Boomer moment, and Vietnam obsessions were his signature as he emerged in the '70s. But he didn't aspire to be the next Jimi Hendrix or Janis Joplin or Mick Jagger. He wasn't looking for infinite freedom or trying to break the strictures of bourgeois society. The "dreams and visions" he wanted to guard had a 1950s whiff. He was not rejecting working-class ideals but fulfilling them—more Johnny Unitas than Joe Namath. We don't need his memoir to reveal the importance to him, musically and personally, of feeling anchored to a place: That his creative roots lie in the shore towns of central New Jersey has been obvious for decades. From those communities, with their high quotient of eccentrics (is it that not so many people there had been polished by office-park culture?), he drew material for two commercially unsuccessful albums and then, in 1975, Born to Run. After that breakthrough hit, grabbing for a global audience with broad, uplifting stories would have been a natural step. He didn't take it. Darkness on the Edge of Town was a stripped-down album about people who stay home and search for identity and battle their own cynicism.
Springsteen's memoir exposes how agonizing his own search for identity continued to be. I found myself reading the second half of the book inspired by an energy in his later years equal to the early zeal that launched his music, only now dedicated to family. By his 30s, Springsteen had music and he had Jersey, but he wasn't sure he had a life—a life outside the studio or beyond the stage. Driving through a small town in Texas at 32—the year he was working simultaneously on the spare Nebraska and the lush pop sound of Born in the U.S.A.—he suffered a full-blown emotional crisis. "I've just pulled a perfect swan dive into my abyss," he writes. "My stomach is on rinse cycle and I'm going down, down, down."
Springsteen began therapy, probing the "mess that he was," to borrow the phrase he uses for his father. As he describes his habit of cutting off romantic relationships after a couple of years, he's clearly still wrestling with that "horrible unforgettable boundary-less love" from the past:
I wanted to kill what loved me because I couldn't stand being loved. It infuriated and outraged me, someone having the temerity to love me—nobody does that … and I'll show you why. It was ugly and a red flag for the poison I had running through my veins, my genes. Part of me was rebelliously proud of my emotionally violent behavior, always cowardly and aimed at the women in my life.
The tale of his ultimately happy marriage may sound too good to be true (and rumors to the contrary are easy to find), but Springsteen's tribute to Patti Scialfa anchors the second half of the book. His four-year marriage to the Chicago-born actress and model Julianne Phillips in the late 1980s had ended in divorce. Scialfa, from New Jersey, was a singer in his E Street Band. He recognizes how lucky he is. She is incandescent enough to live alongside a superstar, tender enough to provide patient care, talented enough to share the stage, and tough enough to endure his depression and self-absorption. Which isn't to say peace reigns. He has known better than to be a silent, brooding husband. "Back at home, Patti and I fought a lot, which was a good thing. I'd never argued much in most of my other relationships and it had proved detrimental."
Springsteen endured a massive depression after turning 60, and solving the problem of himself is work that he clearly feels isn't over. He is still trying to keep himself together by writing new music. But he sounds less desperate, less in need of escaping something. "Feeding your children," he writes, "is an act of great intimacy and I received my rewards, the sounds of forks clattering on breakfast plates, toast popping out of the toaster, and the silent approval of morning ritual." Springsteen can't resist reaching for a grander benediction: "There is a love seemingly beyond love, beyond our control, and it will take us through our lives bestowing blessings and curses as they fall."
But onstage at the church services he calls concerts is where Springsteen reaches full coherence. For the musician—as for the memoirist—that is not at all the same as bliss: "Onstage your exhilaration is in direct proportion to the void you're dancing over," he writes. He remembers one concert during which he had the sensation that things were falling apart. He was thinking about himself too much, volleying the voices in his head, instead of just performing. Yet decades later, when he went back to listen, that was the concert with extra power and resonance. That was one of the legendary shows his fans talk about and claim to have attended. "One must still have chaos within," Nietzsche wrote, "in order to give birth to a dancing star."
We want to hear what you think about this article. Submit a letter to the editor or write to letters@theatlantic.com.