How War Created Pippi Longstocking
Astrid Lindgren's translated diaries don't dwell on the origin of the popular fictional character—but rather illuminate the turbulent surroundings she emerged from.
If you turn to Astrid Lindgren's wartime journals curious to learn about the origins of her famous literary creation—the rule-defying supergirl named Pippi Longstocking—you may at first feel shortchanged. Lindgren, a young mother and aspiring writer in Sweden, gets four and a half years into her diary before she briefly mentions Pippi, in 1944. She's "having really good fun" with her. "That bad child" barely comes up again until Lindgren goes out the following year to buy a copy of her own "jolly funny book," just published.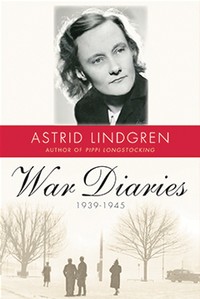 Instead, Lindgren is intent on bearing sharp-eyed witness to the real world. The incongruities are jarring. Chaos spreads in Europe, while neutral Sweden remains a surreal oasis of comparative calm and comfort. In back-to-back entries in 1942, she takes note of "completely lunatic amounts of blood" in Stalingrad and of her cozy family Christmas in Stockholm. Lindgren salutes, but also scrutinizes, her country's refusal to engage.
A bystander's unillusioned record of a war-ravaged, refugee-strewn world resonates these days. And Lindgren's bracing testimony sheds unexpected light on outlandish Pippi after all. Her upstart orphan has always seemed so, well, un-Swedish—with her anti-authoritarian zeal, her kooky autonomy, her glee in wreaking havoc on adult tidiness. But as a child born of a war-haunted imagination, Pippi and her zany gumption make perfect sense.
By ​​​​​​​Astrid Lindgren, translated by Sarah Death
---
​When you buy a book using a link on this page, we receive a commission. Thank you for supporting The Atlantic.