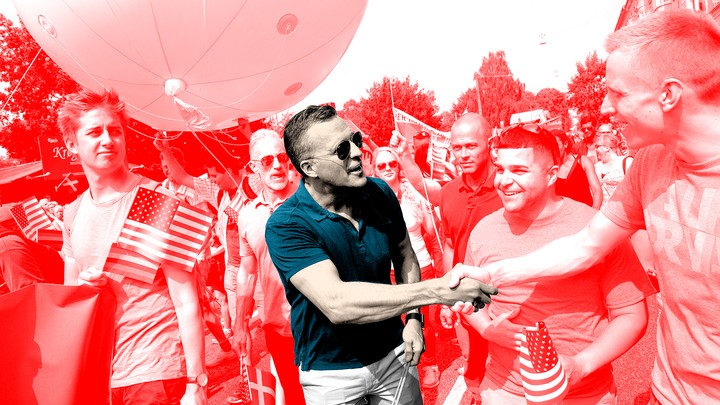 When Rufus Gifford, the U.S. ambassador to Denmark, won a Danish television award for his reality show, he ran onto the stage, beaming. "Oh man," he said, surprised. "Wow." The show, Jeg Er Ambassadøren fra Amerika (or I Am the Ambassador From America), was renewed for a second season (and will come to U.S. viewers this fall via Netflix). A Danish biography of Gifford was a best seller. At a music festival in June, the chart-topping Danish pop band Lukas Graham dedicated its song "Nice Guy" to him.
"Rufus Gifford is a rock star," Nicolai Wammen, a Danish MP and a friend of Gifford's, told me. As an appointee of President Obama's, Gifford is likely nearing the end of his diplomatic stint, though Danes frequently ask him to stay. His biographer, Stéphanie Surrugue, remembers walking alongside Gifford at a political gathering and noticing that he was getting as much attention as the nearby prime minister. "People were shouting 'Rufus!' as they were shouting 'Lars' after the prime minister." It was, she says, "a little bit crazy."
Gifford's popularity is partly a function of his ubiquity: He rarely turns down an invitation from the Danish morning shows. "Press officers from other embassies have told me their ambassador was kind of envious about all the publicity," Surrugue says. Gifford is also good-looking, with a glamorous pedigree as a Hollywood producer turned finance director of Obama's reelection campaign. And he's openly gay; his marriage last year to Stephen DeVincent at Copenhagen's city hall only added to the good feelings among Danes, who see his appointment as an affirmation of their tolerant outlook.
A typical segment of Gifford's show opens in his bedroom, where he bids his golden retriever farewell for the day. As he's driven around between meetings and appearances, many of which unfold on camera, he offers good-natured commentary on matters personal and public. Gifford told me that upon arriving in Denmark, he was startled to find that "everything American was debated in every classroom, every boardroom, every dining-room table." True to that observation, the show presumes an appetite for the minutiae of American life and politics. One episode, for example, centers on an awkward encounter with Mitt Romney—a man, Gifford explains to viewers, whom he helped Obama defeat in 2012 by raising $1.2 billion.
Wherever Gifford goes these days, people want to talk about the American election. Jesper Steinmetz, a Danish correspondent in the U.S., says Danes have been "astonished" by Donald Trump's success, but see Gifford as "the counterweight to that trend. He reminds Danes [of] the America that they like." Stine Pitney, a secretary who recently proclaimed her love for the ambassador in a tweet, sums up the contrast thus: "Trump is the really nasty reality TV; you watch it and it's like your guilty pleasure." But you can watch Gifford's show "with your mother-in-law and she'll go, 'Oh, he's a lovely man, that Rufus Gifford.' "
In recent months, some Danes have urged Gifford to mount his own campaign for president. In July, Pitney's tweet joined this growing chorus: "I'm totally girlcrushing on @rufusgifford. He'd make a great #POTUS and Stephen an even greater #FLOTUS."
We want to hear what you think about this article. Submit a letter to the editor or write to letters@theatlantic.com.