The Gangly Texan Pianist Who Wooed Soviets During the Cold War
Russian audiences swooned over Van Cliburn during a fraught period in relations with his home country. Nigel Cliff tells the humble musician's story in a new biography.
"How odd to see a cowboy play the piano," marveled a Manhattan music aficionado upon encountering a gangly young Texan pianist, Van Cliburn, soon after his arrival in New York in the early 1950s. She was not alone in swooning when he rolled out his romantic, heavily Russian repertoire. Forget cowboy—he sounded, and looked, like an expressive angel. With his curly golden locks, baby face, prayers before performances, and reverent swaying on the bench, he wasn't just wholesomely American. He was heavenly.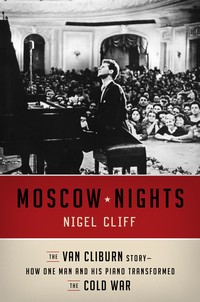 Nigel Cliff, as given to emotional flourishes in his prose as Cliburn was at the piano, blends Cold War history and biography. Vivid details are his forte as he evokes the man who went on to inspire more swooning at the Soviet Union's first international piano and violin competition, in 1958. It was half a year after Sputnik, and though the contest seemed rigged against the U.S., ordinary Soviets went crazy for Cliburn.
How he ended up winning makes for a great story about Moscow machinations. In the U.S., officials were left to squirm at the global fame of a (gay) Russophile prone to spouting peace talk. Cliff's subtitle overstates, of course, but his hero is enchanting—not least because Cliburn was stunned by his renown. "Oh, no, I'm not a success," he once sweetly demurred. "I'm just a sensation."