Breaking Into Baseball's Ultimate Boys' Club
Jessica Mendoza, a former athlete and MLB's first female TV analyst, brings a player's sensibility to her job. But she's still subject to the routine abuse directed at women in sports journalism.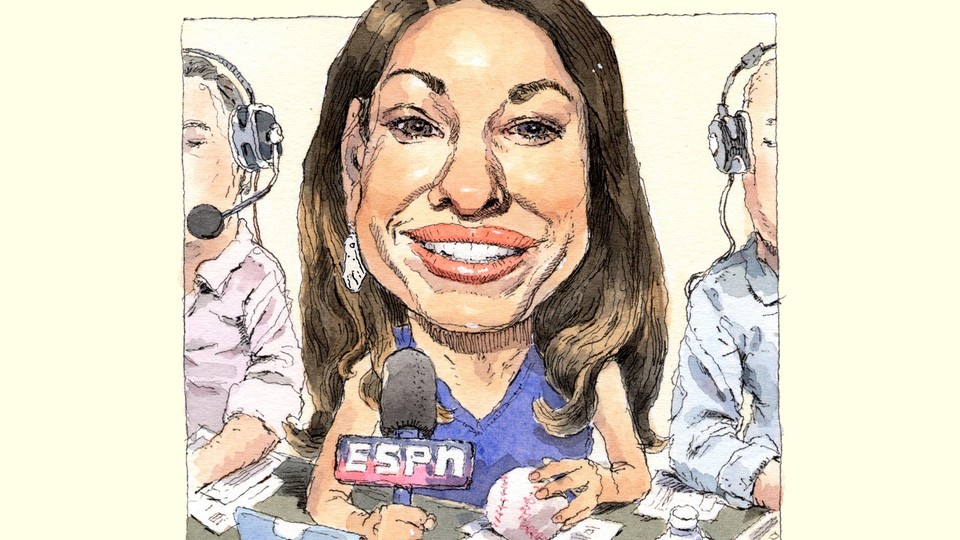 On April 3, in Kansas City, Jessica Mendoza put on a blush-pink blazer and settled into the announcing booth for ESPN's Sunday Night Baseball. She had tied her long brown hair, with curls like birthday ribbons, in a low side ponytail. This was Opening Day, and the Royals and the Mets were meeting to resume their World Series rivalry. Mendoza was returning too, having auditioned her color commentary during a few games last season. But this time she was taking her spot as a regular in the booth, the first female analyst for Major League Baseball on national television.
ESPN is the sportiest network, and for a long time this has meant also being the manliest. In the booth, Mendoza was positioned between two guys: The veteran sportscaster Dan Shulman, on her left, would handle the play-by-play; on her right was Aaron Boone, another addition to the show this season, and a third-generation ballplayer known for hitting a memorable 2003 home run for the Yankees.
The game began awkwardly. In the bottom of the first inning, the Royals' Mike Moustakas popped an easy fly directly to the Mets outfielder Yoenis Céspedes. But somehow, the ball bounced out of Céspedes's glove, for an error. Mendoza, and nearly everyone else in North America, could at that moment remember Game One of last year's World Series, when Céspedes's blunder in left center allowed an inside-the-park home run on the first pitch. "This ball is hit right to Céspedes," Mendoza told viewers. "Look what happens. And it drives you crazy. I'm an outfielder."
This struck some as a strange comment—a mistake, even. Twitter got really, really angry:
"Jessica Mendoza just needs to stop. Stop talking … You are not an expert in baseball."

"Jessica Mendoza talking shit about Cespedes is rich, as if she would've caught that ball."

"I'll forgive Aaron Boone for helping the Yankees win a World Series if he throws Jessica Mendoza out of the window of the booth."

"Jessica Mendoza is attractive at least."
Mendoza's visibility makes her an easy target, yet the abuse hurled at her is routine for female sports journalists—a cohort that has grown in number, if not in favor. Baseball, the only form of amusement still called a pastime, is particularly conservative. Women were allowed inside MLB clubhouses starting in 1978, only after a female reporter for Sports Illustrated, Melissa Ludtke, fought for admission in court. Even today, a woman's arrival in the booth is momentous.
Mendoza might have mentioned, though she shouldn't have had to, that she was referring to her career in softball. She was recruited by Stanford, where she was all-American all four years, and holds team records in career batting average (.416), home runs (50), and hits (327). In 2006 she was named USA Softball's Athlete of the Year, and as a member of the Olympic softball team she won a gold medal. (As it happens, Yoenis Céspedes's mother also played softball in the Olympics.) If a mistake had been made, it was not Mendoza's. She told me later, "We get in these moments—and I had quite a few of them last year—when your heart is racing. And you can't say, 'This is not a big deal,' because it is. Not just for me, but for my entire gender. If you screw this up, Jess, this door is gonna close."
Mendoza grew up in Camarillo, California, watching the Dodgers. "We went to a lot of games, and I thought, I'm going to be Brett Butler," she said. "And then there was a moment, years later, when I was like, Wait, I'm a female. He's a male. There aren't any of my kind." Mendoza's father, Gil, was a baseball and football coach, and he taught Jessica and her younger sister to play ball. Lacking the money for a home training center, he put together a batting cage using PVC pipes and wire; they'd haul it over to the park, the girls holding on as it dangled out of the car window. Practice was filmed on a video camera, so they could review the tapes later on.
Mendoza still lives near her parents, outside Los Angeles. She is married to Adam Burks, a former civil engineer who, two months after their first son was born, in 2009, became a stay-at-home dad. At the time, Mendoza had been offered a spot playing professional softball in Florida, which would involve constant travel. "I was like, 'There's no way I can go,' " she said. "My husband was like, 'Let's do it. Let's just try this.' " Pro ball helped secure her career at ESPN, and the family's arrangement settled into permanence.
Several years ago, at an event hosted by the Women's Sports Foundation, Mendoza met the group's founder, Billie Jean King. King sensed immediately that she had "jock IQ" and an ambitious purpose. "She's not doing this just for her," King told me. "She's doing this for others." Mendoza seized upon King as a mentor. At another foundation event, she wore one of King's old tennis dresses. (It didn't fit so well, King said. "Jessica's better endowed than I am.") When Mendoza started in broadcasting, King advised, "You've got to get organized and get power."
The first time Mendoza appeared in the booth for Sunday Night Baseball, for an August game last year between the Cubs and the Dodgers, she was a surprise. Curt Schilling, the former pitcher and ESPN analyst, had just been suspended for comparing Muslims to Nazis; Mendoza was brought in to fill his chair, alongside Shulman and John Kruk.
She cast a striking image, with white guys on either side of her, both bearded, one bald. Shulman wore a wide, mustard-yellow, geometric-patterned tie possibly left over from the '90s. Mendoza had on a bright-purple V-neck top and white pants. All ESPN analysts dress themselves to go on-air. If an old tie represents baseball's status quo, how should Mendoza look? "The answer was always a dress and heels," she told me. But for her appearances on Baseball Tonight, she needed an outfit suitable for demonstrating swings. "I kicked off my heels and got in my stance, and from then on I was like, I need to wear something where I can just be me, not the awkward female in the dress with heels, with no one listening to what I'm saying."
That night, Mendoza was sharp. Of Dexter Fowler's eighth-inning single, she said, "That's three different pitchers that he's faced, and all he's doing is trying to simplify and let this ball get to his back leg. This is something so hard to do as a hitter, because your impatience wants you to get it out in front. But you watch how he lets this ball get back, and because of that he's able to hit it right up the middle. All of his hits tonight coming middle to opposite field." Sporting News described this breakdown as "cerebral."
After another appearance, however, Mike Bell, a sports-radio jock in Atlanta, called her "Tits McGhee." He also tweeted, "You guys telling me there isn't a more qualified Baseball player ESPN can use than a softball player? Gimme a break!" (Billie Jean King told me: "I know what they say—'Oh, you never played baseball.' Uh, really? Well, if you didn't keep us only being able to play softball, then we would have.")
Mendoza set about demonstrating her credentials. "There had never really been a female that was breaking down a swing," she said. "So when I'd walk into a clubhouse, I'd have to explain a little bit of who I was." To help establish her persona, ESPN gave her a regular recorded segment called "The Mendoza Line," to air during the Sunday-night broadcast. (The name borrows an old expression referring to the shortstop Mario Mendoza and his poor batting average.) Deliberately light, it targets channel-flippers, with interview questions like "What's your favorite movie?" Whiners pined for Schilling, who was bumped to Monday Night Baseball, and eventually fired after posting Facebook snark about transgender people. Phil Orlins, the ESPN producer who placed Mendoza in the booth, told me, "She differentiates our coverage, which we're happy with."
Two days before Mother's Day, Mendoza's husband, Adam, and two sons, Caleb and Caden, made salmon, her favorite dinner. Then she kissed them goodbye and flew on a red-eye to New York, to be at Yankee Stadium when the clubhouses opened at 10 a.m. Saturday. When I met her there, the ballpark was still quiet. Pigeons hopped absentmindedly between second and third base, as if the field were not about to transform into the site of that treasured baseball rivalry: Yankees versus Red Sox.
Mendoza waded into the Red Sox clubhouse. Men wearing gray and red glided past; players tossed sweaty shirts into laundry carts; someone changed his pants, his Under Armour–briefed behind protruding as he paused to check Instagram. Mendoza found the third baseman, Travis Shaw—a lefty batter, like her—and he leaned forward to talk, his foot propped up on a folding chair. The guys watched clips from the week's games, which played on overhead TV screens. The pitcher Clay Buchholz appeared in a doorway, narrating a swing-and-a-miss: "I got it! Ooh—no I don't!"
Mendoza wandered toward the manager's office. Peter Pascarelli, a longtime radio guy for ESPN, bopped her on the head with a rolled-up stat sheet. "How ya doin', kid?" She smiled. He pretended to look around for Aaron Boone. TV baseball analysts all have their own modes of preparation; Mendoza maintains spreadsheets for every team and makes Saturday a study session, arriving four hours before game time. Boone's strategy is looser. "I never go into a game with a bunch of notes in front of me or thoughts I had," he told me later.
Each locker contained a neon-pink bat, delivered in advance of Mother's Day. Soon after Mendoza arrived, Hanley Ramírez, the first baseman, presented one to her as a gift. She leaned on it during interviews, tapped it against her feet, and, in the Sox batting cage, used it to take a few hits.
When the field opened, she dashed out and ran into her producer, Andy Reichwald. "Jess is an expert," Reichwald told me. "She's definitely not a mom—she's an equal." He paused. "I'd say more little sister than mom." Mendoza nodded. "Even though I am a mom, when I'm around those guys, my maturity level isn't always there." Mendoza and Reichwald headed to ESPN's trailers, outside the stadium. As she went from one truck to the other, she grabbed her purse and the pink bat. "I've got to figure out what to do with this thing," she said. One of the production guys called out, "It's the Bronx. You need that!"
The next evening, Mother's Day and the end of the Yankees–Sox series, the stadium was colored pink. There were pink numbers on uniforms, pink cleats, and the pink bats. (Ramírez had one; presumably he'd found a loaner.) The shot of color seemed to give the team from Boston an early boost—Dustin Pedroia hit a two-run homer. Suddenly, at the top of the third, ESPN cut away to another scene: Mendoza's kids at home, delivering a squeaky "Happy Mother's Day!"
Mendoza, stunned, grinned gamely.
"She's speechless!," Shulman said.
Mendoza started to speak—"That was an awesome surprise. It shocked me, though"—but was suddenly distracted by a large vase of pink flowers being passed down the booth. Placed in front of her, it hid much of her face from the camera.