Big in Canada: Throwing Axes for Fun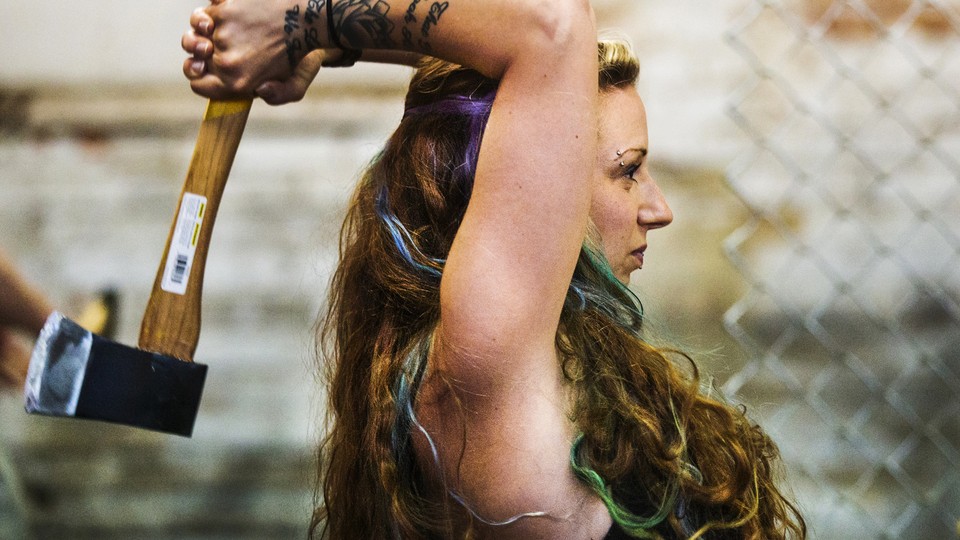 Canada's ax-hurling renaissance started exactly the way you might expect: three guys at a lake house with some beer, sharp tools, and nothing to do. "One guy, out of boredom, pulled out a hatchet and started throwing it at a tree," says Matt Wilson, the founder of the Backyard Axe Throwing League, or batl. "We were blown away by how addictive it was."
In the decade since, Wilson has built a chain of eight batl venues across Canada that combine the friendly competition of a bowling alley with the decor of a bomb shelter and the boosterism of a SoulCycle class. ("Our mission is to show people the power of being good to each other, using the axe as a tool to build community inspired by our backyard roots," the group's website declares.) batl has drawn some 150,000 throwers and spawned more than 30 copycats from Nova Scotia to British Columbia; between them, the facilities have hosted bachelorette parties, speed-dating nights, a 92nd-birthday party, and outings for groups like the Deaf-Blind Adventurers. An hour trying to "stick" a camper ax into a bull's-eye on a wooden plank runs 15 to 30 U.S. dollars.
Some facilities sell gear featuring scowling lumberjacks and Vikings—though one diehard fan skipped the T-shirt and shaved his chest hair in the shape of crossed axes. Particularly dedicated ax hurlers can also join ax-throwing leagues. Boasting nicknames like "Arm" and "Killface," these throwers—mostly tattooed 20- and 30-somethings who skew slightly male—meet weekly.
Ax slingers get to blow off steam, with the added thrill of taking up a seemingly dangerous hobby. "Murdering a wood target for an hour is cathartic," reads a Facebook review of Montreal's Rage Axe Throwing, which promises a "violently good time." Getting insurance initially posed a challenge for Wilson, who says one underwriter demanded six EMTs on the premises at all times. So far, however, customers have escaped serious injury—there's been nothing a few stitches couldn't fix—and batl, no stranger to life on the edge, is applying for a liquor license.
Ax throwing taps into widespread nostalgia for the era of the lumberjack, a figure deeply embedded in the national consciousness, says Tonya Davidson, a Carleton University sociologist. Even the word lumberjack is Canadian, having first appeared in an Ontario newspaper in 1831. Davidson believes ax throwing also reflects a yearning, in the days of desk jobs and air-conditioning, for rugged masculinity. Ax throwing "might allow alienated urbanites to feel like they have something at least symbolically connected to nature in their hands," she says. batl's league members chant an oath that Wilson composed after watching Conan the Barbarian: "Remember primal man / who only had his hands / who forged in fire and steel / the tools to kill his meal. / We honor him this day / and pray our ax to stay."
Wilson hopes this image will resonate beyond Canada. He recently established the National Axe Throwing Federation and aspires to bring the "sport" to his neighbors to the south. He doesn't rule out the possibility that ax hurling could, one day, make it to the Olympics.