The Humanity of The Wicked Boy
The former journalist Kate Summerscale tells the true story of a child who murdered his mother in Victorian London.
When a stench led to the discovery of a grisly matricide in July 1895, Robert Coombes and his younger brother, Nattie, had been sharing their modest East London house with their mother's corpse for 10 days. Downstairs, the boys, 13 and 12, had gone in and out, attending cricket matches, scrounging for money, playing cards. Upstairs, behind a locked door, maggots had multiplied.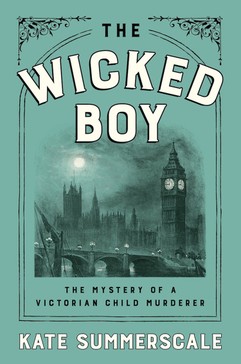 Their father, away at sea, learned of the horror not long after Robert coolly confessed to stabbing his mother in her bed. Greeted by reporters upon landing in New York, a stunned Robert Sr. spoke of his son's large brain and "morbid spells," during which he obsessively read about ghastly murders. But Robert was also lovable, and doctors had earlier assured his parents that it was just a stage.
The trial, with its gruesome details and lurid press coverage, offers ideal grist for Kate Summerscale, a former journalist who specializes in revisiting scandals that reveal Victorians in the throes of their own morbid spells. She expertly probes the deep anxieties of a modernizing era. Even better, she brings rare biographical tenacity and sympathy to bear. She follows Robert, spared the gallows, out of the spotlight and into a lunatic asylum, and then into the horrors of the First World War and beyond. I hope it's no spoiler to say that the doctors were absolutely right.