Big in Moscow: Combat Chic
Why Russian civilians are embracing "patriotic glamour"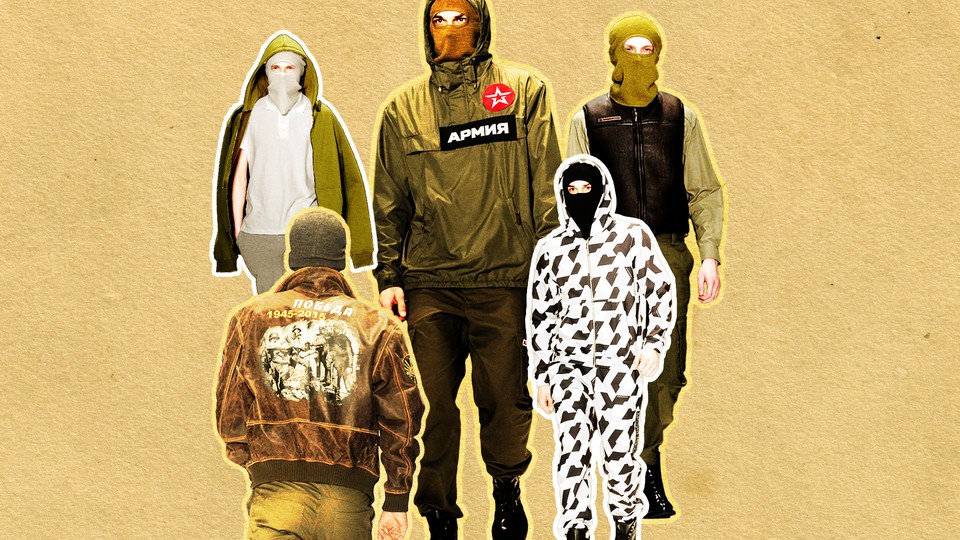 As Russia launched its bombing campaign in Syria last fall, its military-industrial complex revved into high gear. Sailors ferried supplies from a port on the Black Sea to Russia's base near Latakia, a Syrian city on the Mediterranean. State-run television pumped out breathless reports about the terrorist threat. Scores of soldiers and pilots mobilized.
So too did a small army of designers. A week after the first sorties, a new collection arrived at the defense ministry's flagship Army of Russia boutique in central Moscow, with T‑shirts featuring Russian warplanes and slogans such as "Support Assad." According to a popular Moscow blogger, the first batch sold out in a day.
Just a stone's throw from the Kremlin, the shop, which opened last summer, serves up army-themed threads for the patriotic fashionista, including chic interpretations of camouflage, combat boots, and pilot's jackets. Kids can pick up one of five "polite people" action figures (that being the Russian nickname for the masked soldiers in unmarked uniforms who led the annexation of Crimea in early 2014). The store even has flash drives. One model is shaped like a tank; another, which a saleswoman described to me as "a more diplomatic option," is a plain white rectangle stamped with the words army of russia.
Vladimir Putin's recent overseas adventurism, first in Ukraine and now in Syria, may have rankled the West, but at home it has inspired an upsurge in militant patriotism. From late 2012 to late 2015, the number of Russians who said they felt "proud" of their country's armed forces rose from 59 percent to 85 percent. Some have followed the call to the front: Last year, the army saw a 15 percent boost in contract soldiers—in part a result of economic turbulence, but also likely a reflection of the new martial mood.
This mood is manifest in an aesthetic that the opposition newspaper Novaya Gazeta calls "patriotic glamour." One Moscow bar now offers hookah pipes in the shape of Kalashnikovs. During the warmer months, some young couples have hired military vehicles to ferry them to the altar. "Riding a BTR [a type of armored personnel carrier] to a wedding is a bright journey into family life," the proprietor of a rental agency told the state newspaper Rossiyskaya Gazeta. "After such a wedding, all that's left is to raise true defenders of the motherland."
No patriotic ensemble would be complete without a bit of Putin himself. The president's face (and at times his shirtless torso) has been splashed across T-shirts, dresses, and bikinis, and even inked onto the skin of his most loyal supporters. "In the '90s, we wore i love new york shirts and thought it was cool," Anna Kreidenko, the creator of a Putin-themed clothing line, told Russia 24, a state-run TV channel. "Now it's cool to wear a shirt with Russian writing."