Big in China: Over-the-Top Marriage Proposals
The high stakes and high price of popping the question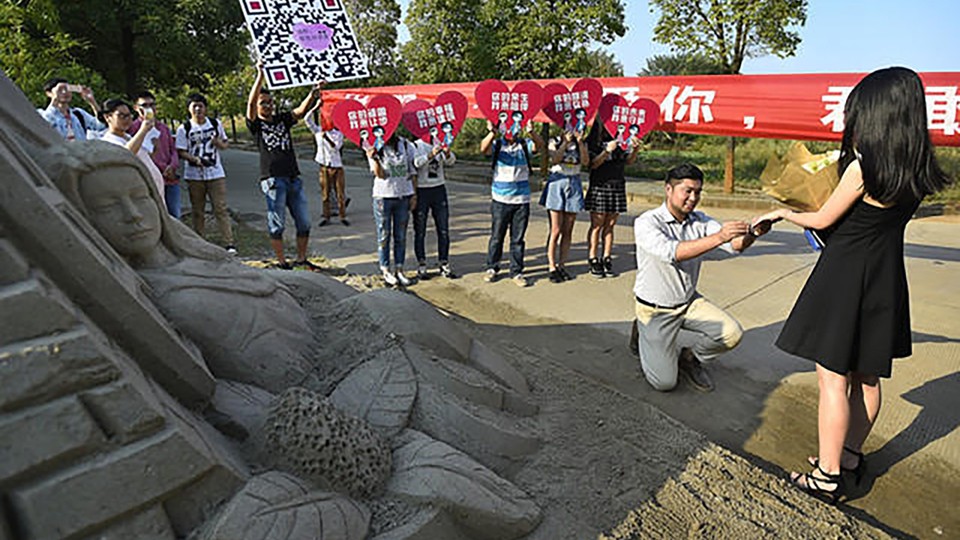 Nothing says Marry me! like 99 iPhones—except, perhaps, 4,500 diapers. Or 99,999 chilies. These are some of the unusual tokens of love that prospective grooms have been flourishing in one of the world's toughest marriage markets.
One Guangzhou businessman arranged a fleet of luxury cars in the shape of a heart before popping the question. A wealthy suitor in Linyi felt that nothing less than a convoy of expensive vehicles, including two Ford Raptors and a Lamborghini Gallardo with a giant teddy bear strapped to its rear, would do for his girlfriend. The immodest proposal is not just a rich man's game, though: Hopeful squires of humbler tastes have made offerings like a bouquet of meat, a message spelled out with lychees, and a declaration of love composed with 1,001 hot dogs.
China has little tradition of creative proposals, in part because, into the 20th century, most marriages were arranged. Throughout much of the second half of the century, moreover, the government discouraged elaborate weddings. Even now, public displays of affection are frowned upon by the older generations—hence the novelty of conspicuous proposals, which in many cases go viral on social media and sometimes even make the nightly news. The craze reflects a tendency among the younger generation toward flamboyant gestures, particularly romantic ones—but it's also symptomatic of just how high the stakes have become for the modern Chinese marriage.
For many men, permanent bachelorhood is not a hypothetical fear, but a real danger. Chinese parents have long prized male heirs, and the one-child policy, recently abolished after 35 years, led many parents to abort female fetuses. According to one estimate, the country will by 2020 have at least 24 million "surplus" men ages 20 to 45. With competition for brides fierce, plenty of young people approach marriage as a kind of business deal, and assess their partner's credentials accordingly. Men must typically bring a home and financial security (and in many cases a car) to the table; women are encouraged by their families to practice hypergamy—that is, to marry up. Marital rivalry has already caused rural "bride prices" (essentially, reverse dowries paid to brides' parents) to surge; an extravagant proposal is now one more way for a prospective groom to enhance his desirability and status.
Of course, the high-pressure sell does not always succeed. One suitor in Qingdao set himself on fire after a car filled with expensive gifts failed to win over his beloved. And the Guangzhou man who felt his marriageability would best be demonstrated via an offer of 99 iPhones was ultimately rejected. Perhaps his girlfriend feared that someone who had spent so much on gadgets doomed to rapid obsolescence would not, himself, prove a shrewd investment.