Big in Hungary: Whips and Axes
An ancient style of fighting makes a comeback.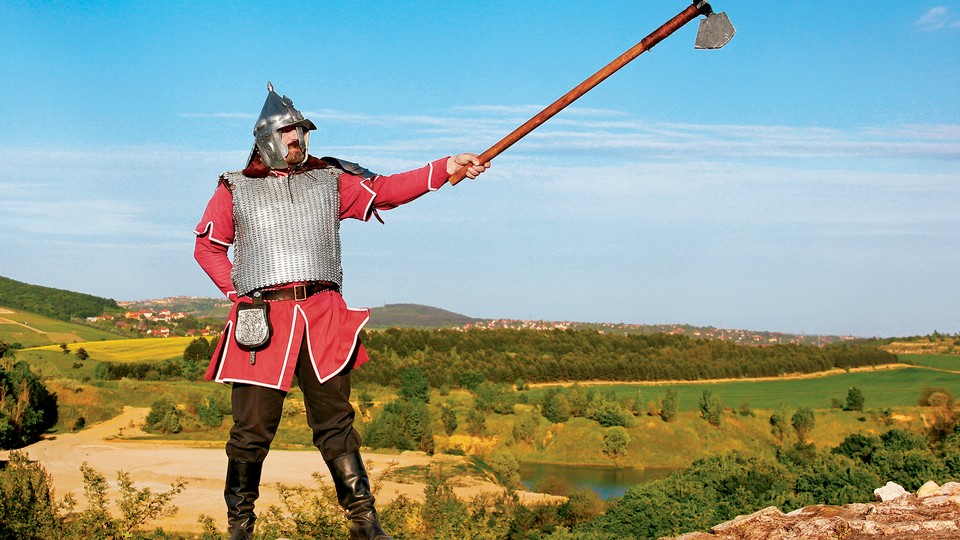 Around this time last winter, at a gymnasium 45 minutes outside Budapest, I was startled to come across a group of roughly 30 men and women with wooden axes. I was in town reporting a profile of Hungary's nationalist prime minister, Viktor Orbán, who was born nearby. The ax-wielders had gathered to practice something called Baranta, which is perhaps the youngest of the world's so-called traditional martial arts.
While they took turns swinging and blocking, one member of the group, a beefy man with a tight, gray, military-style haircut, walked over to where I was standing and began excitedly talking to me in Hungarian. Even with the help of a translator, I had difficulty keeping up with what he was saying. Perhaps sensing this, he pulled out his phone to show me a series of videos. In one, a group of men was engaged in a sort of synchronized whip-play. In another, a combatant with an ax faced off against an opponent with a saber, while a third circled the fray with a bow and arrow, looking for a shot.
The name Baranta, I later learned, derives from an old Hungarian word meaning, roughly, "to maraud." Today, it refers to a fighting style based on a hybrid of Hungarian folk dancing, Mongolian wrestling, and the imagined combat skills of its practitioners' warrior ancestors. Kata Babinszki, a student of European ethnology at the University of Pécs who is writing her master's thesis on Baranta, told me that the practice dates to the early 1990s. At that time, small groups of Hungarians began delving into their country's past, looking back to its history as part of the Austro-Hungarian empire, to its time as a formidable medieval kingdom, and even to the period when Hungarians—or Magyars, as Hungarians call themselves—were tribal horsemen rampaging across the edges of eastern Europe and possibly central Asia.
Baranta clubs have formed in most major Hungarian cities and in many smaller villages, Babinszki says. This new "traditionalism" could be regarded as the more benign flip side of a darker trend in Hungary—the rise of virulent nationalism. Both have surged in Hungary as dreams of post-Communist affluence have given way to insecurity and disillusionment. But where the country's nationalist politicians trade in xenophobia and authoritarianism, its traditionalists are more interested in taking up archery and horseback riding and organizing giant "tribal meetings" at which they dress in Mongolian-style felt coats and fur hats, and sometimes sleep in yurts.
Though many of these trappings are rooted less in historical fact than in wistful imagination, few Hungarians seem inclined to quibble over their authenticity. "They're reaching back to a time when our knowledge is very uncertain," says Vendel Teszler, a doctoral candidate in European ethnology at Eötvös Loránd University, in Budapest, who has studied Hungarian traditionalists. "Nobody can tell them exactly what clothing is historically accurate. Everything can be transformed and created." Even tradition.