The Republican Party's Favorite Artist
How Steve Penley went from an outcast painter to a GOP darling
Steve penley's house, in the Atlanta exurb of Newnan, sits on a narrow lane that winds through a manicured country club. At first glance, it resembles its neighbors on Golfview Drive. But step inside, and a very different scene awaits. Penley, who has made a lucrative career painting colorful, expressionistic renderings of American symbols and conservative personalities, lives in unchecked chaos. His kitchen's granite countertops are covered with cans of spray paint, bottles of glue, power tools, and rolls of electrical tape. A parlor wall is hung with rows of splatter-painted guitars; once-elegant wood floors are encrusted with paint. The effect is as if a band of paintball-loving squatters had taken over a suburban show home.
"It's actually cleaner than it usually is," Penley said as he led me to a room off his overstuffed garage-cum-studio. "This is the chair that I know has no wet paint on it, so that's your chair," he told me, indicating an armchair with a busted seat. Penley, who is 50 and has combed-back silver hair and a doleful stare, was nursing a bad hangover and an incipient eye infection. He had appeared the previous night at a conference convened by one of his patrons, Erick Erickson, the influential conservative and RedState .com editor. Although he shared the group's conservative political views and had even made a brief appearance onstage, he'd felt out of place. "Some of those people were so geeky, I can't take it," Penley said. "I felt like I was at a UFO convention. Can't any hip people be conservative?"
Penley has spent his life trying to reconcile his inner conservative and his inner nonconformist. Today, his paintings (on loan) are the decor of choice in many congressional Republicans' offices: House Majority Leader Kevin McCarthy's D.C. office has a portrait of Abraham Lincoln; Senator Ted Cruz's features an enormous triptych of Ronald Reagan at a lectern. Penley regularly travels from Georgia to the Capitol to touch up his works (he never considers them quite finished). On a recent trip, he camped out in McCarthy's office, cluttering the staid foyer with his drop cloth and canvases. He has painted TV-studio backdrops for Fox News's marquee hosts, including Sean Hannity and Megyn Kelly, and the Republican pollster Frank Luntz likes to surround his televised focus groups on Fox and CBS with Penley paintings. In conservative circles, Penley is known as more than an artist—he is also something of a media personality. He frequently appears on Fox & Friends, where he paints on-air and contributes droll commentary.
As familiar as Penley's work is to Fox viewers, he is far from renowned in the galleries of Chelsea. When I asked the influential art critic Jerry Saltz about Penley, he didn't recognize the name. After spending a few minutes perusing Penley's Web site, Saltz e-mailed me that he "saw only a 100 percent derivative person who makes things that look like art." Penley, whose paintings feature graffiti, stenciling, and thick brushwork, considers Warhol and Basquiat his inspirations; Saltz said Penley's art "could have been made by any second rate Expressionist from about 1945 on."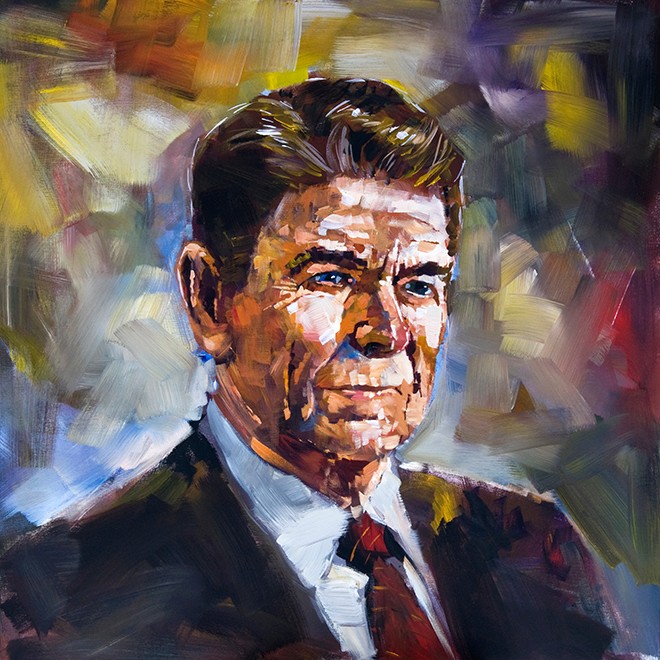 If the art world has little use for Penley, the feeling is mutual. As an undergraduate at the University of Georgia, he straddled the Greek scene and the art-class set. In a crowd of fraternity brothers, he was the most disheveled one; in a crowd of art students, he was the most preppy, recalls his friend David Bell, who now serves as his studio manager. But when Penley proceeded to New York for art school—having been kicked out of his fraternity house, several years after he stopped taking classes—he strained to fit in. One moment was particularly clarifying. Penley, who was then enrolled at the School of Visual Arts, wandered into a downtown gallery presided over by a black-clad gallerista. In the middle of the floor, he recalls, was a pile of dirt surrounded by a velvet rope. He realized he could never go along with the "groupthink" required to appreciate such a piece. "The deep meanings they apply to these ridiculous pieces of artwork—it's so pretentious and it's so asinine," he told me. He was also repelled by what he perceived as the art world's ultimate hypocrisy: the ostentatious rejection of capitalism by people dependent on wealthy patrons.
Penley spent the next decade searching despairingly for his muse. "I wanted to please my art teachers," he says. But what he really wanted, more than anything, was to paint the themes that spoke to him—World War II scenes, Winston Churchill, the U.S. presidents. He made his way back to Georgia, where he continued to be paralyzed by the fear that his ideas were "trite and canned." Until, that is, a friend who was opening a restaurant in Atlanta called in a panic. He needed art for the walls, and he needed it in three days' time. Penley sprang into action, finally painting the things he'd always wanted to paint. The resulting artwork was an immediate sensation. A local lawyer who saw it promptly commissioned portraits of his family and colleagues. Before long, Penley had a thriving business among the moneyed class in Atlanta, and later a booming corporate business. (He has painted immense murals for Coca-Cola's Atlanta headquarters and its bottling plant in Shanghai; the company calls him its "unofficial artist in residence.")
Luntz, together with the late Andrew Breitbart, conservative publisher and provocateur, helped Penley find his current niche. Penley got to know the two a decade ago through various mutual friends; soon, Luntz and Breitbart were collecting Penley's work (Luntz's Los Angeles home is dominated by what he calls his "wall of heroes"—a series of Penley portraits of Founding Fathers and Abraham Lincoln) and inviting him to parties frequented by politicians, CEOs, celebrities, and media figures on the right.
Even as Penley likes to joke that his main interest in politicians is commercial—"They have access to so many rich people!"—he shares many of his clients' political leanings: a deep belief in American exceptionalism, anxiety about the national debt, concerns about dependence on government. His convictions, like his art, stem from an abiding reverence for patriotism, faith, and tradition, which he considers at least as profound as a pile of dirt on a gallery floor. "Look at history. Look at what centralized planning does for people, what wealth redistribution does for people," he said. "These people that talk about America like it's the worst country in the world—I think that's to ignore the greatness of where we live."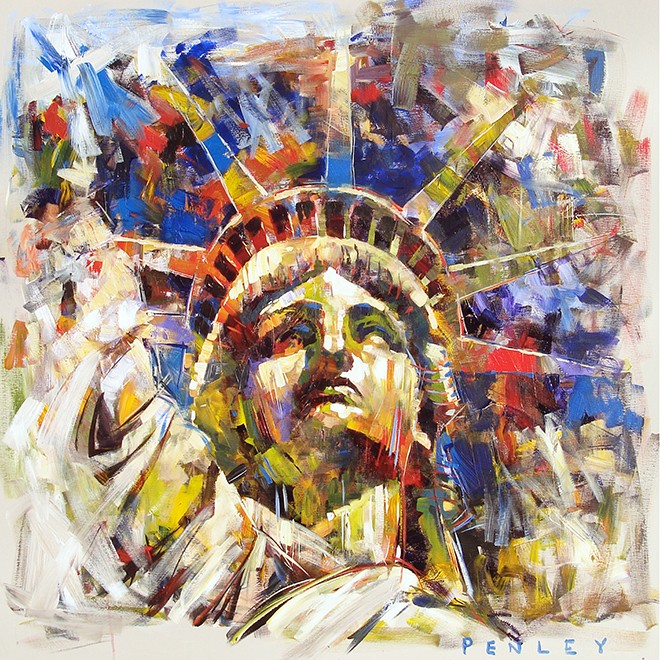 As I shifted on my paint-encrusted chair, Penley's soliloquies frequently drifted to his messy personal life: a divorce, a recent breakup, estrangement from various family members, the threat of a lawsuit by a former assistant. Penley's three school-age children were with their mother that morning. Midway through our conversation, a pretty, heavily pierced 20-year-old assistant named Emily came downstairs, and Penley sent her out to buy eye drops. She'd crashed there the night before, he explained, taking pains to add that their relationship was strictly professional.
Penley claims, in his sixth decade, to have finally liberated himself from the art world's stifling prejudices. Although he complains that there are "lots of hands in the cookie jar," business is good—he has a backlog of commissions worth about $2 million. (His manager had listed them by subject on a piece of butcher paper tacked to the wall: "Judge Birch portrait … Clemson Tiger Paw … Hank Aaron.") And he says he no longer frets, as he used to, about the opinions of his painting teachers, one of whom once compared him to a "parlor magician"—an insult that stung at the time, but that he now embraces.
After my visit with Penley, I called one of his former mentors, Jim Herbert, who is retired from the University of Georgia. Herbert, a painter and filmmaker whose art films have been featured at the Museum of Modern Art and in the Whitney Biennial, has never had much commercial success with his wall-size canvases of nudes in pornographic arrangements. He professed surprise at his pupil's political prominence, and he pointed out that Penley has described himself as an illustrator, not a fine artist. But he added that illustration was a valuable calling in its own right. "I remember seeing a mural he did at a Chick-fil-A in Athens, Georgia," Herbert said. "It was sort of an homage to the restaurant's founders, with football heroes and images of campus. But I looked at it a lot of times. The color, the gestural feel of it—it really had a masterly touch."