Salman Rushdie's Self-Mockery and Antic Magic
Once again, the author comes up with a fantastic fable about colliding worlds.
A storyteller hailed as the "Ocean of Notions," teeming with comic inventions, and derided as the "Shah of Blah"—not as in ho-hum, but as in blah, blah, blah: Salman Rushdie has both written about such a figure (in Haroun and the Sea of Stories) and been him. Lately, Rushdie's critics have had the edge, sighing over his "writerly self-congratulation" and the "portentous mumbo jumbo" of his recent work. Perhaps he's been listening. A bracing dose of self-mockery helps his antic magic and earnest message go down well in his new novel, his 12th.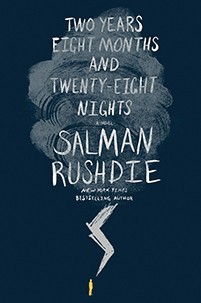 Once again, Rushdie concocts a fantastic fable about colliding worlds. Sometime in the near future, a storm reopens the slits between the Earth and a jinni-filled realm above. A war with familiar stakes begins. It pits reason against fear-based religious fervor, and wreaks havoc for 1,001 nights.
In his trademark grandiose-meets-goofy narrative mode, Rushdie keeps an exotic cast of characters off-balance. But his most astute, and poignant, move is to pair one catalyst of the turmoil, a chameleon jinni of many names (Princess Aasmaan Peri, Skyfairy, Dunia, and the Lightning Princess), with a feet-in-the-dirt gardener fed up with fairy stuff. "Chimeras or angels, heaven or hell, metamorphoses or transfigurations, a pox on them all, he had always thought." Rushdie tests him, of course, proving in the process that he hasn't forgotten his own wisdom: without "deep roots in the real," fictional magic can be "mere whimsy."