Reclaiming the Public Square
Cleveland is the latest city to call on James Corner, the landscape architect behind New York's High Line, to revive an urban park.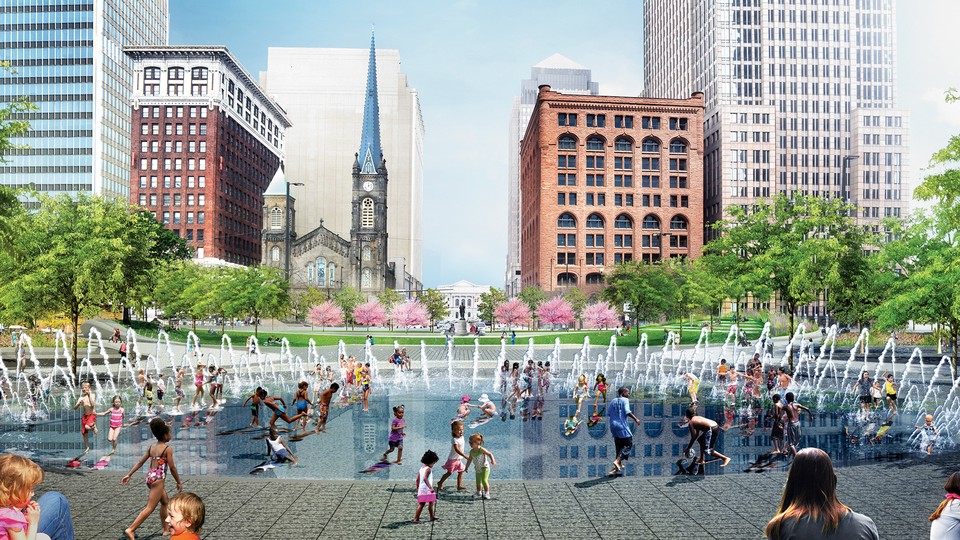 To hear Clevelanders talk, Public Square is a place you pass through to reach somewhere else. When Moses Cleaveland laid out the town in 1796, he imagined the open area at its center as a New England–style commons: a gathering space for settlers, a grazing area for livestock. But its natural position as a transit hub—first for stagecoaches and streetcars, later for buses and automobiles—steadily intruded on that civic purpose. Despite efforts by some residents to preserve it as a park, including a decade-long stretch in the 19th century when it was fenced off to horse-drawn wagons, roads and traffic triumphed over people and place.
"Over the years, it just turned into more like a series of big traffic islands," says the landscape architect James Corner. Two major streets, Superior and Ontario, bisect Public Square, creating four discrete squarelets. Locals who find themselves in one of the quadrants have a tough time getting to another. If the cars aren't enough of a hindrance, the lack of things to do or see in the area is: of the square's 10 acres, more than six are paved over with concrete or asphalt. Now, with the square's original communal spirit greatly diminished, Cleveland has asked Corner—a revivalist with what he calls a "theatrical flair"—to help bring it back.
Few people have done more in recent years to breathe life into America's dead or dying public spaces. Best known for designing the High Line in New York, Corner has been called a landscape "rock star" and mentioned as a modern successor to Frederick Law Olmsted, the visionary behind Central Park. When Corner boasts that "almost every city" wants something like the High Line—as he sits in his Manhattan office, segments of the once-abandoned tracks he transformed visible through the window behind him—his client roster backs him up. Santa Monica, San Francisco, Seattle, Brooklyn, Memphis, and Chicago are just some of the places that have turned to his practice, James Corner Field Operations, to revive their urban parks.
City planners are increasingly realizing that investment in public spaces, many neglected for decades, can provide a competitive edge in luring new businesses and residents—especially young creative types—to the urban core. The High Line now attracts millions of visitors a year, and property values nearby have skyrocketed. "There's an economic imperative to look for how you can keep a city vibrant and vital," Corner says, "because otherwise people just leave."
Cleveland certainly took note of the High Line's success. The city's own downtown population, which plummeted during the economic slump of the 1980s, has risen to an all-time high in recent years, helped by billions of dollars of investments in attractions like a convention center, a medical marketplace, and a casino. But Cleveland still lacked a central point where people could meet for coffee, or walk a dog, or stroll on a date. Public Square "has been our front yard for over a century," Ann Zoller, the head of land Studio, a local design partner working with Corner's firm, says. "We really felt that if you had all this development but you still had a dysfunctional Public Square, the city was never going to thrive as it could."
By the time Cleveland engaged Corner's help, in 2008, many ideas for how to revamp the square had come and gone. They all suffered from the assumption that traffic around the site could not be disturbed. Corner came in with a bold idea: if we can't remove the streets, let's build an elevated park above them. The hilltop-park concept didn't pan out, because of the cost and complexity, but Zoller says it got locals reimagining Public Square as a place prioritizing people over cars. A traffic analysis determined that the city could close one of the streets and narrow the other to a passage for buses, which could be rerouted during major events. Construction started this spring on Corner's final design, which is estimated to cost $32 million.
In renderings, the new Public Square looks from above like two boomerangs nearly meeting at the tops of their arcs. One half of the space—the side that gets more sun—is a green area with a scalloped lawn meant for shows or other outdoor events, and a more informal area for picnics and casual meetings. The other half is a plaza anchored by a Civil War monument, a café that can become a beer garden in summer, and a reflecting pool that can be turned into a skating rink come winter. The square is bordered by a promenade and a colorful mix of native plants and trees. Crossing from any corner to another is not only easy but almost encouraged by the design.
There's a lot about Public Square that makes it vintage James Corner. Most obvious, in relation to the High Line, is its reclamation of a public realm that had lost its liveliness. Another is its keen sensitivity to place. Corner once wrote that the High Line is "irreproducible anywhere else without significant loss of origin and locality," and given its attention to local history and weather and ecology, Public Square can make the same claim. Cleveland developers have already noticed the square's market impact, with six nearby buildings either sold, under contract, or pending sale.
These qualities of reclamation and identity are on display in several of Corner's other current projects. A redesign of the Seattle waterfront includes a High Line–esque elevated walkway, which preserves some sweeping views of the city that would otherwise be lost to a planned viaduct teardown. A 13-acre park above a new freeway tunnel running through the Presidio, in San Francisco, will help connect downtown to the Golden Gate Bridge. A new riverfront park near the old Domino sugar factory in Brooklyn will host a quarter-mile, post-industrial "artifact walk" with original cranes, syrup tanks, and signage.
Corner, who hails from just outside industrial Manchester, England, moved to the United States in the 1980s to study urban design at the University of Pennsylvania. As a prime example of his work, many cite not the High Line but Freshkills Park, an ongoing 2,200-acre landfill transformation on Staten Island that began in 2003 and is celebrated for turning a true wasteland into a place that will be not only safe but also attractive to visitors. "It's a stage set," Corner says of his designs. "You're trying to set up situations where it's not just about having nice places to sit in the sun. It's also the whole theatricality of people-watching, and you being seen, or you being not seen."
This dramatic sense is part of what Corner says connects his diverse work to the likes of Olmsted's. Central Park is not just a patch of greenery but a heavily sculpted and engineered experience, he says, referring to the sloping hills and rock croppings and waterfront vistas. Today's landscape-architecture projects have to be a little more nimble and adaptive: The High Line, a reclaimed rail bed, isn't a conventional park. Neither is Public Square (a transit hub), or Freshkills (a landfill), or the Seattle waterfront (a torn-down viaduct). But done right, these spaces all serve as stylized platforms for the sort of personal exchange and cultural friction that spark urban energy. "The public realm in the city is the most urgent space for democracy to play out," Corner says.
Public Square will certainly be where democracy plays out in Cleveland next year: the opening of the new site is timed for the Republican National Convention in July. Corner expects it to maintain that role as a centerpiece of the city—"like the 21st-century version" of the old colonial commons. If all goes well, it should even become a place Clevelanders pass through somewhere else to reach.
---
For more City Makers stories, go to: citylab.com/global-stories