Why People in Chile Love Soap Stars From Turkey
The mysterious draw of foreign TV shows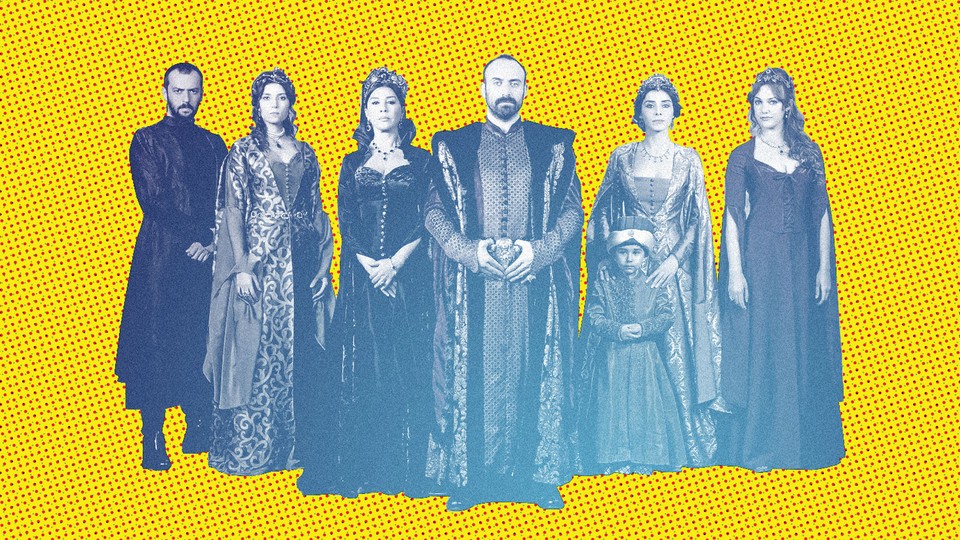 Chile's largest television audience last year was captured not by the country's World Cup match against Brazil but by a Turkish soap opera. The show, One Thousand and One Nights, follows a woman named Şehrazat, who sleeps with her boss for money only to have him fall in love with her. It debuted in March 2014, promptly sparking a craze for Turkish TV shows, some of which now have prime-time slots. When the Chilean ambassador in Ankara sat down with a Turkish reporter in January, he explained that, while the program is on the air, Chile's streets are virtually empty.
In part, this is because Chileans have fallen for Turkish stars such as Halit Ergenç, who plays both Şehrazat's employer and, in a show called The Magnificent Century, a darkly charming Ottoman ruler. He is, one Chilean reporter says, the "heartthrob of the moment." (Sample fan tweet: "I want a sultan in my life.") Another reporter flew to Istanbul to interview Ergenç's neighbors.
Why, though, would Chile import a Turkish soap in the first place? The answer seems to involve an element of chance. Soap operas usually travel between regions that share a language, but sometimes, when a network is desperate, it places a wild-card import in a filler slot. And every so often, that wild card turns into a hit. Take Oshin, a Japanese drama that transfixed Iranians in the late 1980s.
When such shows succeed, it may be because their exoticism is offset by common social values. "Some cultural difference is good, but too much will not sell," says William Marling, an English professor at Case Western Reserve University who studies culture and globalization. Oshin, for example, may have flourished in Iran because it combined a universal trope—conflict between a woman and her mother-in-law—and themes that resonated with Iranian viewers: a modest heroine, strong family ties, substantial hardships. Similarly, Chilean viewers seem fascinated by the powerful leading men in Turkish soaps. A Chilean schoolteacher told me that she thinks the series are popular because Chilean society is "machista"—which is to say, macho in the extreme, even chauvinist.
Of course, Turkish and Chilean audiences don't necessarily see the shows the same way. The Magnificent Century caused an uproar in Turkey, drawing complaints—including one from then–Prime Minister Recep Tayyip Erdoğan—over its sexual content. But in Chile, where other TV plots have recently involved serial killers and brothels, the same material has been greeted with relief. As a Valparaíso woman told me, "The Turkish shows are more romantic, much like the Chilean telenovelas of the '80s." Nowadays, she said, the Chilean shows have "too much sex."