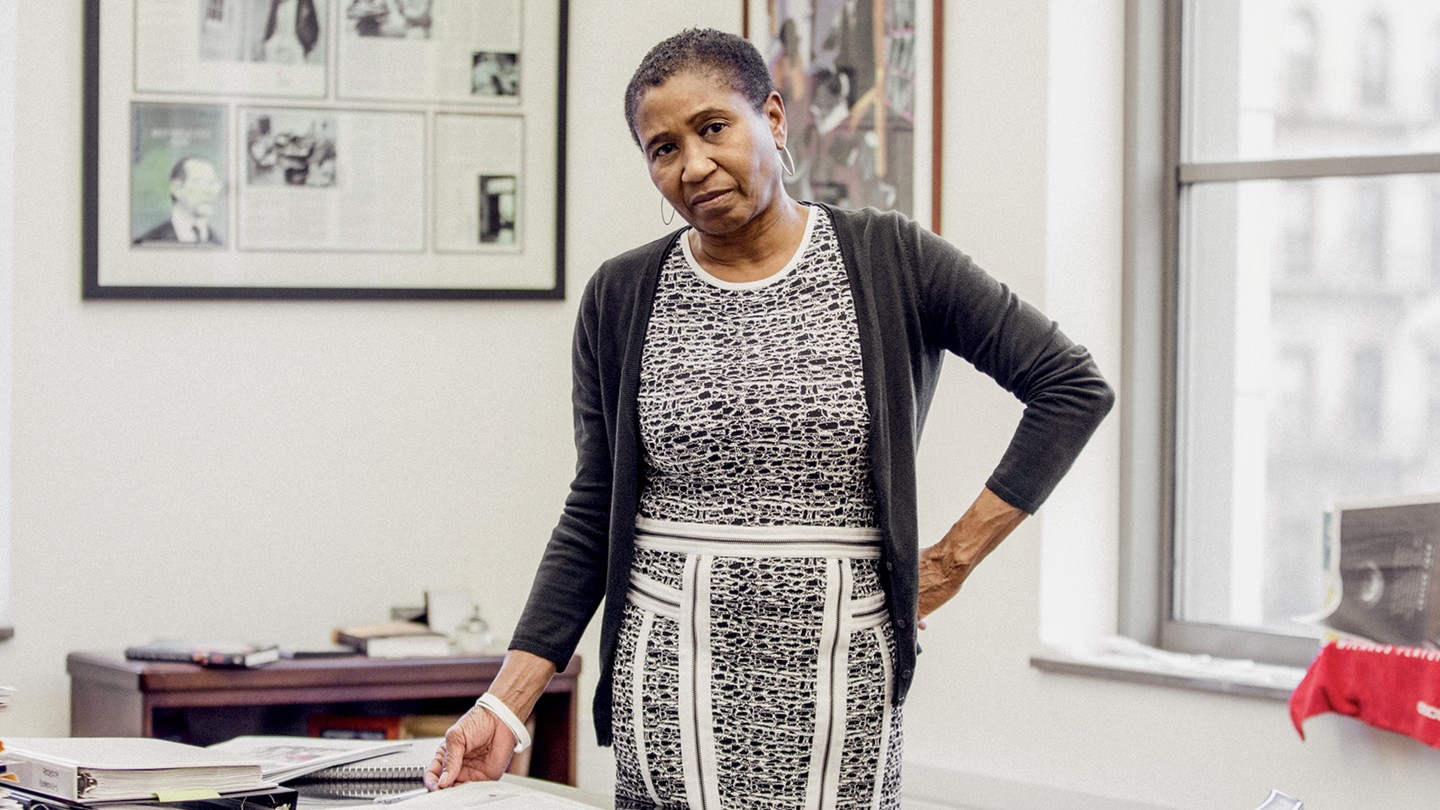 Outside Shooter
Michele A. Roberts, the first female head of the NBA players union and a newcomer to pro sports, prepares take on the league's owners in a battle that could go far beyond basketball.

"I think it's just gonna be us." The voice came from one of the grizzled sports reporters gathered in a nearly empty Manhattan hotel ballroom on a cold Friday evening in February. There was the reporter from NBA.com, the house organ of the National Basketball Association; there was the travel/sports/entertainment writer for the Queens Chronicle; and there was a guy who had a lot to say about the New Jersey Devils.
We were there, the four of us, for a mid-season press conference organized by the National Basketball Players Association to coincide with the league's All-Star festivities. Professional sports unions, dedicated as they are to the cause of helping millionaire athletes make more money, have never been popular, but the nearly empty ballroom felt especially grim relative to the weekend's other attractions. The All-Star Celebrity Game—pitting the 5-foot-4-inch comedian Kevin Hart against, among others, Mo'ne Davis, the 13-year-old girl who starred in last year's Little League World Series—would tip off at Madison Square Garden later that night. That, at least, had news potential.
Then, in an instant, the dynamic shifted. Word circulated on Twitter that LeBron James, the biggest star in American professional sports, had just agreed to join the union's leadership as vice president. Dozens of reporters who had been camped out elsewhere in the hotel poured into the ballroom. Lens caps were popped off, recorders emerged from backpacks, smartphone screens lit up. This was a coup. Like many American labor unions, the National Basketball Players Association has seemed moribund in the past decade, a feckless organization that rolls over for team owners whenever a new league-wide contract is due. In 2011, after a 161-day lockout, the players agreed to give up hundreds of millions of dollars in income in order to save their season. James's appointment presented a possible turning point: a chance for the most beleaguered of the four major sports unions to strengthen its position, and a victory for Michele A. Roberts, the Players Association's new firebrand boss.
Roberts, a compact woman of 58 with close-cropped hair and a charisma honed during a career as one of the country's top trial lawyers, was elected executive director last summer, becoming the first woman to lead a major sports union.
Her ascent had been slightly controversial, with some grumbling by sports agents about her lack of NBA experience. And then there was the issue of her gender. "I bet you can tell I'm a woman," Roberts said in her July pitch to the players before they voted on whether to give her the job. She told them that men who underestimated her did not fare well: "My past is littered with the bones of men who were foolish enough to think I was someone they could sleep on." She defeated the two male candidates—Dean Garfield, a trade-group executive, and Terdema Ussery, the Dallas Mavericks CEO—on the first ballot, winning nearly every vote cast. "I'm still trying to find out who those two players were," she jokes.
The current labor agreement between the owners and the players will expire in 2017, and Roberts has already made clear that its renewal will not be a simple affair. In an interview with ESPN The Magazine shortly after she started, she attacked the basic financial structure that has come to define pro basketball: a league-wide salary cap, currently $63 million per team, based on a roughly even split in revenue between the owners and the players, and strict limits on individual players' salaries. "It's mind-boggling to me that people think that the players make too much," Roberts told ESPN The Magazine. "There would be no money if not for the players. Let's call it what it is. There. Would. Be. No. Money. If not for the players. They create the game."
Roberts walked into the press event alone and sat in a chair in the far corner of the room. A dozen very tall men ambled in next and crowded behind a podium. Among them were Chris Paul and Carmelo Anthony, two of the league's brightest lights. Paul has been the union's president since 2013, the first legitimate star to hold the office since Patrick Ewing in 2001. Anthony has no formal role in the union leadership—not yet, anyway—but his presence added to the gravitas around Roberts. She stood up, hugged them, and then took the mic. She triumphantly made the James announcement and indicated that Anthony—"my man Melo"—might join the union's executive committee. "These men inspire me in ways I can't even begin to tell you," she said. Then she introduced her senior managers. "These are my gladiators."
The metaphor was apt. Roberts has signaled that war is coming. Some sports commentators have gone so far as to speculate that she is laying the groundwork for an exodus from the NBA and the launch of a new, player-sponsored league. Whatever happens, the battle could reverberate well beyond basketball. By casting the owners as replaceable cogs who have merely been smart enough to buy into a monopoly, Roberts is challenging the underpinnings of all the major pro sports leagues.
If she succeeds, she could hand the labor movement a much-needed symbolic victory. Granted, it would be one based on making rich athletes even richer. But union victories of any kind have been few and far between in recent years. With the help of James and the other stars who surround her, Roberts has put herself in a rare position for a 21st-century union leader: one of strength. "The marquee players have the attention of the media, have the attention of the fans, and have the attention of the players," she told me a few days after the press conference. "You guys listen to LeBron."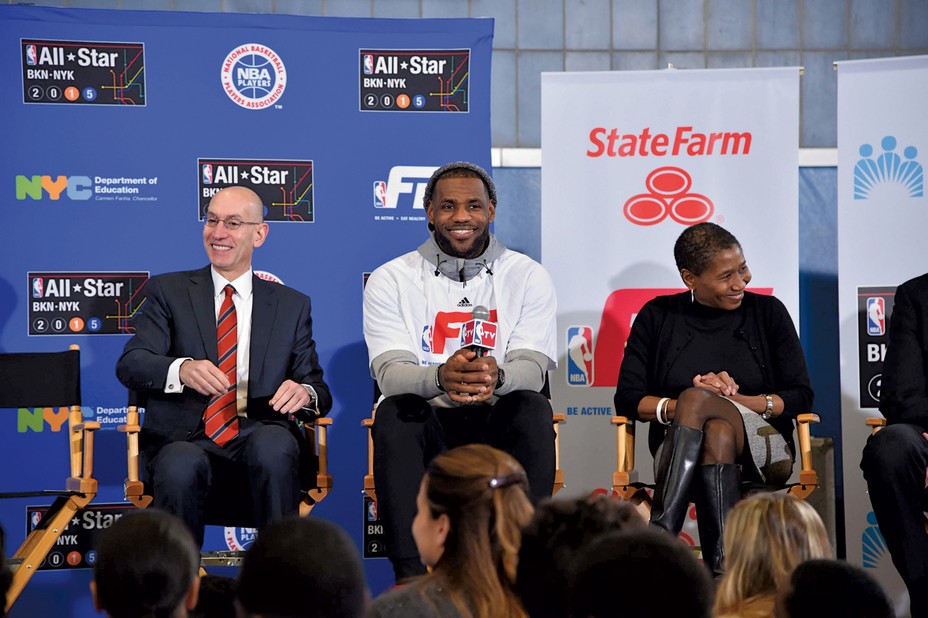 From the fans' point of view, these are not basketball's best days. Because of a disparity in team quality between the Eastern and Western Conferences, in recent years a handful of worthy teams in the West have missed the NBA playoffs (which this year began on April 18), in favor of squads with losing records. Not that this matters much, since true upsets are exceedingly rare in the NBA playoffs. Whereas some of the most hapless football and baseball franchises have in recent years gone from bottom-of-the-barrel status to championship contention, NBA fans have learned to live with this truism: the Minnesota Timberwolves always suck.
The NBA has attempted to address the issue of what league officials call "competitive balance" by restricting salaries and by allowing the worst-performing teams to draft the best young players, paying them a preset salary for the first four years of their career. But that has at times only seemed to make things worse. The allure of the annual draft lottery can lead underachievers to conclude that mediocrity is not a worthy goal and simply tank their seasons in pursuit of a higher draft pick. "You can't be in the middle of the pack," the basketball great Magic Johnson said in December, offering a bit of strategic advice to the Los Angeles Lakers, his former team. He urged the Lakers to try to "lose every game." By spring, other contenders for worst record this season included the Timberwolves and the New York Knicks. Things got so bad in New York that The Times moved its beat reporter, Scott Cacciola, to cover, among other things, a fifth-grade basketball game in Springfield, Illinois; a Division III college rivalry in small-town Michigan; and senior-citizen pickup ball at a Manhattan YMCA. An editor's note explained that Cacciola deserved "a break from such woeful basketball" as that played by the Knicks.
The funny thing is, from an economic perspective the Lakers, the Knicks, and the Timberwolves—in fact, all 30 NBA teams—look like winners. The business of basketball, which is more and more about television ratings than about filling arena seats, has never been stronger. A proliferation of new entertainment services—Netflix, YouTube, HBO Now, you name it—has meant that live sports, along with the Academy Awards and a handful of other events, have emerged as the only reliable way for TV advertisers to reach a large audience. (In October, ESPN and TNT struck a joint deal to pay the league $2.7 billion a year starting in 2016, nearly triple the size of a similar deal signed in 2007.)
As a result, the values of NBA teams have soared. The Brooklyn Nets, uninspiring as they may be on the court, are now worth an estimated $1.5 billion, according to an annual list published by Forbes, up from an estimated $365 million when the Russian billionaire Mikhail Prokhorov took control of the team just six years ago. And though the Timberwolves have lost a few million dollars in each of the past seven seasons and failed to make the playoffs for the past 10, Forbes estimates the team's value at more than $600 million, up from the $89 million that its owner, Glen Taylor, paid in 1995. As Taylor told a reporter in 2013, explaining why he'd rebuffed possible buyers, "Whatever the franchise is worth today, I'll make a lot of money when I sell."
Taylor can say this with confidence because team owners operate as a cartel, cushioning even the most ineffective among their ranks. The NBA employs a revenue-sharing system that requires all 30 teams to pool about half of their revenue and then divide the pot equally, helping teams that narrowly lose money turn a profit, and ensuring that very poor teams like the Timberwolves lose much less money than they otherwise would. No matter how empty the Target Center in Minneapolis is on a given night, fans in Chicago and Miami will pick up part of the deficit. Further protections include a litany of anticompetitive measures—the draft and the salary cap, as well as a de facto prohibition on new franchises and an age minimum, which essentially allows owners to postpone signing players while they develop in the unpaid minor league that is Division I college basketball. (In baseball, by contrast, young stars get multimillion-dollar contracts long before they're ready for the Major League, ensuring they'll get paid even if an injury ends their careers.)
In other words, it's easy to tell a story in which the owners, rather than the players, are the overpaid ones—and this is exactly what Roberts intends to do. "I'll give the league credit," Roberts told ESPN The Magazine. "They've done a great job promoting the notion that the owners make all the investments and take all of the risks and barely make a dollar … One of the things that I have on my list, that I will absolutely not go to my grave until I correct, is responding to that narrative."
Owners dominated the past two rounds of labor negotiations, using a looming work stoppage in 2005 to reduce the maximum length of contracts from seven to six years and to raise the age minimum to 19. The union did earn an important concession that year: the league guaranteed that at least 57 percent of revenue would go to the players, up from about half. But the players gave that gain back during the lockout in 2011, thus forfeiting more than $300 million a year in earnings. "The formula has been: after a few months when the checks don't come, the players cave," Roberts told me a few days after the press conference. "I can't say with certainty what Hunter did wrong. But he clearly failed."
Hunter is Billy Hunter, Roberts's predecessor. A former college-football star who spent two seasons in the NFL and then went on to serve as a U.S. attorney, Hunter took over the Players Association in 1996. He initially won praise, but then he seemed to grow overly comfortable in the role; a union-commissioned investigation raised questions about his travel expenses and potential conflicts of interest. Most embarrassing, Hunter appears to have hired vendors who employed his family members. The owner of one such company, an investment firm called Prim Capital, where Hunter's son, Todd, happened to work, was eventually sentenced to 18 months in federal prison after attempting to defraud the union. Hunter sued for breach of contract after the Players Association fired him in 2013—his suit is scheduled to be argued this month—but there's no doubt he lost control of his membership during the 2011 lockout, when players publicly broke ranks and urged their peers to join them in pursuing a deal.
Unlike Hunter, Roberts has almost no experience in the world of professional sports, and she has used that distance to her advantage while attacking four decades' worth of collective-bargaining agreements. "What's shocking to me is that people think my opinions are revolutionary," Roberts said. "You're not supposed to say that it's unfair that players have their salaries capped? What shocked me was this notion of 'Oh my God! How can she say those things?' "
The Monday after the All-Star Game, Roberts met me in the waiting room of a low-slung office building in Harlem. It was Presidents' Day, and she'd given her 39 employees the day off. Wearing jeans and a teal cable-knit sweater, she led me past two neat rows of cubicles and into her third-floor office overlooking the Lenox Avenue Planet Fitness.
Roberts likes to say that she has been preparing to run the Players Association her entire life, but she admits that she knew little about the business of basketball until fairly recently. In 2013, after reading about Hunter's dismissal in a news article, Roberts contacted the search firm that had been hired to help find his replacement. "I knew the union had been taking a beating in terms of the salary cap, and I always had thought that was unfair," she told me. As a corporate lawyer, she'd been paid enormous sums for bringing in a hefty slate of clients. Her talent had been rewarded. Why, Roberts wondered, should talented basketball players be treated differently? "The more I read, the more I thought, Not only can I help; no one can do it better than me," she told me. Roberts recalled being told that she could make her case to the players, provided she could commit to the job promptly. "I remember thinking, Fuck you," she said, breaking into a cheeky grin. "Giving me a deadline!"
Roberts has cultivated this bluster throughout her career, first as the head of the trial division at the prestigious Washington, D.C., Public Defender Service and then as a white-collar defense attorney. In 2002, she led Washingtonian's list of the capital's best lawyers. Roberts was "magic with juries, loved by judges, feared by opposing counsel," according to the magazine. "Lots of people call themselves litigators, but if they were to go into a courtroom, they would fall flat on their faces," Roberts told me. "A trial lawyer persuading 12 strangers who don't know each other and probably don't like each other to all agree that you should win? There's nothing like it."
She worked at a series of top-tier firms, most recently as a partner at Skadden, Arps, Slate, Meagher & Flom, which is known for absurdly high salaries—the average partner reportedly makes $2.7 million a year—and a hard-charging culture. Roberts, an unmarried, unrepentant workaholic, thrived in this environment. She told me that her staff had the day off only because they'd worked the entire All-Star weekend, and even that was a painful concession. "I haven't taken a single day off" since starting the job, she said, smiling. "I frankly want to cancel holidays."
Roberts grew up just two miles from the union's headquarters, in a South Bronx housing project, the fourth of five children. Her mother, who died shortly after Roberts passed the bar, raised the family on her own, subsisting on welfare checks and odd jobs. "We were very, very poor," Roberts told me. "So there was no money to go to the theater or even to a movie. She had to find something to amuse herself." Some ladies went to church every day; Elise Roberts passed her time in the galleries of criminal trials—free entertainment before the advent of Court TV—and brought her precocious daughter along. Roberts was, like her mother, fascinated by the law, but also outraged by its injustices, and after working her way through Wesleyan and UC Berkeley School of Law, she landed a job as a public defender in Washington, D.C.
Roberts was fiercely ambitious during those early years. "She committed to it," Charles J. Ogletree Jr., a Harvard Law School professor and, for a time, Roberts's boss at the Public Defender Service, told me. "She'd get in at 6 in the morning and stay till 11 at night, seven days a week." But what set Roberts apart from the other young lawyers was her ability to turn off all that naked ambition once she got inside the courtroom. In the poor, mostly black Washington, D.C., of the 1980s, "she used her race and gender to her benefit," Ogletree said. "She had a really folksy way of getting along with people who were total strangers. She was like the 13th juror."
Since taking over the players union, Roberts has visited all 30 NBA teams, pitching her plans to the 400-plus players she now represents. It has not been an easy sell. Despite (or perhaps because of) their athletic gifts, players have little incentive to engage in a protracted fight with the league. LeBron James may be a talent like no other, but even his prowess will not last long, which means a strike or a lockout could be devastating to his earning potential.
"The problem is that basketball players have an average career of four years and an average salary of $5 million per year," says Andrew Zimbalist, a sports economist at Smith College. "Given that and given that these guys love to play basketball, they don't really have the basis to stay unified for a substantial period of time. They're saying, 'You want me to risk half a season so my salary could go from $5.1 million to $5.2 million?' That's going to be Michele Roberts's main challenge."
It's hard to argue with that logic, and Roberts is almost certainly posturing—talking tough in an attempt to win concessions without a strike. But she still needs players to make a convincing-enough show of solidarity for owners to take the threat seriously. This is where her work most resembles that of a traditional labor leader.
The Players Association, of course, enjoys certain advantages over other unions—there is, after all, no LeBron James of autoworkers. But it doesn't help that, with organized labor on the decline nationally, few of Roberts's young players are likely to have had close contact with a member of any kind of union. "That's a problem for unions across the country, not just sports unions," Roberts said. "People just don't understand what it took to get better wages, what it took to make better working conditions."
The history to which Roberts is referring began, for professional sports, in 1966. That was the year Marvin Miller, a former United Steelworkers economist, persuaded Major League Baseball players to make him the head of their players union. Miller noticed that players' salaries were stagnant and foresaw huge revenues looming in the not-too-distant future, thanks in part to the growing popularity of television. He began a campaign to chip away at the owners' power. At the time, players in all the major sports were bound by the so-called reserve clause, which meant that they were tied to the team that drafted them for the entirety of their careers unless the team released them. Miller struggled early in his tenure, largely because players were pretty sure that being paid thousands of dollars to play a game was a good-enough deal.
"Players were not only ignorant about unions, they were positively hostile to the idea," he wrote in his autobiography. But Miller used a classic organizer's playbook, building support by winning small concessions and then using that goodwill to mount more-sweeping challenges: helping to take the reserve clause to the Supreme Court and staging a two-week strike, the first major walkout in sports history, in 1972. By 1975 the reserve clause was gone, and veteran players could become free agents.
Miller's achievements are rightly celebrated. But the best athletes in baseball, football, and basketball are still paid salaries far lower than those in unregulated sports such as boxing and international soccer. LeBron James, like all basketball players, is subject to the "max contract," which means that the Cleveland Cavaliers could not pay him more than $20.6 million for this season. By comparison, the top boxer, Floyd Mayweather Jr., is expected to make $180 million when he fights Manny Pacquiao in early May. (Pacquiao, now a fading great, will get a mere $120 million.) And at a time when actors and musicians exercise new levels of control over their work—Jay Z, for instance, runs his own record label—basketball players still have little or no say over where they spend the first four years of their careers, despite the fact that many careers do not last that long.
These restrictions are not without purpose. Some owners argue that the league's salary regulations preserve an environment in which teams in small and midsize cities, like the Oklahoma City Thunder, can reasonably compete for championships. European soccer leagues do not have salary caps or drafts, and as a result, many countries are dominated by a handful of clubs year after year. But it's not clear that our system is better for fans, and it certainly hurts the earning potential of the best athletes. When I brought up the issue of "competitive balance" with Roberts, she bristled. "I think 'competitive balance' is capitalists wanting to become communists," she said. "It's nonsense. The answer to the problem of competitive balance comes from smarter forecasting and planning on the parts of teams."
The nod to free-market ideology is surprising coming from the head of a high-profile labor union, but it is also telling. Approval ratings of unions have fallen to near-all-time lows in the three decades since Ronald Reagan fired striking air-traffic controllers and dealt a devastating blow to the labor movement. Since then, many Americans have come to see business owners as risk-taking entrepreneurs who have rightly earned their lofty profits and inflated salaries. Unionized workers have been cast as overpaid grumblers. Roberts may be trying to subvert that image, but it's an uphill battle when a large majority of Americans supports right-to-work laws and only 21 percent of Americans believe unions will grow stronger in the future, according to Gallup.
In the lead-up to the 2011 NBA lockout, Billy Hunter and his allies ignored this recent history and tried to make raising the salary cap a populist cause. "It's part of the overall climate that one sees around the country," Hunter said, likening the players' struggle to that of the American working class. "True, our players may earn a few more dollars than the average person, but they're still confronted by the same issues." This was, of course, ridiculous, and Hunter's strategy backfired. Players did not see the battle for a few additional percentage points of salary as an existential struggle. Fans were disgusted.
This may be why, paradoxically, the best case for the players union doesn't rely primarily on appeals to solidarity or to the greater good, but rather to old-fashioned capitalism. "No one faults Mark Cuban for being successful," Roberts told me, referring to the Dallas Mavericks owner, who made billions of dollars on a short-lived dot-com start-up and used some of that money to buy the Mavericks for $280 million in 2000, according to Forbes. Cuban's team is now worth an estimated $1.2 billion. "We have to stop thinking there's something wrong with basketball players' making money," she added.
Roberts told me that during her law career, no one would have dared suggest that the best lawyers accept anything less than their market value. "It's un-American."