Coloring Books for Existential Angst
Hundreds of thousands of stressed-out people across France have recently taken to an unlikely means of relaxation.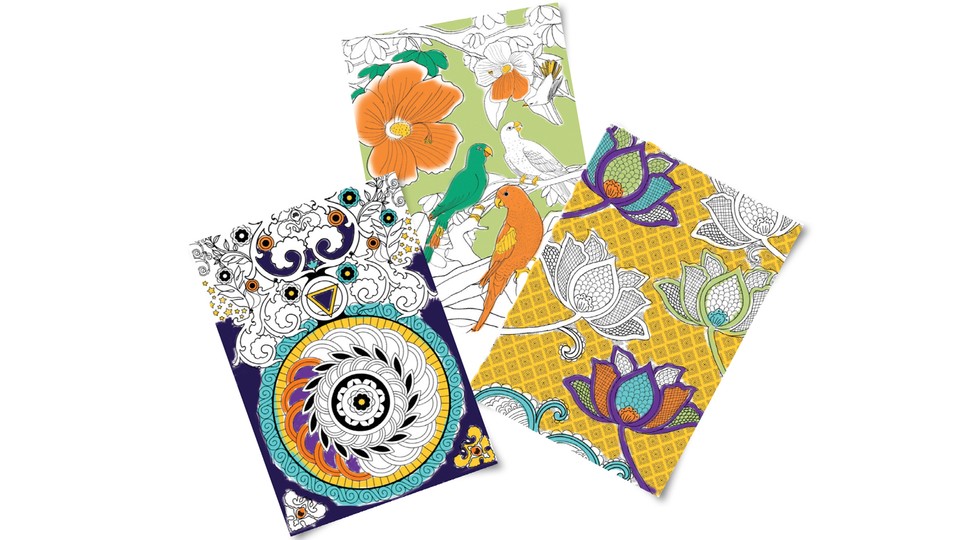 "It relaxes me," a blogger named Virginie told Le Parisien last May. "I don't think of anything and, before long, my mind is clear."
"My breathing becomes calmer," another woman explained to L'Express in June. "My brain disconnects from stress and from noise."
"I cut myself off from the world," said a schoolteacher, in August. "I find myself in a bubble."
They're not talking about cigarettes or wine, let alone anything more illicit. Hundreds of thousands of stressed-out people across France have recently taken to an unlikely means of relaxation: coloring books for adults. The books first came into vogue in 2012, when the publisher Hachette released Art-Thérapie: 100 Coloriages Anti-Stress, a collection of mandala-like designs that promised adults "relaxation support." It was such a success that Hachette launched a series, which has since sold nearly 2 million copies.
Offerings from other publishers include Jardin Secret, a collection of intricate floral patterns, and Inspiration Bollywood, a book of paisleys. Yves Saint Laurent has released a coloring book, as has Hermès, which for $160 offers 12 pages of designs, including a fox dressed as a courtier and a fez-adorned fish sporting traditional Turkish garb.
Many coloring converts have hailed the books as a way to take their minds off workaday concerns. One run-down student blogged last September that she'd turned to coloring for relief from tension headaches and eczema. Another woman told a reporter that coloring allowed her to mentally escape "the hubbub of my open-plan office"—it had even replaced her smoking breaks, she added.
Research suggests there might be something to the idea of coloring as a means of stress relief. A 2012 study in the journal Art Therapy found that art activities such as coloring mandalas significantly reduced anxiety. And if any country could use some help reducing anxiety, it's arguably France: The French are by some measures among the most depressed and stressed-out people in the world. In 2009, a rash of workplace suicides led the government to ask companies to hold "stress negotiations" with their employees. A 2011 study sponsored by the World Health Organization found that France had a higher lifetime rate of major depression than did any of the 17 other countries surveyed.
This spring, Barron's and other publishers will release art-therapy coloring books in the United States. Which is good news for any American seeking catharsis by way of colored pencil. In that 2011 study on depression, the U.S. ranked second.