Your Airport's Bartender Problem
Why it's so hard to get a decent drink before your flight—and why that may soon change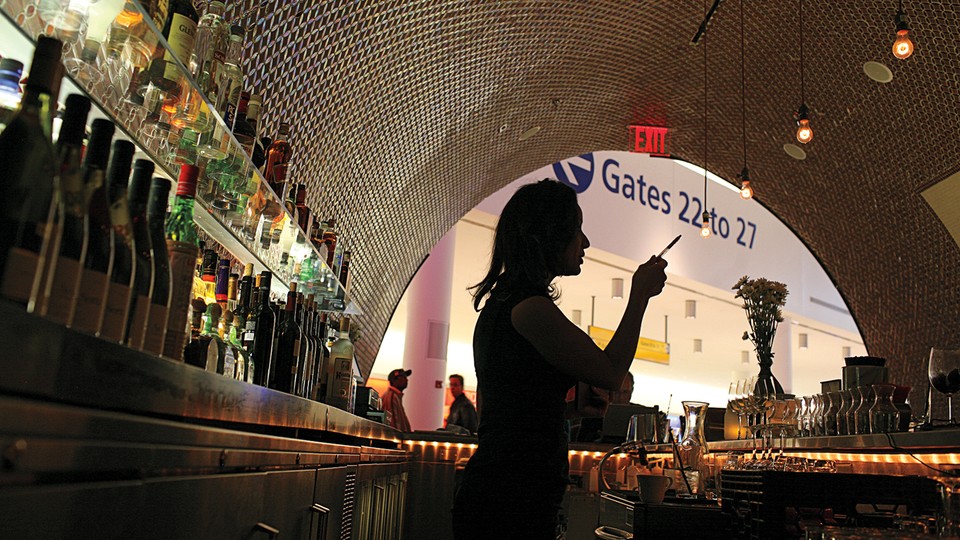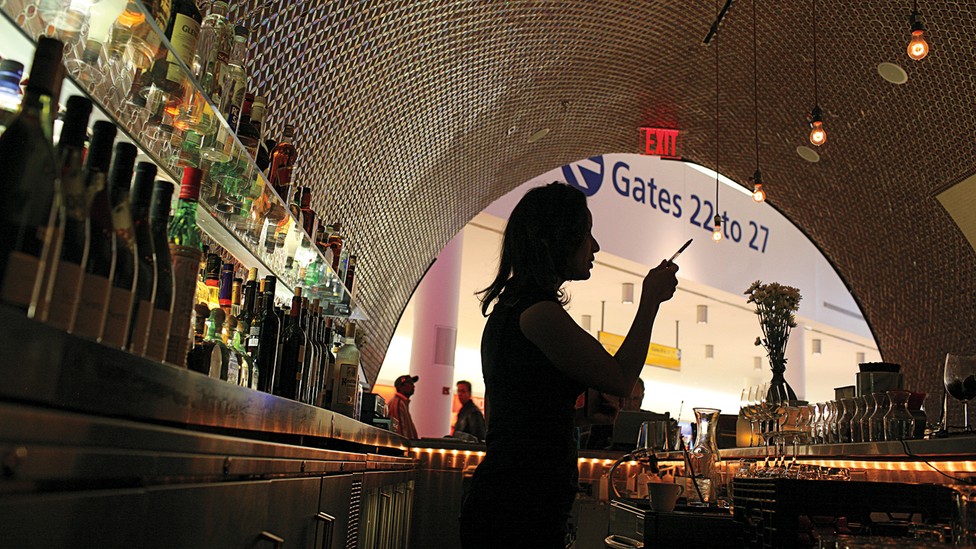 It's 4:30 on a weekday afternoon, and you've got an hour until boarding starts for your connecting flight home for the holidays. You're ready for a cocktail. Maybe even two. Which is fine—as long as you're in the mood to party like it's 1999. Because, on the whole, airport bars are still running 15 years behind the craft-cocktail movement.
In seemingly every American airport, you can find outposts of what might be called the Status Quo Ante Bar, where the spirits are uninteresting and the drinks indifferently made. While dining choices have been steadily improving, and good wine is easier to find—the commendable Vino Volo now operates at two dozen airport locations—with few exceptions, airports have been slow to offer quality cocktails.
Why can't you get a decent Manhattan before you ascend to 35,000 feet? As it turns out, there are substantial challenges in establishing a quality airport bar. For starters, the staff must obtain TSA and FAA clearances—a hurdle many of your favorite tattoo-sporting local bartenders might not be able to manage. "There are quite a few that don't make it through for one reason or another," says Doug Draper, the senior director of adult beverages and restaurant development at HMS Host, which oversees nearly 400 full-service bars at airports across North America.
On top of that, airports are never in the hip parts of town where the cool-kid bartenders live. And Draper notes that going through TSA security every day adds an unwelcome uncertainty. "Employees go through the same things as passengers," he says. "They have to fight traffic and find parking and go through security."
Another challenge: airport bars generally don't have the luxury of carving out a niche and developing a regular customer base. Downtown, you might find a bar specializing in classic cocktails, another in tiki drinks, and another that serves almost exclusively American whiskey. Airport bars have a captive audience, but they can't be selective about their clientele; many people simply sit down at the bar closest to their departing gate. "You don't get to choose who you serve," says Jacob Briars, the head of Bacardi's global brand-ambassador program.
Nonetheless, the Status Quo Ante Bar has lately been feeling some pressure to surmount its customary mediocrity. The "premiumization" trend has reset standards in cocktails just as it has in everything else, from coffee to hamburgers. Indeed, some of the bigger operators of airport restaurants and bars are already addressing the problem.
During his two years overseeing HMS Host's cocktail programs, Draper says he's broadened the nationwide cocktail list, boosted the caliber of the spirits at his bars, and worked to improve his bartenders' craft. "We really wanted to get our bartenders from pouring highballswe did a lot of vodka and soda, gin and tonic—to three- or four-ingredient drinks," he says. He's now collaborating with individual bars to create localized cocktail programs. Among them: Barcuterie, in Houston's George Bush Intercontinental Airport, which now serves a Texas Smoked Manhattan featuring house-brandied cherries and Balcones, a well-regarded local whiskey.
OTG, which manages restaurants and bars in 11 airports, is likewise working to nudge its bars in a new direction, under the stewardship of the mixologist Theo Lieberman. But the most promising bar I've found is One Flew South, in perhaps the least promising of airports—Atlanta's Hartsfield-Jackson, a place that generally has the feel of a regional mall in an area suffering from chronic economic malaise.
That's not the case out at Terminal E, where lead bartender Tiffanie Barrieré, who has worked at One Flew South for six years, has created a cocktail menu that wouldn't be out of place in a Lower East Side speakeasy. She's been sly about it, however, taking oft-requested drinks and giving them an unfamiliar twist (the Cosmo, for instance, often has Clément Créole Shrubb in lieu of Cointreau). "We give them what they want," says Barrieré. "We just make it read differently."
In my second Drink column, nearly six years ago, I wrote of my fervent hope that "one day, with a little luck, we'll be able to order a perfectly crafted Manhattan or Jack Rose or Sidecar at any airport bar." It seemed a lofty dream at the time. But that day may soon be approaching.