The Long Shot
Despite his best efforts, Maryland's Martin O'Malley might be the most ignored candidate of 2016.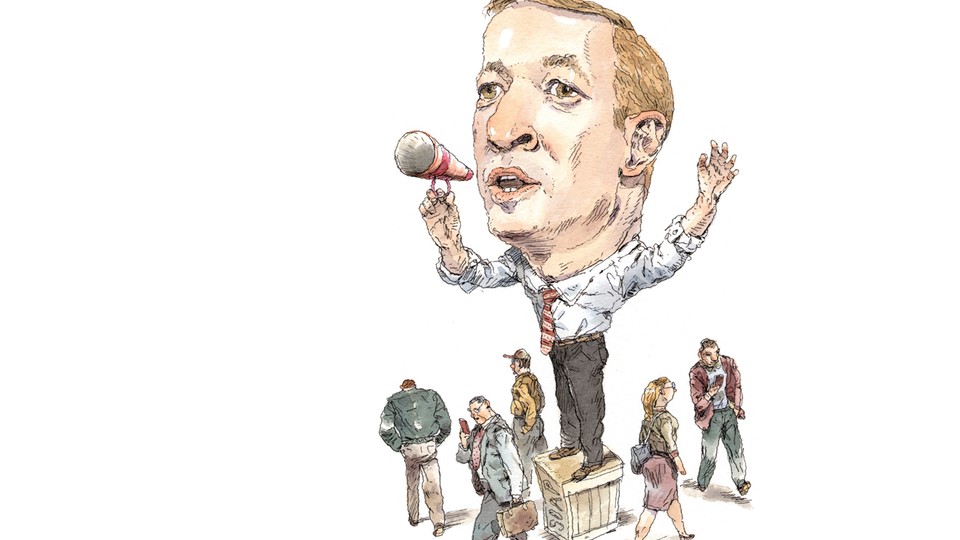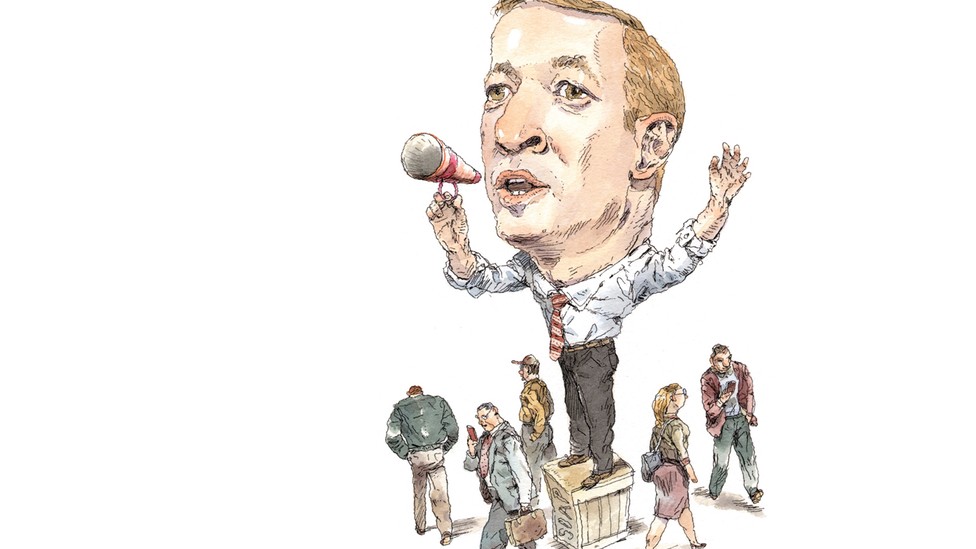 Martin O'Malley ought to be a Democrat's dream candidate. In two terms as the governor of Maryland, he's ushered in a sweeping liberal agenda that includes gay marriage, gun control, an end to the death penalty, and in-state college tuition for undocumented immigrants. He's trim and handsome; he plays in an Irish rock band; he even served as the basis for a character on The Wire (sort of—more on that in a minute). He shows great zeal for improving things both large and small: during a recent visit to the Light House, a homelessness-prevention center in Annapolis that provides job training and other assistance, he said that he had, as governor, taken the state's traditional Day to Serve and made it 17 days long. "I really enjoy progress, and making progress, and my joy comes from understanding that it happens one life at a time," he told me, reflecting on the center's work.
O'Malley, who is 51, has not been shy about flirting with a presidential run. "It's something I'm seriously considering," he said, adding that he expected to make up his mind by the end of the year. No other Democrat has been as aggressive in promoting him- or herself nationally: In the past year and a half, O'Malley has appeared in 23 states other than his own to speak to local Democrats or raise funds for candidates, with a conspicuous number of appearances in Iowa, New Hampshire, and South Carolina. He has served as the chair of his party's association of governors and operates in close proximity to the East Coast centers of media and politics—all characteristics shared by another, much higher-profile governor, New Jersey's Chris Christie.
But while Maryland's governor looks perfectly presidential on paper, Democratic voters outside the state have proved staunchly resistant to forming an impression of him. This is not for lack of media attention. A political press corps preemptively bored by the prospect of another airless Hillary Clinton campaign has dutifully floated O'Malley as an alternative, noting his hypothetical ability to run to Clinton's left and his appeal as a practical progressive—he's more liberal than Clinton or New York Governor Andrew Cuomo, but less of a firebrand than Massachusetts Senator Elizabeth Warren. And yet he has fluctuated between 1 and 2 percent in recent polls of prospective primary voters, languishing behind not only Clinton and Vice President Joe Biden but also Warren and Cuomo. He's even polling behind Bernie Sanders, the socialist senator from Vermont. As far back as June 2013, a National Journal headline asked, "Is It Time to Take Martin O'Malley Seriously?" Not yet, apparently. In September, Politico's daily "Playbook" newsletter, noting that O'Malley had already placed 11 staffers in Iowa, mockingly headlined the news "A for Effort!"
"People in our country can become very famous overnight," O'Malley pointed out.
O'Malley refuses to pout about his negligible public image. "My process doesn't involve polling; it involves listening," he told me sunnily, leaning back in his chair. We had moved to one of the Light House's back rooms, which smelled faintly of disinfectant. I wondered aloud whether it might heighten O'Malley's profile if he were to pick fights from time to time, particularly with Clinton, whose every sneeze launches a thousand cable-news segments. But O'Malley claimed he did not resent Clinton's prominence: "She's an iconic figure, and someone who has so many accomplishments in public service, that it doesn't surprise me at all." Asked whether he had something to offer that Clinton did not, O'Malley said, "I do." I pressed him as to what that might be. Finally, after praising Clinton and Biden, he said, "The thing I believe presents something of value to my country, especially in these times, is my experience as an executive, and as somebody that was able to bring people together in order to get things done."
In his travels around the country, O'Malley said, he had discovered that people were looking for a new kind of leadership. It was this realization that convinced him that the polls don't matter. "History's full of all sorts of instances where candidates at various levels, whether mayor or governor or president, have begun a race at 1 or 2 percent," he said. He wasn't wrong: both Jimmy Carter and Bill Clinton were considered long shots before beginning their primary campaigns, and Barack Obama trailed in early primary polling. O'Malley emphasized that he had himself gone from single digits to victory when he ran for mayor of Baltimore in 1999. Underdogs have historically succeeded, O'Malley said, when "they knew what they were about, they knew what they had to offer, and they offered it at a time when the people most needed that way of leadership."
O'Malley's own trademark has been a data-based approach to just about everything, starting with Baltimore's crime epidemic, which was the focus of his mayoral campaign. David Simon, the creator of HBO's The Wire, was a police reporter for The Baltimore Sun when O'Malley was on the city council, and he has said that the character of Tommy Carcetti—the ambitious white-ethnic councilman who rises to the mayoralty, and then the governorship, based on manipulated crime-reduction statistics—is a composite inspired partly by O'Malley. (Although O'Malley was similarly accused of fudging crime stats, he denies it, and the allegation has never been proved.)
For many years, O'Malley snapped at anyone who mentioned The Wire, believing it showed his city in a bad light. "David came to Baltimore and saw nothing but hopelessness, and he made a lot of money portraying it," he told me. "I came to Baltimore and saw tremendous opportunity and a real good heart." O'Malley said he has seen only "snippets" of the show, and he doesn't seem in any hurry to watch more, despite its continuing popularity. But his anger at Simon has cooled: when the two men ran into each other on an Amtrak train out of New York a few months ago, they had a beer and an amicable conversation. O'Malley has even come to see a bright side to the show's cultural impact. "Now, as I go around the country, I never have to tell anybody Baltimore was a tough place," he said. "When people hear the other part of the story, when people hear that Baltimore went on to achieve the biggest reduction in violent crime of any city in America, I feel good."
Having finished his tour of the Light House, the governor strode into the kitchen, where a dozen trainees were learning culinary techniques. Stuffing his tie into his shirt and throwing on an apron, he handed his phone to an aide. As he and the trainees received instruction in peeling and chopping tomatoes for a stew, he narrowed his blue-green eyes and adopted a chin-up, mouth-open listening pose.
"I love kale," O'Malley told the chef, Linda Vogler, a middle-aged woman with blond bangs peeking out from a paper toque. "Kale's the new superfood!"
"We're learning quinoa next," Vogler said.
"You're going to teach what? Keen-wa?," O'Malley asked, genuinely puzzled. "What's keen-wa?"
"It looks like birdseed," she replied, hurrying on with the lesson. As the class counted off the seconds it took to boil a tomato, O'Malley changed their "One Mississippi" chant to "One Maryland! Two Maryland!"
Before long, though, the governor faded into the woodwork. As he carefully sliced a tomato the way he'd been taught—fingers tucked into a fist for safety, knife at a 45-degree angle—the other students resumed their conversations. When the stew was finished, O'Malley suggested a "group selfie." He gathered the other pupils and directed one, Curtis Gardner, to hold the phone as high in the air as he could. This is O'Malley's secret to great selfie-taking, a practice, as his Twitter feed attests, at which he excels. "See how much younger we look?" he said to Gardner.
O'Malley may be long on boyish charm, but he can seem short on the kind of gravitas that commands a room. During our interview, he began talking excitedly about the War of 1812—one of his favorite topics—only to cut himself off with a self-deprecating shrug, saying "I don't want to keep filibustering." At the end of our conversation, he was already fretting about how he'd come off: "As I think back, I was probably talking in buzzwords rather than illustrations," he said. He avoids soaring rhetoric, instead casting his accomplishments in pragmatic and nonideological terms. "I guess it's easy for people to shorthand it as 'This guy walks around with a bunch of charts and graphs in his head' or something," he said. "And I do! But behind each of those numbers, there's a real human being."
Under O'Malley, Maryland was ranked first nationwide in public-school achievement by Education Week for five years in a row and twice designated the top state for innovation and entrepreneurship by the U.S. Chamber of Commerce. I couldn't help but think that, given these achievements, it must be a little galling to be treated as such an afterthought in the presidential race. Wasn't a successful two-term governor of a populous state due more respect? O'Malley was having none of it. "People in our country can become very famous overnight," he pointed out. Besides, he went on, laughing: "Why would anyone go into politics for respect? You don't go into politics for respect. You go into politics to get something done."