The Last Rock-Star Poet
Dylan Thomas embodied the essence of poetry—even if his poems themselves have not held up well.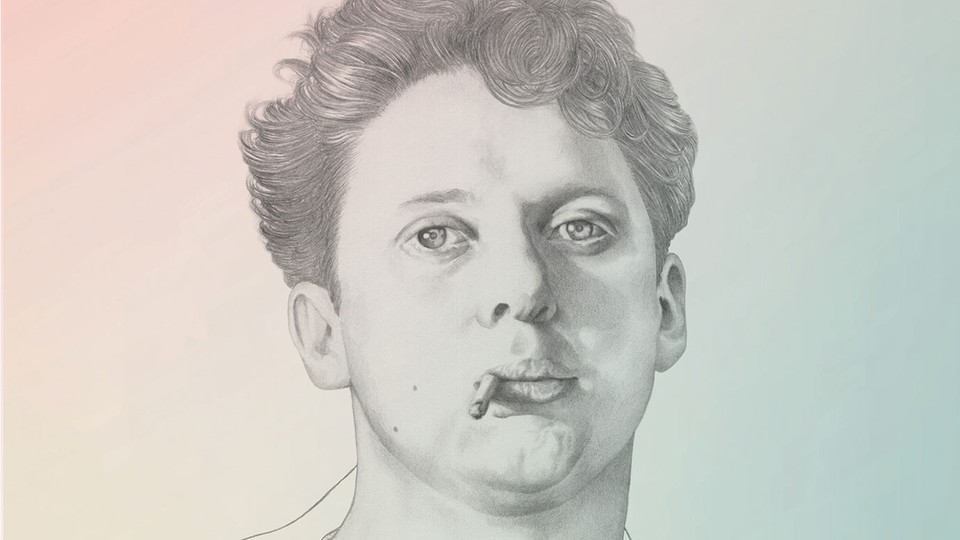 "Poetry is dead!" cried John Berryman, emerging in distraction from the Manhattan hospital room that Dylan Thomas had just exited by another, more conclusive route. Poetry had been unconscious for four days, as a result of alcohol and then morphine. It had finally succumbed while being washed by a nurse—babied into eternity under a woman's hands, life's last feebleness recalling its first.
Poetry is dead. Did Berryman, himself a poet, really say that? The record is unclear. It could be a legend. But he was certainly there, by the bedside at St. Vincent's, on November 9, 1953; certainly overwrought; and if he did say it, his words—as Walford Davies points out in the new edition of his excellent study, Dylan Thomas—"were something more than melodrama." Marshall McLuhan hadn't yet given us the formula, but if Dylan Thomas was the medium, poetry was the message. Already a radio favorite in Britain, he blazed his reputation across 1950s America with a sequence of Led Zeppelin–esque reading tours, multicity road shows in which the dying throb of Romanticism met the incoming crackle of mass communication. This Welshman was electronically famous, and he constellated in his rumpled persona various blips and signals that all said poet. The bow-tied ham at the lectern, bass-baritoning away; the scapegrace of the after-party, peeing into potted plants; the inspired tavern regular, talker for hours, blood brother to the universe; the craftsman in his deep and scratching silence; the fire-tailed bard; the cometary Celt. All of it was Dylan, all of it was poetry, and when he died, it died with him. He was the last of the rock-star poets, because the minute the real rock stars showed up—amps buzzing, drugs twanging—the poets would be shuffled off into inconsequence.
And then there was the poetry itself. In this, the year of his centenary, how do we feel about the on-the-page poetry of Dylan Thomas? His big, late-period thumpers are not looking good. "Fern Hill" is gloop; "Do Not Go Gentle Into That Good Night" is inferior Yeats. And his early stuff is impossible, a young man and his bubbling glands, his bubbling thesaurus—Faded my elbow ghost, the mothers-eyed / As, blowing on the angels, I was lost—the sort of poetry you press upon a non-poetry-reader if you want to make sure he never goes near a poem again. The famous Thomas artistry, meanwhile, all those whirring micro-mechanisms of beat and assonance and interior rhyme, now appears a work of slight craziness—as if the poem is an obsessive cuckoo clock from which, upon the stroke of midnight, the three-inch poet will himself pop out to blow a tiny raspberry.
I'm being nasty. But I write out of injury: Thomas was a wizard to the teenage me, and meeting him again in my flatulent middle years I am startled, offended, by the plain unreadability of 60 percent of his verse. Our eunuch dreams, all seedless in the light … What the hell? How did he spellbind me so? Well, with lines like this: Though they be mad and dead as nails, / Heads of the characters hammer through daisies. Which sounds amazing, and in which two lovely clichés—dead as a doornail and pushing up daisies—are rewired to produce a beyond-triumphant image of typewriter keys slamming upward through the earth. "The blood-jet is poetry," wrote Sylvia Plath, "there is no stopping it." For Dylan Thomas, it was "the force that through the green fuse drives the flower"—what a line!—the sticky generative sizzle, first flash of utterance, to which he consecrated his art. His poems are in a sense about nothing else. They are intricate, musical ways, brilliant here and terrible there, of saying I'm alive, right now, and this is a poem, and soon I'll be dead.
This was what I, you, America responded to. This, and the charm of the man, the charm of the boy, the shock-headed cherub-troll who'd come waddling down to London from Swansea with a cigarette between his lips and a brown beer bottle in his pocket. Up through the lubber crust of Wales / I rocketed to astonish. The Czech novelist Jan Drda, accompanying Thomas during a 1949 visit to Prague, observed that the poet "did not seem to walk at all, he frisked and gambolled, he made the impression of a bear floating in the air." Drinking and drinking and drinking; writing and not writing; misbehaving; dying. Reading his own work aloud, he enchanted; reading others', he channeled. Not always: his recording of "The Owl" by Edward Thomas is like Stevie Nicks's "Landslide" performed by Meatloaf. But give him something a bit heavy-metal, something like D. H. Lawrence's "Whales Weep Not!"—And over the bridge of the whale's strong phallus, linking the wonder of whales / the burning archangels under the sea keep passing, back and forth—and he'd flatten the auditorium.
By his mid-30s the fame was in full spate but the verse, the force, the sap had dried up. Six poems in six years, he confided to a Time journalist who interviewed him in New York in 1952. He wasn't blocked; he was finished. Had he squandered his gift? "Scriptlings" and "radio whinnies," he called his work for the BBC, the 100‑plus radio broadcasts he'd made since 1943, including "Walter de la Mare as a Prose Writer" and readings of his own stories. All a monstrous distraction, so it appeared, from his poetry, his "real" work.
Thomas's poems are intricate ways of saying I'm alive, right now, and this is a poem, and soon I'll be dead.
But talent takes care of itself, and the truth is that in his hackwork and hirework, Thomas developed another style: a subversive super-prose, Falstaffian and flexible, anti-bardic, running athwart the solemnities and swollen loins of his poetic corpus in gleeful little crosscurrents of irony. Now he wasn't writing I see the tigron in tears / In the androgynous dark. He was writing "Down in the dusking town, Mae Rose Cottage, still lying in clover, listens to the nannygoats chew, draws circles of lipstick round her nipples." It was the sound of his last and greatest work, the Spoon River–esque "play for voices" Under Milk Wood. A Welsh village asleep, dreaming about God and sex and murder; a Welsh village awake, bobbing through the daylight on underground rivers of pathology, as we all are. This new language—so close to the language of his letters and his conversation—was omnivorous and all-redeeming: everything seen and reckoned with, everything absolved.
Too late. What hadn't been taken care of, what had been horribly neglected, was the vessel, the creature, and as he put the final touches on Under Milk Wood for its debut in New York, Thomas was falling apart: he had gout and gastritis and galloping heebie-jeebies. The whole disaster is recorded in John Malcolm Brinnin's Dylan Thomas in America (1955), in which the author—also a poet, and the man responsible for organizing the reading tours—hovers above his doomed and room-wrecking subject like a kind of bald, severed intellect. On top of Thomas's fragmenting health, an article in Time had been rather rude ("He borrows with no thought of returning what is lent, seldom shows up on time, is a trial to his friends, and a worry to his family"), and when Thomas threatened to sue, the magazine hired a detective to follow him around New York and take notes. "Seen taking benzedrine" is a line that survives from the gumshoe's log.
The medium is the message, McLuhan said, which his onetime student, the great Hugh Kenner, translated for us most helpfully as What you're taking for granted is always more important than whatever you have your mind fixed on. Cavil at Dylan Thomas's overdoings; praise this bit and dispraise that bit; but there he was, there he is, an emblem of poetry, which is Being itself—the force that through the green fuse, etc. And the world honored him for it, while chopping him to pieces, because Being is victorious everywhere. It's the loony, peccant villagers of Under Milk Wood, their bad habits embraced with animal clemency. It's Auntie Hannah in "A Child's Christmas in Wales," who liked port, and who "stood in the middle of the snowbound back yard, singing like a big-bosomed thrush." Whales, weep not; Wales, weep not. It's that thing in the presence of which, though it contains terror and morphine and a crying John Berryman, you're forgiven before you're even born.