Wonder Woman's Kinky Feminist Roots
The odd life and psyche of the man who invented her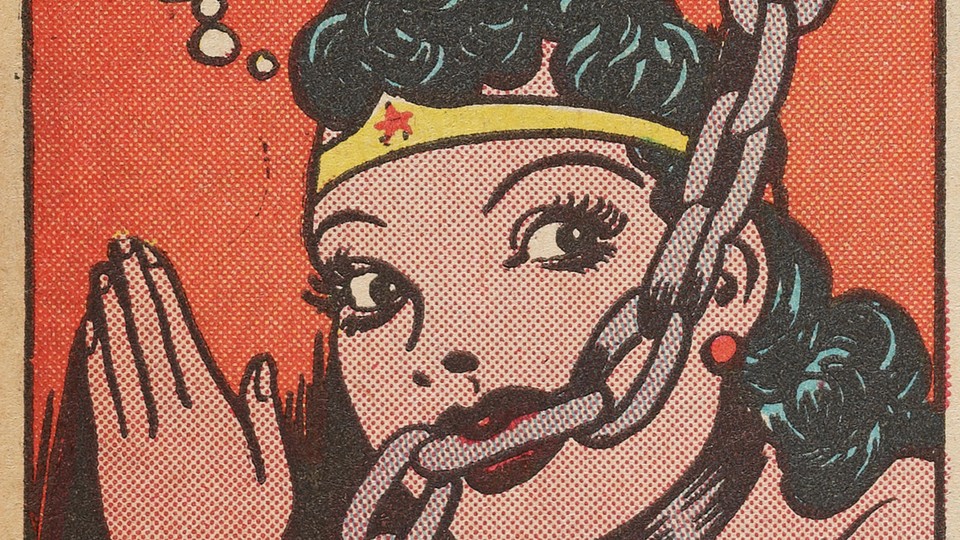 Wonder Woman did not grace the very first cover of Ms. magazine (spring 1972), although many remember it that way. That honor went to the many-armed Hindu goddess Kali, holding a frying pan, a typewriter, a mirror, and other tools of the hyper-multitasking modern woman. The most popular superheroine ever had to wait for the next issue to stride through the sky in all her 1940s Amazonian glory under the headline "Wonder Woman for President." Below her is a divided scene—one half a war-torn landscape, the other a pleasant street featuring a billboard that reads Peace and Justice in '72. William Moulton Marston, the inventor of Wonder Woman, would have loved that cover. He believed women were superior to men and should run the world—and would do so in, oh, about a thousand years.
In her hugely entertaining new book, Jill Lepore sets out to uncover the true story behind both Wonder Woman and her creator. Make that creators: not the least of Lepore's revelations is that Marston had a lot of help from his wife, Elizabeth Holloway (we have her to thank for "Suffering Sappho," "Great Hera," and other Amazonian expostulations), as well as from his former student Olive Byrne, with whom he and Holloway lived in a permanent ménage à trois that produced four children—two from each woman. And Lepore adds another catalyst to the mix. Olive Byrne was the niece of Margaret Sanger, whose youthful brand of romantic, socialist-pacifist feminism was formative for Marston. Sanger's influence is perhaps the most important of the connections that Lepore teases out between Wonder Woman, the early-20th-century women's movement, and Marston's fascinating life and odd psyche, in which the liberation of women somehow got all mixed up with bondage and spanking.
William Moulton Marston invented the lie detector—a forerunner of Wonder Woman's golden lasso.
The only scion of a once-grand Boston family, Marston was equal parts genius, charlatan, and kinkster. As an undergraduate at Harvard just before World War I, he was thrilled by militant suffragists like the ones who chained themselves to the fence outside 10 Downing Street. Maybe that's where his fusion of feminism and bondage started—imagery of slavery and shackles abounded in the movement's demonstrations and propaganda. His experiences in the psychology department left their mark, too. Marston was a lab assistant to the prominent Harvard psychologist Hugo Münsterberg, a rigid German who opposed votes for women and thought educating them was a waste of time. Münsterberg would surface in the comics as Wonder Woman's archenemy, Dr. Psycho. ("Women shall suffer while I laugh—Ha! Ho! Ha!") Busy strapping Radcliffe students to blood-pressure machines in Münsterberg's lab, Marston invented the lie detector—a forerunner of Wonder Woman's golden lasso, which compels those it binds to speak the truth.
Devising the lie detector was the high point of Marston's rather erratic pre-comics career. He seems to have lost every job he held. His venture into business ended in an indictment for fraud; his brief stint as a lawyer saw the D.C. Circuit Court of Appeals reject lie-detector tests as evidence. In 1929 Universal Studios hired him to give its films psychological realism and let him go a year later. His academic career, pursued alongside these and other ventures, went swiftly downhill; he plummeted from chairman of the psychology department at American University to roving adjunct. His brash egotism—and his affair with Olive Byrne, his student at Tufts and Columbia—may have been part of the reason for his academic failure, but so was the fact that the only psychological theories that interested him were his own. And the only people who took his mishmash of matriarchy and masochism seriously were Holloway and Byrne. His 1928 tome, Emotions of Normal People, defended "abnormal" sexuality—homosexuality, fetishism, sadomasochism, and so on—as not only normal but fixed in the nervous system. (He may have been a bit of a charlatan, but he was also way ahead of his time.) The book received little notice, except for a rave by Byrne, writing under a pseudonym. As with his other academic work, Byrne and Holloway were mostly uncredited collaborators.
Marston had a sweet thing going: two remarkably smart, adoring women to cater to his every need, each apparently believing she'd landed in feminist heaven. Indeed, it was Byrne's hero worship that rescued his career. As a staff writer at Family Circle, she frequently interviewed him as a great expert on child psychology (without, of course, revealing their connection). One article, "Don't Laugh at the Comics," caught the eye of Maxwell Charles Gaines, the head of what became DC Comics. Hired in 1940 as a consultant to head off attacks on comic books as harmful to children, Marston saw his chance to advance a cause: the problem with comics was simply their "bloodcurdling masculinity." As he put it a few years later in an essay in The American Scholar, "Why 100,000,000 Americans Read Comics":
Not even girls want to be girls so long as our feminine archetype lacks force, strength, power. Not wanting to be girls they don't want to be tender, submissive, peaceloving as good women are. Women's strong qualities have become despised because of their weakness. The obvious remedy is to create a feminine character with all the strength of Superman plus all the allure of a good and beautiful woman.
Strong women are submissive. Got it.
Written by "Charles Moulton" and drawn by H. G. Peter, Wonder Woman was a hit from her first appearance, in 1941. Boys and girls alike loved her, and you can see why. There's the charm of her story. Like Superman, she comes from a lost world: Paradise Island, where she lives contentedly among Amazons as Princess Diana. Lepore traces the influence of feminist-utopian novels like Charlotte Perkins Gilman's Herland—which depicts a happy, manless world where reproduction happens by parthenogenesis—and of Margaret Sanger's conviction that women's equality and sexual autonomy were the only way forward for humanity. When Steve Trevor, a U.S. Army intelligence officer, crash-lands in the Amazons' midst, Diana wins the right to bring him back to the United States by proving herself the best (nonviolent) warrior.
This is only the first of many times she will rescue the lovelorn soldier, who of course never realizes, once they're stateside, that mousy Diana Prince, first his nurse and then his secretary, is the superheroine he adores. Wonder Woman's costume is elegant, patriotic, and just a bit daring (too much so for Catholic bishops, whose National Organization for Decent Literature put the comic book on its banned list because Wonder Woman was "not sufficiently dressed"). She's beautiful without primping, and whether fighting Nazis, Dr. Psycho, or bosses who underpay their female workers, she gets all the help she needs from her sidekicks, the girls of Holliday College and their leader, Etta Candy, a fat-acceptance advocate avant la lettre. Wonder Woman becomes an Army general and even (in the far-distant future) the president.
Their house in Rye, New York, seems to have been a jolly place, full of pets, tipsy parties,and "love making for all."
And in almost every issue, she is chained or tied up. This plot staple provoked debate from the start: opponents of comic books thought it smacked of sexual fetishism (and fetishists agreed). But whatever it represented in Marston's personal psychology, bondage was an obvious metaphor for the many ways in which women were collectively and individually constrained by law and "tied down" by marriage, domesticity, children, and all the rest of it. What marvels would women achieve if only they could set themselves free? The myth of the Amazons shows how close to the surface of even the most misogynistic societies—and ancient Greece definitely qualifies—is the idea that women are at least men's equals, and possibly even their superiors. Only relentless repression keeps them down. The myth shows, too, how threatening to men is the notion of a being who combines the strength, valor, and independence of the ideal man with the sexual allure and intuitive powers of the ideal woman. Marston was quite right to defend his bondage imagery from charges of sadism—there was no blood, no rape, no pain. Besides, Wonder Woman always escapes and wins the day.
If Wonder Woman is a glorious fantasy of what women could do and be if only they could get men's boots off their collective neck, the Ms. Kali cover—a goddess juggling multiple subordinate roles—is closer to the reality of the Marston ménage. When Marston told his wife that he would leave her if she didn't accept his affair with the young Byrne, Holloway figured out how to accommodate. She threw herself into her work—she became a senior editor of the Encyclopedia Britannica—and Byrne ran the house and raised the children. (In some years during the Depression, Holloway supported a middle-class household of seven, a feat worthy of Wonder Woman herself.) How the underemployed, emotionally demanding Marston got to remain the overbearing patriarch is a bit of a puzzle.
It can't have been an easy life, but their big house in Rye, New York, seems to have been a jolly place, with lots of pets, tipsy parties, and, Holloway said much later, "love making for all." Still, it is sad to read of the way both women's ambitions were slowly squelched. Holloway, as smart and energetic as Marston, got a law degree but couldn't find work in the field. She and Byrne each started on the path to a doctorate in psychology, but saw the handwriting on the wall: It was nearly impossible for a woman to get a good academic job, so why continue? Of the two, Byrne seems to have paid the bigger price for their unconventional arrangement. For decades she pretended to be the widow of a fictitious Mr. Richard, a kind of housekeeper or distant relative; ultimately she even allowed Marston and Holloway to adopt her children. The heavy bracelets she wore, so like Wonder Woman's "bracelets of submission," were all very well, but socially, a wedding ring was what really counted.
Lepore calls Wonder Woman the missing link between the first and second waves of feminism, as they're known—that is, between the suffragist era that so inspired Marston and the 1970s women's-liberation movement. It seems a lot to hang on a comic-book character, but she's right that the imagery of waves and troughs overlooks the complicated ways that movements make advances even when no one's looking—even as daily lives seem stuck and society seems to be moving backwards. The Depression stymied women's economic progress, and winning the vote failed to produce political power. But the 1930s were also the era of real-life superwomen: Amelia Earhart, Katharine Hepburn and other great female stars, Eleanor Roosevelt, and of course Margaret Sanger, one of the most famous women in the world, thanks to whom prescribing birth control was finally legalized in 1936 and endorsed by the American Medical Association in 1937. The New Deal brought a whole cadre of women into government, including Secretary of Labor Frances Perkins, the first female Cabinet member. Despite widespread prejudice against married women working, and the outright firing of many, the number of wives with jobs increased dramatically—even if their pay was terrible and, as Holloway and Byrne discovered, their choices were limited. The stage was set for women to pour into the military and into factories during the Second World War—and for Wonder Woman to take off.
Marston died in 1947, and though Wonder Woman forged on, she was soon shorn of her feminism, at the same time that women were sent back home and told to keep house and have babies. In the 1950s and '60s, she pined for Trevor, who wasn't so interested anymore, and gave advice about love and marriage. She lost her magic lasso and acquired a pair of enormous breasts. Holloway and Byrne, on the other hand, lived together happily for 43 more years, raising their children and working, Holloway for Metropolitan Life, Byrne, eventually, as Sanger's personal secretary. When they visited Sanger in Tucson, they slept in the same room. Perhaps they found their Paradise Island in the end.
---
​When you buy a book using a link on this page, we receive a commission. Thank you for supporting The Atlantic.