Mafia Restaurants
A new chain of themed restaurants catches on in Spain.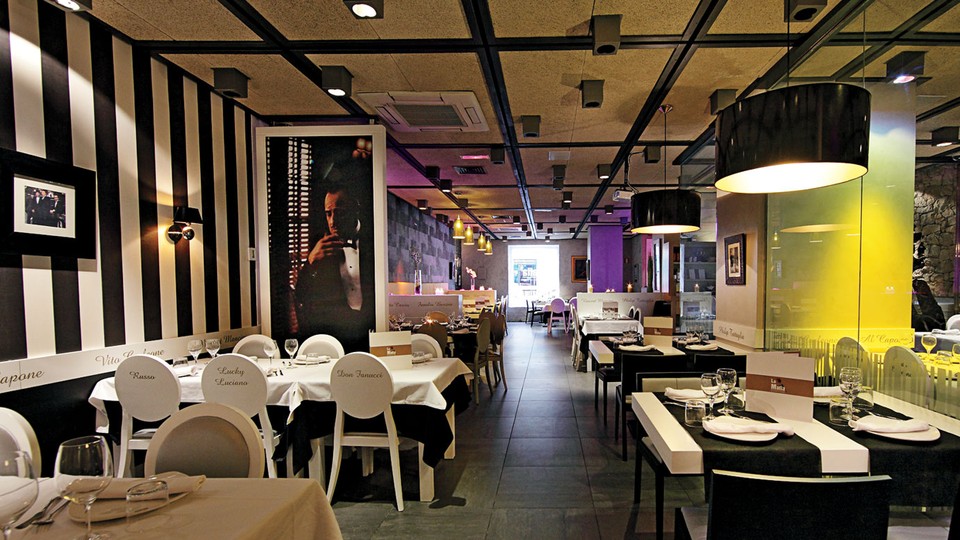 In 2000, two Godfather fanatics in Zaragoza, Spain, opened a family restaurant called La Mafia, where diners could eat rigatoni while gazing at mob memorabilia, like the Chicago Tribune's Valentine's Day Massacre front page. The waiters wore black bow ties à la Don Corleone; the names of Mafia bosses—some fictional, some not—were emblazoned on the walls. It was a gimmicky way to sell pasta, but it worked: as La Mafia rapidly expanded across the country, loyal diners joined the Fidelity Club (the restaurant's frequent-diner program) by the tens of thousands.
Earlier this year, however, La Mafia came under fire across the Mediterranean after one of Italy's leading newspapers, La Repubblica, ran a much-discussed feature on the chain. Many Italians charge that the restaurants—some of which offer kids' play areas complete with Al Pacino posters and gangster coloring sheets—are normalizing organized crime, something the chain's communications director, Pablo Martínez, contests. "We're roses," he explained to La Repubblica. "We're love."
The Italian Mafia's actual presence in Spain might be better characterized by another word: cocaine. In recent decades, the main Mafia syndicates have imported billions of dollars of it, transforming Spain into a "meeting place for dealings between drug-traffickers and Italian mafiosi," the mob expert Francesco Forgione observes in his book Mafia Export.
Following La Repubblica's coverage, Italian politicians have lodged complaints against the chain. In February, the chairwoman of Italy's Antimafia Commission formally condemned the restaurants, while another commissioner called for protests against them. One Italian EU representative wrote to the European Commission, complaining that the restaurants served dishes "named after murdered judges," and hinting that the commission should somehow shut them down. The commission replied that there was nothing it could do.
Now La Mafia, like its namesake, is going international. The chain plans to open dozens of restaurants throughout Europe and Latin America in the coming years. "The foreign market," Martínez says, "shows a lot of potential."