The Big Question
What is the most significant fashion innovation in history?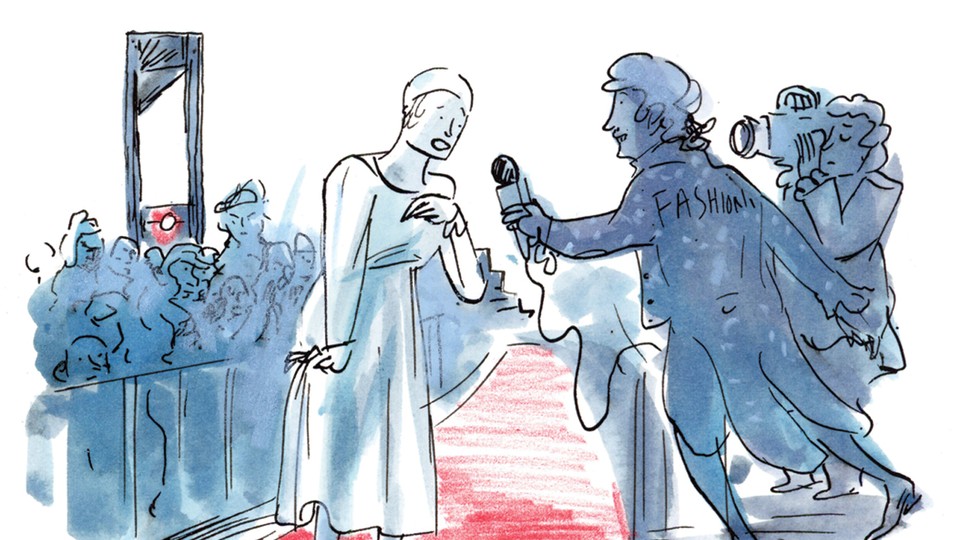 Kathy Battista, director of contemporary art, Sotheby's Institute of Art
The leather jacket transcends gender, class, and nationality. Developed in the early 20th century for military purposes, it was soon co-opted by various subcultures: think Harley riders, punks, and rebels. It has also been celebrated in haute couture and celebrity culture alike, by the likes of Marlon Brando and Madonna.
---
Jennifer Barnett, managing editor, The Atlantic, and former editor, Elle and Teen Vogue
Corsets were instruments of torture for centuries, blamed for health problems ranging from indigestion to crushed organs. Paul Poiret's corsetless dress designs at the turn of the last century, followed by Coco Chanel's introduction of simple silhouettes and jersey material to high fashion, liberated women from these confines. The runner-up would be the popularization of buttons down the front of men's pants in the 1830s. The design prompted Brigham Young to denounce them as "fornication pantaloons."
---
Calvin Klein, designer
For me, blue jeans are wildly important and iconic. They went from being a very humble and practical clothing item for farmers and cowboys to the ultimate symbol of youth and rebellion, freedom and sexiness. Jeans completely changed how an entire generation of young people were able to express themselves through what they wore.
---
Amy Astley, editor in chief, Teen Vogue
Jeans are an American invention but a global uniform, worn every day by young and old, rich and poor, man and woman, cool and … not. Unlike most fashion, they suit everyone and get better with age. You can pay a little, or you can pay a lot. They have range, from cowboy to couture. Without them, could James Dean even have existed?
---
Kelly Cutrone, judge, America's Next Top Model
My first answer is the credit card. My second answer is jeans—one of the most innovative and democratic innovations in fashion history. Jean cloth originated in Genoa, Italy and was used as cloth covers as well as for the protection of goods. The utilitarian fabric has become synonymous with equality, rock & roll, rebelliousness, and affordability—and leveled the playing field of global fashion.
---
Robin Givhan, fashion critic, The Washington Post
The men's business suit is certainly a contender. No other garment so expertly creates an idealized masculine silhouette. It conveys authority, has inspired a whole wardrobe of protest garb (from the jeans and T-shirts of '60s rebels to the Dockers and golf shirts of casual Fridays), and has a message that crosses demographics, cultures, and languages. Not everyone wears one, but everyone knows what it means: we understand "the suits" to be the folks in charge.
---
Leandra Medine, founder, Man Repeller
The arrival of Yves Saint Laurent's le smoking, the first widely successful female tuxedo suit, is the primordial "power dressing" moment. The suit made room for additional high-concept silhouettes to seep into the fashion zeitgeist without compromising a woman's devotion to her look. It began blurring the line between "masculine" and "feminine," raising the much larger question of "Who cares?" And it broadened the selection, and sense of choice, that a woman experiences with her clothes.
---
Emily Weiss, founder and creative director, Into the Gloss
I'd have to go with the bra. It's the last bastion of female-body consolidation. Or maybe that's Spanx.
---
Simon Doonan, creative ambassador, Barneys New York
Whether we are talking Blahniks, Renaissance chopines, or towering '70s glam-rocker boots, the most significant fashion innovation is definitely the high heel. None of us looks sexy or powerful or stylish walking around on our knees. Height, and the ability to dominate—sexually, stylishly, politically, interpersonally—is our principal social currency. That's why short people (to say nothing of extra-wee people like me) are so permanently irate. Paging Napoleon!
---
Kimberly Chrisman-Campbell, author, Fashion Victims: Dress at the Court of Louis XVI and Marie-Antoinette
Although Marie Antoinette is remembered as a free-spending fashionista, her most controversial fashion statement was a simple cotton gown. Before cotton became widely available in the Western world in the late 1700s, the high cost of silk and wool made new clothing prohibitively expensive for commoners. Cotton gave the masses access to fashion—but it also brought imperialism, a booming slave trade, and untold environmental damage.
---
Eva Chen, editor in chief, Lucky
Social media has pulled back the curtain on the fashion industry, converting it from a "you can't sit with us" mentality into a global spectator sport that invites everyone to be an authority and a critic.