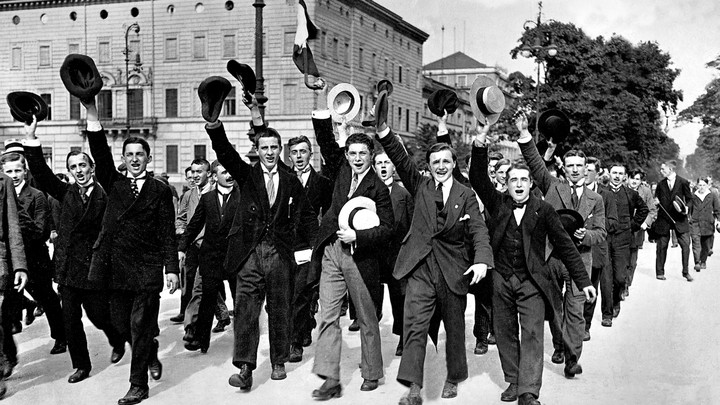 In the 12 long years previous to the outbreak of the war, during which we had resided in Berlin, we had … been always kindly received and had appreciated to the utmost the hospitality extended to us, which, as everybody knows who has resided in the city for any length of time, is boundless to the stranger upon whom the burgher centers his affections. Those characteristics which lie so near the surface, and which have been transmitted from generation to generation until they have been allied with the natural designation of Deutsch: cleanliness, fearlessness of expression, candor, der Mut (moral courage), probity, and an inherent love of justice had endeared them to us … The passing years did not weaken the early impressions, but rather deepened them, until the esteem in which we held [Berliners] had ripened into a strong and enduring affection …
But with the outbreak of hostilities new traits began to be perceptible even in the gentlest and most refined—student, philosopher, and the most phlegmatic of burghers alike—that distressed the most casual observer …
In the almost tigerish rage which followed the Belgian opposition [to Germany's invasion], the Germans became a people characterized by cruelty almost maniacal in its ferocity. Centuries were bridged, and the savageries of the early days of the Christian era came trooping over the span. Thumbs were turned down and kept down. A deaf ear was turned to the cries of distress which followed the accumulated wretchedness that the decision entailed. What psychology can analyze the mentality of a peaceful, law-abiding people suddenly imbued with a lust for blood?
With the greatest sorrow we had witnessed the orgies that followed the sinking of the Lusitania. Horror-stricken Americans in Berlin were compelled to sit in silence while some burgher, suddenly transformed from an amiable, jovial being into a gloating fiend, would tell of the greater horrors yet to come …
The spirit of intolerance was still abroad in the third year of the war. An American, a buyer for a large millinery house, came to Berlin …
As we dined together one evening in a well-known restaurant, we were conversing in English. Seated at the next table was a quartet of officers, home on furlough. Presently a waiter stepped up to us and said that the officers objected to our speaking the English tongue. Knowing that we were well within our rights, we refused to discontinue the conversation. The four officers then rose, stood stiffly at attention, and demanded that we be ejected from the restaurant. It was a very unpleasant and humiliating experience; but, as we look back, we cannot fail to see the humor of it, with the men standing so ridiculously straight in the center of the place. The American, as host, approached the group and endeavored to explain; but he was swept aside with haughty gestures. When he returned to the table, the proprietor informed him that he would be unable to serve the rest of the meal, and we were compelled to leave the restaurant.
We want to hear what you think about this article. Submit a letter to the editor or write to letters@theatlantic.com.