Hemingway Goes to War
A Kansas City Star reporter deemed unfit for military service found a spot as an ambulance driver at the Italian front. Days later, he got hit by a mortar shell and machine-gun fire.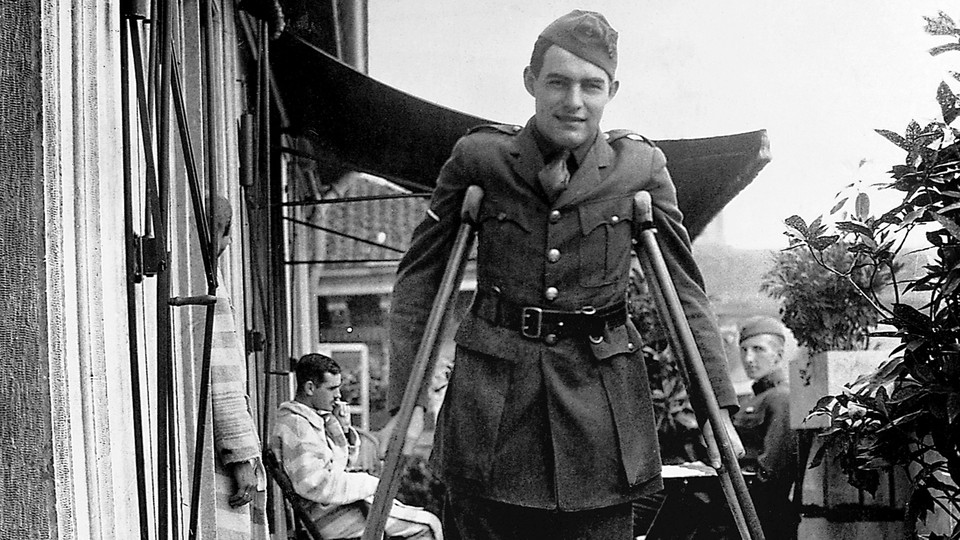 He had tried to enlist in all the services, he wrote me. He told me that the Army, the Navy, and the Marine Corps had all turned him down, not for being underage, since he was past 18, but he could not pass the physicals because of his inherited bad eye.
"We all have that bad eye, like Mother's," I remember he wrote in one letter. "But I'll make it to Europe some way in spite of this optic. I can't let a show like this go on without getting in on it. There hasn't been a real war to go to since Grandfather Hemingway's shooting at the battle of Bull Run." That Grandfather Hemingway served at Vicksburg and wasn't in the battle of Bull Run did not affect Ernie's point at all. I sympathized.
Ernie wrote that he liked newspaper work. Then, early in 1918 came a letter full of jubilation. He told us that he had been assigned to interview a group of Italian Red Cross officers who had come to the United States to recruit volunteers for the American Red Cross Ambulance Corps in Italy. When he interviewed them for The Star, he learned that the Red Cross was accepting men who were in general good health but who were unable to fulfill the physical requirements of our own country's armed services.
Ernest was delighted. At last he had found a way to get to the war in Europe. He signed up at once and was ordered to report to Ambulance Unit 4 for Italy …
When Ernest left for the Red Cross service in Italy, he expected to be behind the lines. But after he landed and had driven an ambulance for a few days, he and his pal Bill Horne found the place where they were stationed too safe and rather dull. They heard there was a chance to volunteer for a special branch, the Red Cross Rolling Canteen Service, which operated right up to the front lines. It was early July, and Ernest was excited and happy when he wrote us that he and Bill had managed to work their way forward, where things were going on. He had volunteered to be one of the bicycle riders who distributed mail, chocolate, and tobacco to the soldiers in the trenches at the front …
On July 8, 1918, while Ernest was on his bicycle, delivering mail and chocolate—it was seven days after he had transferred to the Rolling Canteen Service, and less than 10 days after he had gone to the active front in Italy—he was handing chocolate and a cigarette to an Italian soldier when a trench-mortar shell hit and almost buried him. It knocked him unconscious and filled his body below the waist with over 200 pieces of shrapnel. When he came to and went to the rescue of a wounded Italian, he was hit again, with a machine-gun bullet, below the left knee …
One night late that fall, Marion Vose and I decided to go to a movie near our school in Chicago. By accident, after the feature, we saw a newsreel about the work of the American Red Cross in Italy. The new Red Cross hospital in Milan was described and shown. Suddenly, in the silent film, Ernest appeared. He was in uniform, sitting in a wheelchair on the hospital porch, being pushed by a pretty nurse. Over his lap was spread a robe of knitted wool squares. He smiled at the camera and waved a crutch for a second. I was hysterical with excitement. At the end of the regular picture, I waited for the newsreel to come on again. They didn't run it. Marion Vose and I went to the manager and asked if we could please see it again. We told him why. He was kind and said if we wanted to wait until the theater was empty, he would run it once more, just for us.
Later the manager came over and sat with us as we saw Ernie smile once more. Then the manager gave us the name of the next theater where this same newsreel would be shown. Even though it was midnight, I stopped in at a drugstore to telephone the family in Oak Park to tell Daddy and Mother where they could see Ernest in the movie the next day. My parents went to that theater the following night, and I joined them. We all wiped away tears of joy while we watched Ernest smiling as he sat in his wheelchair on the hospital terrace, wearing his military cap and overcoat. We had not seen him for almost six months.
Mother told me later that Daddy followed that newsreel all over Chicago. Mother saw it twice more herself, and I caught it again at another neighborhood theater. No film ever did a family more good.
---
Originally titled "At the Hemingways: Ernest Returns From War"