A Gentleman Unafraid
In a series of letters to his mother, an American fighting with the Canadian army in France described how his love of family and his religious faith had prepared him for his fate.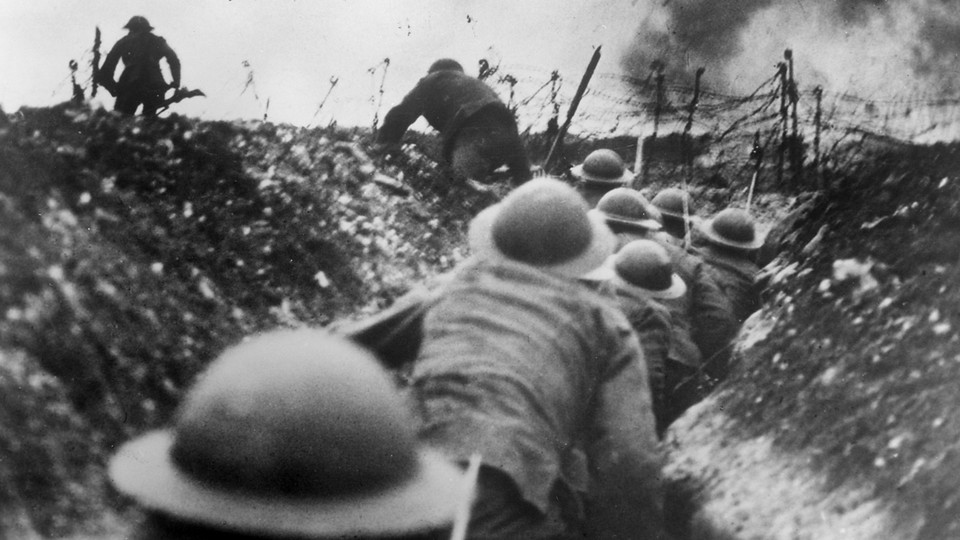 In camp, March 22, 1916.
The trenches twist and turn so, a precaution against enfilade fire in the event of the enemy's occupying any position, that we seemed to walk miles before we reached our new destination. It was a new support trench about 40 yards back of the front line. Saturday night, I was on a "carrying party," whose duty was to carry timber, wire, etc., from a material pile to the working party. Sunday night we went in again, and I was in a digging gang. Some of the new work had fallen in, and we had to remove the sandbags and dig down in front of the screens and push the latter out, wire them back, fill up behind them, and put back the bags. It sounds simple enough, but the digging was the worst I ever struck. Sticky mud that clings to your shovel, so that you can only get rid of one shovelful out of every three …
April 13, 1916.
A soldier must live from day to day, with no thought of the future, just a steadfast purpose of carrying out orders and being stronger and steadier than he naturally is; and faith and trust in God's purpose make it possible for me. Do you not think that the war is making people less selfish in the world and in the United States? Surely it must, when in so many places people are sacrificing their dear ones and their money for a cause. Even if it seems to some more a question of honor and family, or national tradition, than justice or freedom.
I often think of the rank and file of the German army, and even the junior officers. They are suffering untold hardships, and showing magnificent bravery in the face of heavy odds, as much, or perhaps more, than the soldiers of the Allies …
Boulogne-Sur-Mer, April 26, 1916.
Dearest Mother,
The dearest old lady, who is a regular hospital visitor, has just been to see me and given me this paper to write to you. It is really the first chance I have had, for the sisters here are terribly busy, and one hates to bother them. I was wounded in the left shoulder by a piece of shrapnel, very early, about 12:30, Easter morning … Everything would be fine were it not for the fear of your anxiety. The wound is a small one, and has never given a minute's pain. I was taken to a clearing hospital in a field ambulance, arriving about 6 a.m., Sunday, and left Tuesday afternoon, arriving here about 11 p.m. We came on the hospital train, which was a beauty. This is a lovely hospital, in a big casino, right on the seashore, and everyone is lovely to me. Yesterday the doctor removed the shrapnel, a little round bullet, so now I am all right …
(On his recovery, Abbey was given a commission and returned immediately to the front.)
December 18, 1916.
Dearest Mother,
I am in the trenches, my tour not being over until next Saturday; but I am not in the front line, but in the supports. We only stay in the front line three days at a time. I have just been reading over the little Manual of Prayers for Workers, which you sent me some time ago. It is fine, especially the plea for duty before everything. There is a paragraph by Dean Church on "Manliness—which takes for granted that man is called to a continual struggle with difficulties and makes it a point of honor not to be dismayed by them," and "Quality—which seizes on the idea of duty as something which leaves a man no choice." That is the quality which I need most now, the strength to do my duty, and I pray for it hourly, and I know that you do it for me, too …
Christmas Day, 1916.
Today is my second Christmas away from home in my 28 years. What joy it will be if God grants us one together again after this long separation! I am going to start by telling you where I am. Picture a little French village, with one long, narrow, cobbled street. At one end the street leaves the village and crosses over a deep railway cut and then wanders away through the rolling country. I should have told you that the village is on a hilltop. From the railway bridge, the street runs perhaps a hundred yards, then turns 90 degrees to the left and runs downhill … The houses are low, one-storied affairs of stone or white plaster, and tile roofs, and are lined right along the street … There are several larger houses, with courtyards in front with high walls. It is all beautifully picturesque in spite of my description … Altogether it is a very picturesque old place, and less than four miles from that famous streak of mud which separates the Allies and Germans. The men are living in the loft of the barn, a big lone place, and they have straw and bunks and brazier fires; but it is pretty cold and dark there just the same. Still, the magnificent spirit of making the best of grim situations keeps them happy and cheerful …
January 31, 1917.
I am writing this in a front-line dugout. This is our third day in the line, and we have three more to go, I think, possibly a few more. It has been quite cold and the ground is still covered with snow. Last night it snowed quite a lot more. It is a very pretty picture, and a new one to me, to see the trenches in this condition …
My letters do not seem to have any news in them, because there is so much to repress that I long to tell you.
February 21, 1917. Ash Wednesday.
Here we are at the beginning of another Lent, although it is not quite a year since the first time that I came to France. This week I have had your long letter of January 26th, one from father, and the crucifix. It is just the same as the first, and I am glad to have it again pinned inside of my breast pocket. Thank you for having it fixed and sent so quickly.
My letters do not seem to have any news in them, because there is so much to repress that I long to tell you. You must know how much I think of you, and long that you could be spared all this anxiety, and yet I know that you rejoice to bear that part in the victory that must be won. Dearest mother, you will never know how much I owe to you for strength and courage and inspiration to carry me through this …
Easter Morning.
Happy Easter, dearest mother. I have been in the Communion service in the YMCA tent, and now have just finished my breakfast. It is a beautiful, sunshiny spring day, one of the loveliest we have had for weeks … I am very well and happy just now, and we are all full of the inspiration and encouragement that this great new Ally, the U.S., and all the fine success of the French and British farther south, have given us. It is only a question of pushing steadily and determinedly ahead now, and we will win. There are lots of strong men here, and lots more ready to come from England and America, so we go ahead with that thought in our hearts. I wish I could tell you more about things now, but perhaps that will come later … I must stop for a while now. My dearest love to you and father always.
From your son EDWIN
IN THE FIELD, April 22, 1917.
W. B. ABBEY, ESQ.,
523 Chestnut Street, Philadelphia.
DEAR MR. ABBEY—
I would like to write you concerning the death of your son in action on the morning of April 10 … I thought very highly of him as a gentleman and a friend. At the time of his death, he was in charge of one of our most dangerous posts. It was a strong point in front of our trench and a little distance over the crest of Vimy Ridge. It was necessary to hold it in order to deny to the enemy the approach up the hill to the crest. Because of the loss we had suffered in the post, it was almost decided to withdraw from the post during the day, but your son came and argued that he should continue to hold the post because of its importance. In this he showed his fine devotion to duty and disregard of danger. On his way out to the post he was shot and killed by an enemy sniper …
The chaplain … read the service over his grave.
I would like to assure you of my genuine sympathy in your great loss. I feel a sense of personal loss myself, for one doesn't often meet such fine fellows. In my brief experience with him, he had always shown himself a gallant soldier and a thorough gentleman.
Yours sincerely,
A. P. MENZIES,
Major 4th C.M.R.
(Found in soldier's kit, forwarded to his mother from Ottawa)
I do not think of death or expect it, but I am not afraid of it.
FRANCE, April 6, 1917.
Good Friday.
Dearest Mother and Father,
We are going up to an attack in a short time, and I am going to leave this note to be sent to you in case, by God's will, this is to be my final work. I have made my Communion, and go with a light heart and a determination to do all that I possibly can to help in this fight against evil, for God and humanity. I do not think of death or expect it, but I am not afraid of it, and will give my life gladly if it is asked. It is my greatest comfort that I know that you too will gladly give all that is asked, and live on happily doing all that can be done, grateful to God for his acceptance of our sacrifice. Today the news came to us here that the United States had joined the Allies, so I go with the happy consciousness that I am, and you are, fighting for our dear Flag, as thousands of Americans have before us, in the cause of Liberty. It may be comfort for you to know that I have a great company of comrades, men and officers all filled with determination and cheerful courage.
My dearest love to S— and H— and their dear children. My heart is full of gratitude for having such love as they have given me. My dearest love to all my friends, all who have loved me and whom I love.
Now, dearest mother, and dearest father, I will say goodbye for a time. You have given me my faith which makes this so easy for me, and a wonderful example and inspiration of courage and unselfishness. All of my love, and God bless you both.
YOUR SON.