Supertrees
How a British landscape-architecture firm fused art, engineering, and ecology in one of Singapore's newest—and greenest—tourist destinations
After Singapore declared its independence, in the 1960s, Prime Minister Lee Kuan Yew defined the new city in contrast to its economic rival: Hong Kong, another liberated British colony and growing global port, was, as he recently recalled, "just tarmac, concrete, tall buildings, and chock-full of people." Lee set out to attract international development by making Singapore into a "garden city," planting thousands of trees and camouflaging infrastructure with tropical greenery, which had once carpeted the island. By 2003, inspired by the rise of ecotourism, Singapore's National Parks Board had conceived of another hybrid of enterprise and environmentalism: a $1 billion initiative to develop three iconic green spaces adjacent to the main business district, on the city's Marina Bay.
The "Supertrees," designed by the British landscape-architecture firm Grant Associates on the site of a former parking lot, are the focal point of the first and largest of the Gardens by the Bay. They loom over 133 acres of blooms and foliage: 18 steel-and-concrete trunks between 80 and 160 feet high, draped in climbing vines and flowers and crowned with zigzagging wire branches. Lit up at night, the Supertrees look like futuristic cocktail glasses.
Andrew Grant, the lead design director, was inspired when he visited his brother in Australia and toured the Valley of the Giants, where an aerial walkway winds through a canopy of towering karri and tingle trees. His creative vision also borrowed from Princess Mononoke, an anime film about the human destruction of an enchanted forest and the hero's quest to revive it. "We merged the physical reference … with the magical experience," says Keith French, the project director. Since the gardens opened to the public in 2012, the Supertrees have drawn millions of visitors to the intersection of realism and fantasy, nature and the built environment.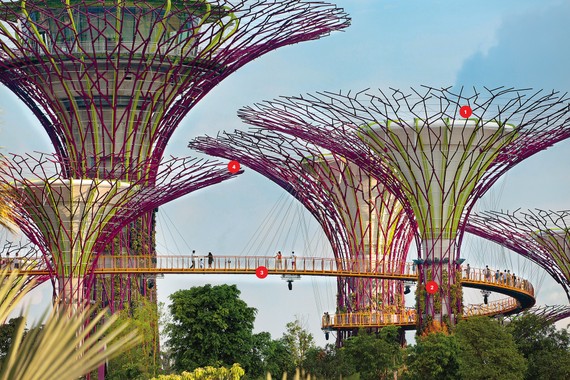 1. Photovoltaic cells convert sunlight to electricity for lighting the Supertrees at night. 2. Trunks channel and release biomass exhaust from two conservatories on the edge of the bay, helping to control the climate for 250,000 rare plants from around the world. 3. An aerial walkway transports visitors between gardens inside the trees and an international food court—offering milkshakes, curry laksa, and a panoramic view—atop the tallest structure. 4. Canopies provide shade for visitors on the ground below.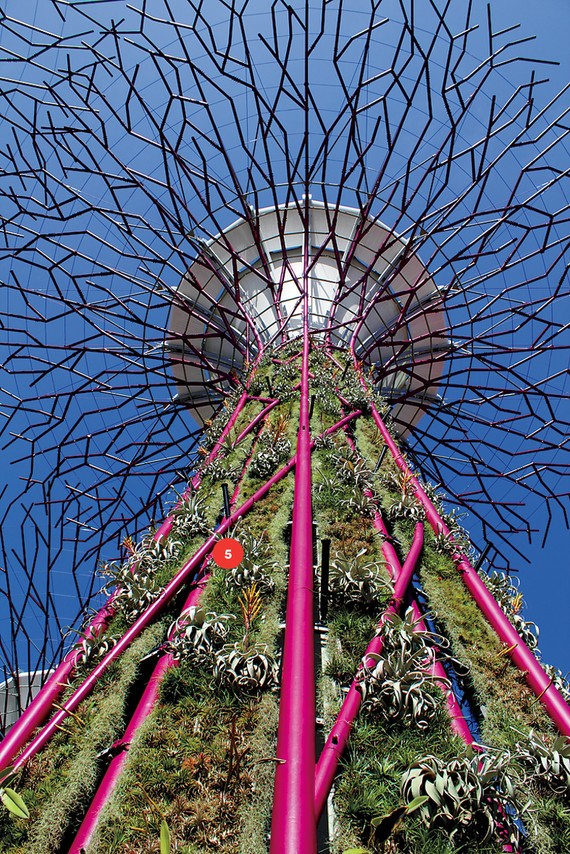 5. Grant Associates worked with National Parks Board horticulturists to collect more than 200 plant species for the surface of the tree trunks and the interior gardens, including orchids from Ecuador, cacti from Costa Rica, and tropical climbers from Florida and Southeast Asia.