Meanwhile in San Francisco
Wendy MacNaughton, the best-selling illustrator and author, on her latest book and the making of "illustrated documentaries"
If you rode the commuter train between San Francisco and Oakland in the late aughts, you might have noticed Wendy MacNaughton sitting across the aisle, quietly drawing you in her sketchbook. Or more likely, you didn't notice. MacNaughton, then crossing the Bay twice daily for her job at an advertising agency, was teaching herself a less attention-grabbing, more dynamic art form: capturing subjects on the move, drawing without looking down, using her pen not just to express but to observe.
Now a New York Times best-selling illustrator, MacNaughton has collected her observations in a new book, Meanwhile in San Francisco. She started the project in 2010 as a series for the online magazine The Rumpus, toting her sketchbook to the public library and to chess games in the park, depicting communities and citizens in whimsical watercolor portraits and handwritten snippets of dialogue. Together, the "illustrated documentaries" reveal a city not featured in newspapers or travel guides. "Drawing, for me, is this vehicle to look," she says. "It forces me to slow down and pay attention to things that I might not otherwise notice."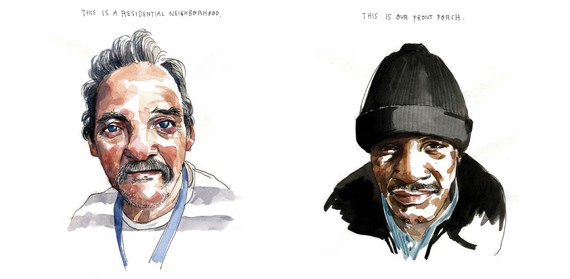 For a chapter on Fifth and Sixth Streets, near the Mission District—where latte-sipping techies are separated from the occupants of shelters and low-budget hotels by only a single block—MacNaughton spent almost a month standing on street corners and leaning against buildings, using up four or five Micron pens each day. She dressed neutrally in the hopes of slipping undetected between the communities. But a sketchbook is more approachable than a reporter's notepad or camera, she says, and "people constantly come up to me and ask me what I'm drawing." That interaction is now central to her process: whereas she once captioned her sketches of train passengers with what she imagined they were thinking ("I was totally projecting," she says, "You know, I'm so unhappy in my job"), listening exposes more than she can see.
After a day in the field, MacNaughton brings the sketches back to her studio to paint while the colors are still vivid in her memory. She uses watercolors for their "immediate mark on the page." Then she lays out the drawings alongside her notes from curbside encounters and overheard conversations (neatly reprinted and cut into strips), and arranges them into a narrative. MacNaughton's family goes back five generations in San Francisco, but Meanwhile represents what she discovered only by drawing it: "Everybody has a city," she says. "And they're all so different. And they're all going on at the exact same time, in the exact same place."