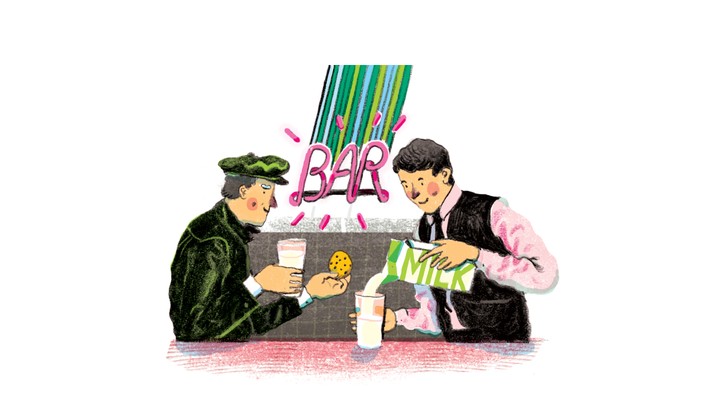 Is a bar still a bar if it doesn't serve alcohol?
That's the existential question facing patrons of the "dry bars" that have cropped up lately across Britain, one of the world's heaviest-drinking countries. At Sobar, in Nottingham, mixologists have approximated the pub experience with drinks that are designed to be sipped, not downed quickly—like Smokey Pete's Meaty Mary (tomato and lemon juices, barbecue sauce, honey, and a bacon-based snack called Frazzles).
Nick Barton of Action on Addiction, a charity that owns The Brink, an establishment in Liverpool, doesn't much care whether people think of the place as a dry bar, a café, or a glorified juice stand. What's important is that it provides alcoholics a place to socialize without getting sloshed.
The name is an allusion to the harrowing precipices of addiction, Barton tells me, but it's also fun to whisper into a cabbie's ear: Take me to The Brink! He likes to think of The Brink, which is nestled among restaurants and pubs, as "a part of the drinking culture of Liverpool—not hidden away." The brainchild of Jacquie Johnston-Lynch, whose brother was killed by a drunk driver, the bar opened in 2011—the same year the Liverpool Echo dubbed the city the "alcohol abuse capital of England."
Copycat establishments are in the offing in cities like Brighton and Glasgow. But although The Brink is sometimes referred to as Britain's first dry bar, it is in fact the first modern dry bar. "Temperance bars" run by herbalists proliferated in the late 19th century, hawking beverages like ginger beer. Barton says that compared with these Victorian forerunners, today's dry bars aren't as "dreary" and "puritanical." The scene is so vibrant, in fact, that one teetotaler in London has begun reviewing them on a blog she calls Mocktail Hour. Its tagline? "Because 'sobriety' is the new 'shit-faced.' "
We want to hear what you think about this article. Submit a letter to the editor or write to letters@theatlantic.com.
Uri Friedman
is the managing editor at the Atlantic Council and a contributing writer at
The Atlantic
. He was previously a staff writer and the Global editor at
The Atlantic
, and the deputy managing editor at
Foreign Policy
magazine.