The Gigolo
My night in with Vin Armani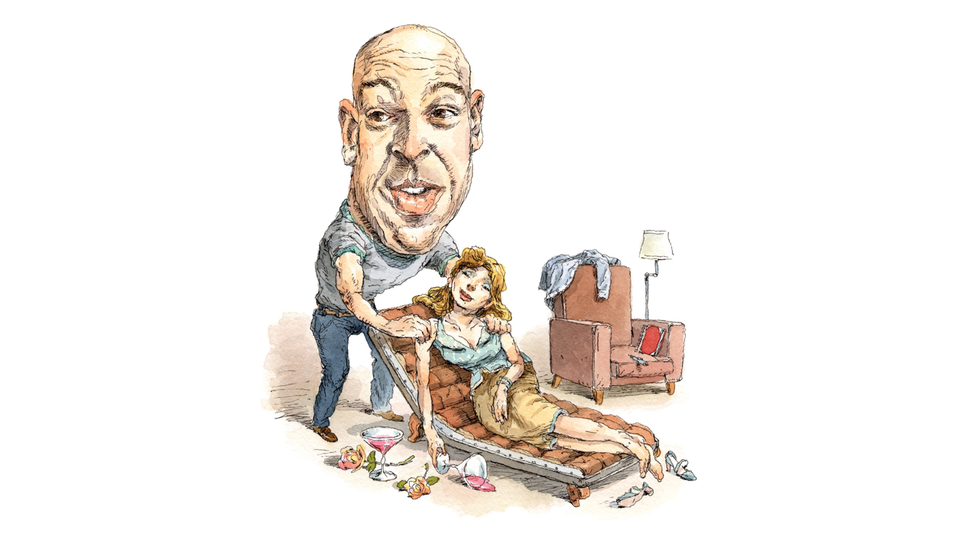 Vin Armani, a star of Showtime's reality-TV series Gigolos and, according to his publicity materials, "an internationally known elite male companion for women," is coming over, and my girlfriends and I are ridiculously excited. He is not coming to have sex with us, at least not ostensibly; he is coming, ostensibly, to be interviewed about what he claims is a growing market for professional male escorts, so that I can write a piece about paid male "companionship" (companionship being what you legally pay for, not sex). It so happens that Armani has just started his own escort service, Companion Concierge, which is aimed at our exact demographic, "successful divorcées" (as opposed to our presumed opposites, "failed married women").
In the run-up to this evening, each of my friends (whose names have been changed) expressed a different thought as to how we might test-drive a professional companion. Lise, a marketing executive, wanted Armani to join her at Pilates, or maybe ballet class. Rae, a musician, got swoony at the thought of him carrying an amp to one of her gigs. Marianne, a harried mom, was curious to find out how he was around surly teens. Stella, a writer, imagined dancing with him, and maybe more. ("Why not? He's a gigolo.") My own softer-than-soft-core fantasy involved going to the farmers' market with him and then spending the afternoon watching as he, nude except for an apron, chopped mounds of fresh dill.
Never mind that the 35-year-old Armani, an avowed expert on "human sociosexuality" with a shaved head and a philosophy degree, has declined to do any of these things. Never mind that I already have a male companion named Charlie—not a "companion concierge," but the real thing—and that he does not seem to appreciate this exercise. For days now, Charlie has filled our home with gloom: "Are you kidding? If I organized an evening like that with my buddies, you know how much shit I would get?" He has grimly gone off to see a colleague of ours perform art songs at a downtown gallery.
Be all that as it may, it's Friday night, and here we are, the All-Too-Real Ex-Housewives of Pasadena, decked out in stilettos and slinky partywear. We've gathered at Stella's tasteful Craftsman home, a hideaway filled with Mission lamps and Audubon bird prints. Dinner, complete with cosmopolitans and strawberry pie with Chantilly cream, is being catered by a Zagat-rated chef.
At precisely 6 p.m.—$400-an-hour escorts are punctual—the doorbell chimes. Standing before us is Vin, a 195-pound, 6-foot-2-inch-tall glass of water, wearing tight jeans and a collared shirt. According to his publicists, he is "a unique and exotic ethnic mix of French, Black, and Latin"; in person, he looks like a friendlier version of Vin Diesel, with a toothy, fetchingly boyish smile. He enters the kitchen as if on oiled ball bearings, his bulging biceps weighed down by gift bags. Here are two bottles of his own brand of vodka, with my name inscribed in a lipstick scrawl of Vegas gold.
"Hi, I'm Vin," he says, putting a massive hand out and introducing himself to each woman, repeating our names in a deep, silky voice.
"Will you have a cosmopolitan with us?," I ask, suddenly anxious that he will be the type of elite male companion who is watching his carbs.
"Of course!" he exclaims, with a rumbling laugh, as though the question were faintly ridiculous. "Bring it on!"
We lift our glasses and each propose a toast: "To Friday night!" "To men and women!" "To romance!" "To love!" "To mixing business with pleasure!"
Vin goes last. He tilts his head to one side and narrows his eyes, as though searching for just the right words. A bicep flexes. He brightens. There they are. "To adventure, both intellectual and otherwise," he says, cocking an eyebrow at us. Pause. His head bows in thought, then lifts. "And I'd also like to toast you ladies for your courage. It is rather courageous to have an intellectual discussion about the things that we are about to."
"Can I feel your arm?," Lise asks suddenly.
"Of course." Another toothy grin. All at once our guest is encircled by women touching his arms, but with a curious objectivity, as though checking out luxury merchandise. Vin is easy about this, like an affable golden retriever, or maybe Aslan, the great lion of Narnia, who regally lets children ride on his back and run their hands through his silky fur.
"You smell good," observes Marianne as we settle onto couches with our drinks. He does—he is wearing a subtle, inviting scent. "What is that?" someone asks.
"Joop," he answers.
"Well, I don't like it!," Stella declares feistily. "I prefer a man's natural smell to cologne."
Vin's hands remain folded across his muscular thighs. Breaking into a slow smile, he says: "Well, Stella, to that I'll say, you're in the minority." That's obviously true—Lise, who is next to Vin, has all but wrapped herself around him like a vine. "But I appreciate your viewpoint," he continues. "To me, nothing smells better than a naked woman who has just stepped fresh out of the shower."
This seems as good a moment as any to ask Vin why he refused to participate in our requested activities. "Isn't that the job of a companion concierge?"
"Oh, come on," he says lightly. "All that stuff you were asking for in your e‑mail? The farmers' market, the ballet, the shopping? That's stuff your gay friend does. Believe me, women do not pay me $400 an hour to go to the farmers' market. What I do is more in the vein of a masseuse or a therapist."
We want to know more. There is, frankly, long-standing and widespread skepticism about whether male gigolos—for straight women, that is, rather than for gay men—even exist. Some have accused Showtime of staging the "encounters" seen on Gigolos, although I for one detect in the show's clientele the odd ring of reality. (These are not Playboy playmates. We are talking about tattooed women of size; women whose fantasies include being taken in a coffin; women who unapologetically say things like "I'm 56, a children's party planner, and I'm really into clown play.") So who are his clients off the show? Vin says that some are themselves highly paid escorts (the kind who fly in and out of Abu Dhabi); others are CEOs who work and travel a lot; still others are more ordinary women who've saved up for a treat. (I'm reminded of a client who told ABC's Nightline that she books a gigolo as a reward for herself every time she loses 10 pounds.) Sometimes, he says, they come to him for fun; sometimes they're in search of sexual healing after an emotional trauma or a divorce. "I don't care what you pay—will a therapist hold you?," Vin asks us, practically purring. Despite his steep rates—a two-hour, $800 minimum; $8,000 for a weekend ("We stay up for 48 hours—we do not sleep"); $25,000 for a week—he claims to have regulars. Why does our sex shaman charge so much? "If people don't pay for it," he says, "they don't value it."
At about this point in the evening, our hostess, Stella, breaks out her pot collection. In Southern California, medical marijuana is home-delivered—it's faster than Thai food—and she'd received a special order earlier in the day. Vin is first in.
As for what happens next, for a while, as best I can recall, everything is great. Armani reveals himself to be an articulate fan of NPR, Alvin Ailey, and even Mike Davis ("This evening feels very early Pasadena, like in City of Quartz? I love that book!"). He seems remarkably well read, at least from the point of view of a stoned person. His take on heterosexuality feels authentic, and thought-provoking: "Like most men, I am not monogamous. All of the women I meet know that—that is a conversation for Date One." And: "The man has to take the lead in terms of giving the woman what she really wants, which may not be what she thinks she wants." How bold, and probably true! Forget the fey Hugh Grant fantasy about the farmers' market, I find myself thinking. Vin is really onto something—he should have a talk show, like Dr. Phil.
But then the evening comes unglued. Lise has physically overtaken Vin like kudzu. Stella is irritated by Lise's behavior. Marianne is saying, a bit angrily: "In the end, you've paid attention to me just because I've paid you! How does that make me feel good about myself?" Rae gets a booty text from a hot 35-year-old personal trainer she met on OkCupid, a man who, perhaps needless to say, does not charge $400 an hour. "Compared to him," she says, getting her purse, "how great can Vin really be?"
The morning after, viciously hungover, Stella, Marianne, and I move soddenly through a house full of dirty wineglasses and chunks of strawberry and Chantilly cream ground into the carpet by stiletto heels.
Stella is puzzled: "Here's the thing. Halfway through the evening, I became convinced that out of all these women, I was the one he really wanted. But that's the gigolo's art, isn't it? I bet if you polled everyone this morning, they would all have said the same thing—he managed to make one-on-one eye contact with five different women simultaneously."
"It was like a magic trick," I agree. "And I can see how his talents would be appreciated if you were, like, a harried Las Vegas blackjack dealer who couldn't find a nice boyfriend." We conclude that we could see ourselves roundly enjoying the full complement of Vin's services, but that we would be pissed off when the timer ran out.
"Wasn't it weird how he just slipped out, without saying goodbye?," I complain. Marianne and Stella correct me: Vin not only said goodbye; he handed out parting gifts—copies of his self-published book, Tao of the Gigolo, each one personally inscribed. ("Stella—thank you for asking all the right questions.") I was, they inform me, "completely out of it" by the time he left. When my real-life male companion, Charlie, arrives to pick me up, he is surprisingly forgiving of the whole episode, possibly because it turns out I was texting him—if somewhat incoherently—for a decent portion of the evening.
As for whether Armani's brand of professional male companionship is a step forward or backward for women, maybe it's a bit of both. I am reminded of a peculiar phenomenon now on the rise whereby able-bodied adults petition airlines to allow them to travel with "emotional-support animals," claiming that they are too anxious to fly otherwise. Paid male companions might provide something similar—physical and emotional support to those who've been thrown for a loop by rapidly changing gender roles. In a world where many women outearn many men, toppling the old heterosexual rules, the gigolo offers a safe place to wrestle with a certain type of Joop-infused, artisanal manliness—for a few hours, anyway.
My phone jumps. It is 9:18 a.m., and Vin is texting me: "Thank you so much for a wonderful evening. I felt so welcomed and learned so much. It was genuinely a special experience for me and I thank you for that honor."
And with that, through some weird feat of alchemy, he has shifted my memory of the evening all over again, from tawdry to transformational. Though not so much that I would choose to do it again. Unless you paid me.