The IKEA Toy That Became an Icon of Rage
A spate of stuffed-wolf attacks strikes Hong Kong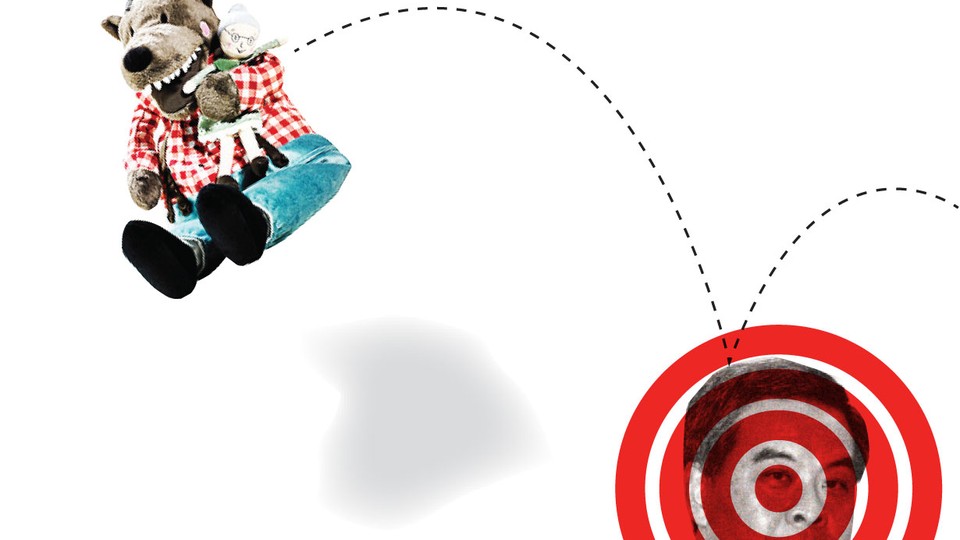 C. Y. Leung's first encounter with the stuffed wolf came in December, while he was giving a speech on budgetary policy. Leung, who is the head of Hong Kong's government, had just seen his popularity drop to an unprecedented low, with many Hong Kongers believing him to be too loyal to Beijing. Critics in the press had taken to calling him "the wolf," but it was still a surprise when, in the middle of his speech, a protester tried to pelt Leung with a toothy-grinned stuffed animal from ikea.
News of the incident spread swiftly. Within three days, the toy, which ikea calls Lufsig, had sold out across Hong Kong. In its absence, demand arose for fan-made homages (including a Lufsig-themed take on da Vinci's The Last Supper) and knockoff merchandise like video games, decorated cakes, and rolls of toilet paper with Leung's and Lufsig's faces printed on every square.
"I could hang the toy from the ceiling," one blogger in Hong Kong wrote, "and, decades later, point at it to tell the next generation … about how restless and lost the city used to be." An executive vice president of the local toy manufacturers' association, however, felt differently. "We make toys to educate our kids to love people," he fumed to the South China Morning Post. "It is definitely not the objective of toy manufacturers to make a toy for people to express their anger."
The toy became even less well suited for children when Leung's detractors realized ikea was marketing it under a Mandarin name that, pronounced in Cantonese, sounds like a vulgar insult involving a mother's genitalia. Before long, they'd taken up the name as a rallying call.
On New Year's Day, thousands of pro-democracy demonstrators massed in the streets of Hong Kong, a couple of them dressed as wolves. As they marched, some brandished Lufsigs while others hung models of the toy from sticks. When ikea restocked the wolf at the end of January, it immediately sold out again.